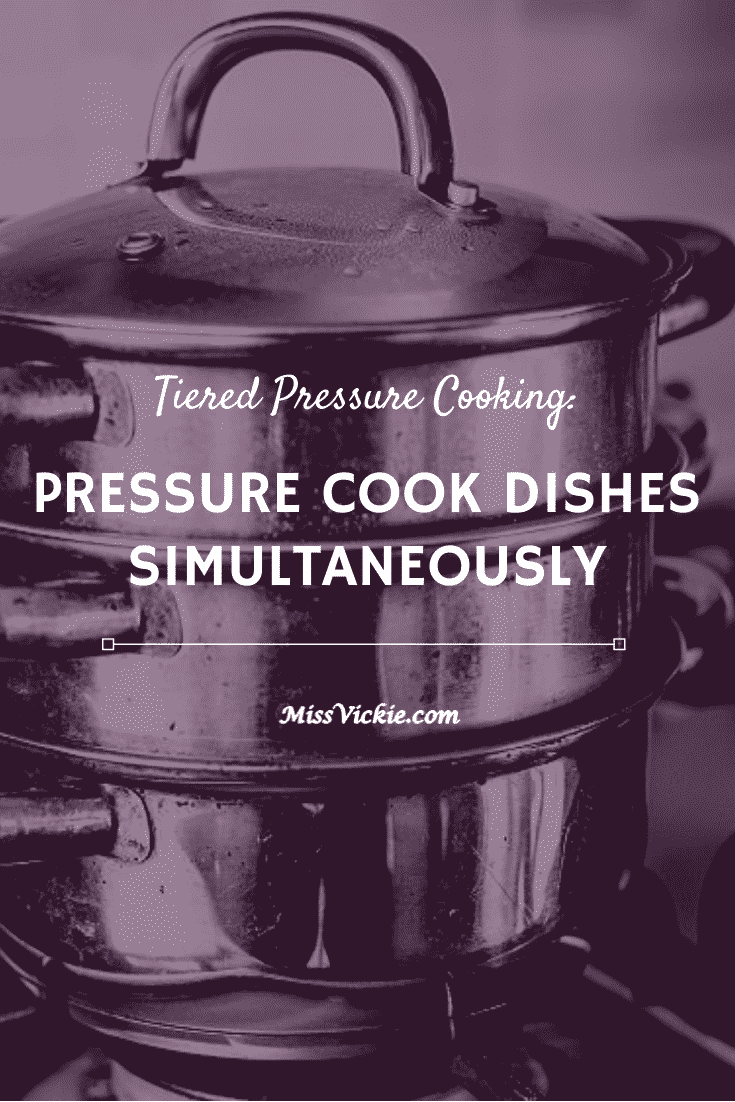 The pressure cooker might be a workhorse of the kitchen but if you are only using it to prepare common food items, one at a time, then you might not be using this multi-cooker in the best way. You may or may not know this, but it is entirely possible to cook 2 distinct dishes, such as a meaty main dish and a starchy side, in your pressure cooker at the same time using a technique known as tiered pressure cooking.
There are many reasons why you may want to use tiered pressure cooking such as when you want to prepare 2 dishes simultaneously while using minimal cooking effort. Tiered cooking is also a great technique to utilize when preparing food items that should not sit in a cooking liquid such as steamed veggies or certain types of desserts.
Tiered Pressure Cooking
How tiered pressure cooking is done
Depending on how big your pressure cooker is, it is entirely possible to use as many as three layers of food in the same pressure cooker as long as your pressure cooker is tall enough to allow it. For tiered pressure cooking to work, you will need to have access to a number of accessories that will allow you to create the different tiers for cooking.
Most modern pressure cookers already come outfitted with an assortment of accessories such as racks, trays and steamer baskets that can allow you to create the compartments that you need for cooking in tiers. Some pressure cookers already come with stackable trays with lifters but if you do not, you can use foil helper handles that will allow you to remove the pans from your pressure cooker safely without burning yourself.
How to use the tiered pressure-cooking method
To use the tiered pressure-cooking method, you will need to select two or three dishes that will work well together in the pot. Foods that take the longest cooking times should be placed at the bottom tier as that is the layer that will receive the most amount of steam and heat. The bottom tier can, therefore, work well for items such as meat and beans. the second layer can consist of a side dish such as rice or a dessert while the top layer can be reserved for dishes that should be steamed such as vegetables. As always, you should use your cooking time chart to determine which food goes into which layer.
Stainless steel bowls or footed steamer inserts can be used to create the various layers that your food will be cooked in. Glass, porcelain or ceramic bowls can also be utilized, but they will take longer to cook foods as they require longer heating times than stainless steel containers.
Double aluminium containers can also be utilized when you do not have access to bowls, but most aluminium containers tend to discolour and darken as a result of reacting with different types of food. To stop the food at the bottom layer form scorching or getting burnt, you can use a cooker that comes with a 3 ply or copper clad bottom.
3 Minute Tiered Cooking Menu
Bottom Tier

Top Tier

SHRIMP SCAMPI


1 lb very large raw shrimp; shelled and deveined


6 tablespoon butter


˝ cup green onion; minced


2 tablespoon garlic; minced garlic


2 teaspoon lemon juice


salt, pepper to taste


2 tablespoon parsley; minced


1 teaspoon grated lemon peel


dash Tabasco sauce


Rinse cleaned shrimp and pat dry with paper towels. Heat butter in the cooker, and sauté onion and garlic. Stir in lemon juice, add salt and pepper. Pour into a metal bowl which will fit loosely in cooker. Add shrimp. Loosely cover bowl with a square of waxed paper or foil.
Buttered Asparagus Spears


1lb. fresh asparagus, washed and trimmed


2 tablespoons butter


Trim off the bottoms of the spears and stack them on a doubled square of aluminum foil. Shape the foil in to an tray around the spears, but leave the top open. Add the butter.
Place water, rack and the shrimp bowl in cooker. Place the asparagus tray on top of the scrimp bowl. Lock the lid in place. Bring to high pressure over high heat. Immediately reduce the heat to maintain pressure. Cook 3 minutes and then immediately place the cooker under running water until pressure is reduced and then open the lid at once. Remove the asparagus to a serving plate. Stir parsley, lemon peel and Tabasco into the scrimp and pour into a serving dish.