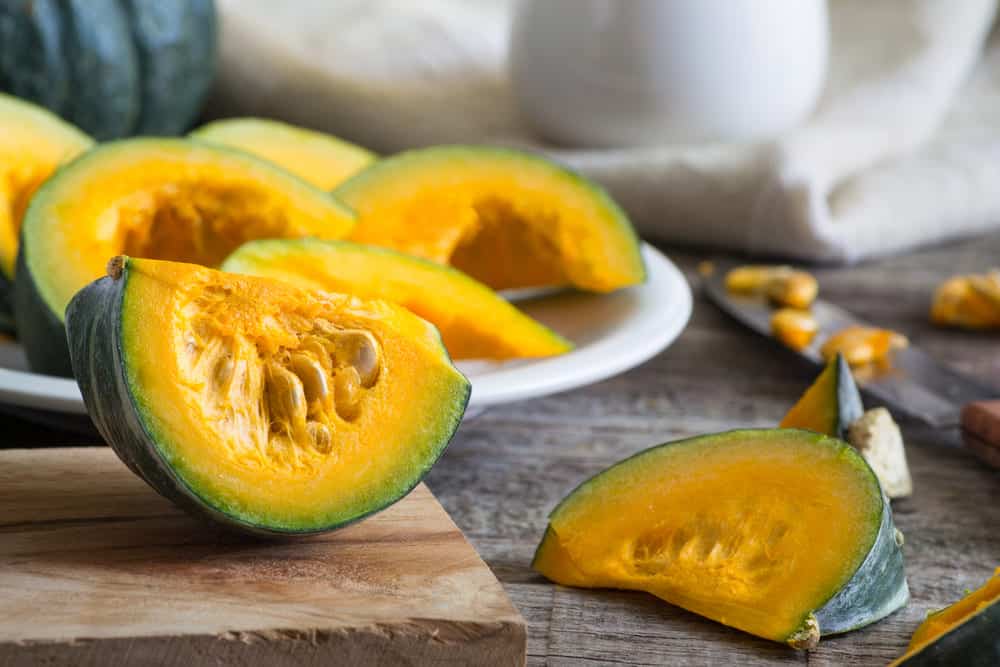 Pumpkin and squash are widely used in different cuisines. Ranging from batters to soups, the squashes can be used in different recipes. Since we are talking about squash, how can we forget about kabocha squash which is the most famous squash out there? However, it's the winter squash that makes it hard to find in other seasons. So, let's check out the substitutes for kabocha squash!
Substitutes For Kabocha Squash
This is the winter squash and is native to Japan. It is also known as Japanese pumpkin if you are buying it in North America. For the most part, it has become a staple for Japanese cuisine. It might be available in the fried form in the restaurants. Also, it's made by dipping it into tempura batter. It can be simmered in soups and hot pots.
When it comes down to the flavor and texture, it's similar to sweet potato. It has deep-green and coarse skin, which is sliced off to take out the reddish and yellow flesh. Kabocha squash has tender flesh. It has an amazing flavor and rich in nutrients. In particular, adding kabocha squash to the dish will add or increase the level of sweetness. Now, let's move to the substitutes!
1) Butternut Squash
In case you cannot get your hands on kabocha squash, you can opt for butternut squash. In Australia, it might be labeled butternut pumpkin. Truth be told, it ticks all the boxes of kabocha squash (yes, it's a winter squash as well). This substitute is suitable for people who feel like kabocha squash is too sweet for them.
Butternut squash has a slightly sweet profile. However, the sweetness level increases when it ripens up. Butternut squash can be cooked, baked, roasted, or consumed raw. It has a higher vitamin A and fiber content as compared to kabocha squash. It is used in soups in the pureed form. In addition, the mashed butternut squash can be added to pastries, muffins, and pies.
The butternut squash has thin skin which makes it extremely easy to peel. In case you want to replicate the sweeter flavor of kabocha squash, you should opt for the orange butternut squash.
2) Spaghetti Squash
This is the second yet great substitute for kabocha squash. However, spaghetti squash has a different appearance and shape as compared to kabocha squash. It has a sweet flavor, but it's extremely mild. When peeled and cut, it released the spaghetti-like and crispy strands. However, the strands will be more visible when the squash is cooked.
That being said, it's obvious that this squash won't have solid chunks. It has an oval shape. While substituting kabocha squash with spaghetti squash, you should opt for yellow rind because it can replicate the flavor in a better way.
3) Sweet Potatoes
While explaining kabocha squash, we mentioned that texture and flavor are similar to sweet potatoes, so it can work as a fine substitute. The sweet potatoes can be prepared just like kabocha squash, such as baked, roasted, and cooked. It has a much higher nutritional value as compared to kabocha squash. The sweet potatoes can be used for making soups and can be added to the sauce as well.
When mashed, sweet potatoes can replace kabocha squash in pastries. In addition, it can be served with a burger (sweet potato fries). However, sweet potatoes cannot be consumed raw.
4) Acorn Squash
Acorn squash is a small-sized squash and is a suitable substitute when you have to bake. This squash has a mild flavor and taste, so you will need to add sugar. On the contrary, if you cannot add artificial sugar, you can add more quantity of acorn squash. In case of replacement, we suggest that you buy the green rinds because they have better flavor and taste.
5) Banana Squash
The banana squash is available in large size and will be available in solid pieces. The banana squash has a creamy texture which makes it suitable for substituting kabocha squash. The banana squash's flesh has a golden color which really ramps up the presentation of the recipe. As far as the flavor is concerned, banana squash has a fruitier flavor, but the sweetness level can be enhanced by streaming the flesh.
6) Buttercup Squash
This is the last substitute for kabocha squash. It has a similar color in the flesh as the kabocha squash. It has a buttery texture, but dry variants are available as well. It can be baked or steamed, whatever the recipe demands.