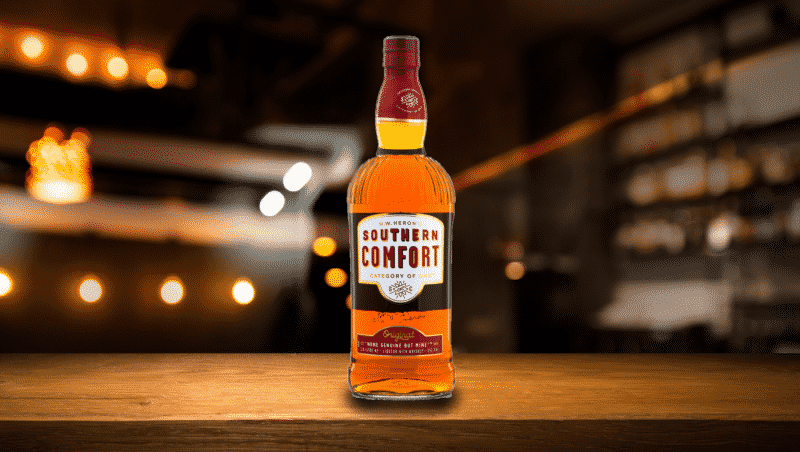 Beverages that are both sweet and savory shine at the dinner table. Whether you're pairing steaks or stews with whiskey, wine, or bourbon, the combination is sure to elevate your mood and create an unforgettable dining experience.
Southern Comfort is one of the most popular when it comes to classy liquor, thanks to its rich, sweet, complex flavor. Few pairings work better than BBQ dishes and Southern Comfort, and this is only one of the many ways to enjoy the fruity liqueur.
Southern Comfort and similar liqueurs are also widely used in numerous recipes. If you're out of Southern Comfort and have to have an alternative for your recipe or drink, read on. We've got you covered with five of the best Southern Comfort Substitutes around.
What Exactly Is Southern Comfort?
Southern Comfort is an American liqueur produced by the Sazerac Company. It was initially created in 1874 by a New Orleans bartender by the name of Martin Wilkes Heron. The full-flavored fruity infusion with spicy flavorings and accents quickly became a hit.
The original SoCo recipe that arose out of the famous French Quarter listed good quality bourbon, vanilla bean, lemon, cinnamon, cloves, cherries, orange, and a sweetener like honey.
During the prohibition, Southern Comfort as a brand closed down but was reopened by the businessman Francis E. Fowler Jr. after finding and tasting a bottle of SoCo in a vintage house that he bought.
8 Best Southern Comfort Substitutes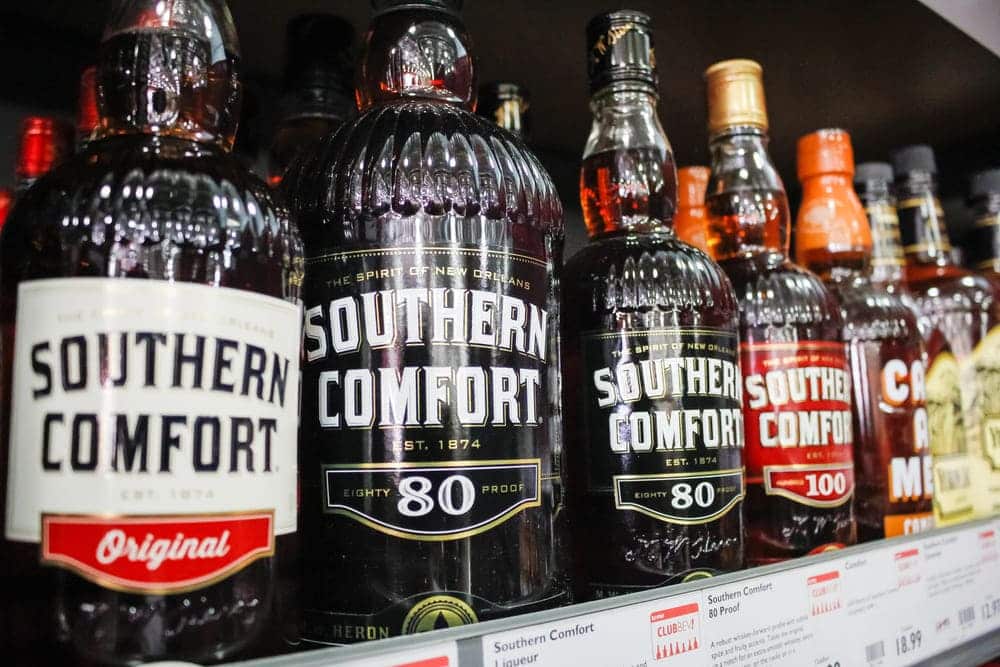 Southern Comfort is a liqueur that's used in several dishes. From pimento cheese, pecan pie, and fried okra to biscuits and sausage with gravy and fried green tomatoes – a dash of SoCo makes a massive difference.
So if you're cooking up something tasty that calls for Southern Comfort, but you're all out, don't give up on your recipe.
With the following Southern Comfort substitutes, you'll have your dish cooked to perfection. They're also just as tasty to sip on when served alone or as a flavorful pairing for BBQ dishes.
The bourbon component of SoCo is what grants most of its flavor, and these are all good alternatives suiting different dishes based on the flavor you're looking for and the intensity of spirit.
1. Knob Creek – A Bourbon Alternative for Southern Comfort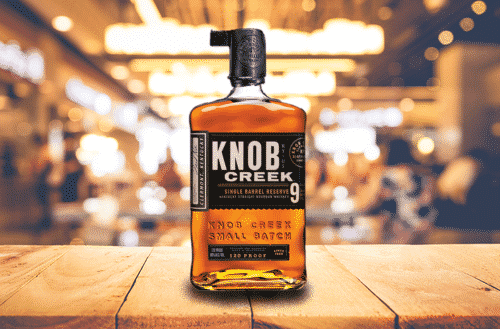 Knob Creek is a fine Kentucky bourbon whiskey produced at the Beam Suntory by Jim Beam. It's one of the company's four exclusive small-batch bourbons.
Both a nine and twelve-year version are available. The extensive oak barrel aging process grants both bourbons a deep, soft, mellow flavor with a lingering sweetness.
You'll be surprised by the affordability of this high-end bourbon which makes it the top alternative to Southern Comfort, albeit a little bit pricier. Knob Creek's infusion of flavors is also the closest you'll get to the fusion of sweet and spicy provided by SoCo.
2. Maker's Mark – Another Bourbon Substitute for Southern Comfort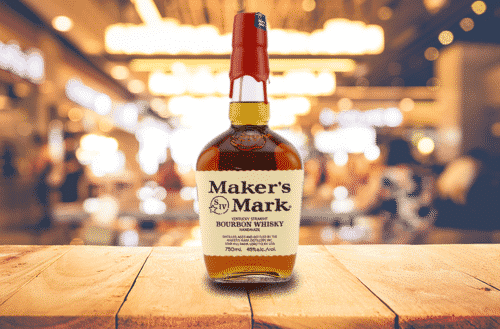 If you can't find Knob Creek locally, try to source Maker's Mark instead. Maker's Mark offers a range of reasonably priced full-flavored bourbons.
The taste of spiced honey and various roasted peels gives Maker's Mark whiskey a flavor that's pretty close to Southern Comfort. Expect a more pronounced taste of malt with hints of butterscotch and even mores subtle vanilla.
As a wheated bourbon, Maker's Mark isn't as sweet as other alternatives, but the complexity of its woody, spicy tones make it a close match to Southern Comfort. In addition, you'll be able to taste the oak in each sip, making this a great drinking substitute.
3. Bulleit Bourbon Frontier Whiskey – Kentucky Straight Bourbon Alternative for Southern Comfort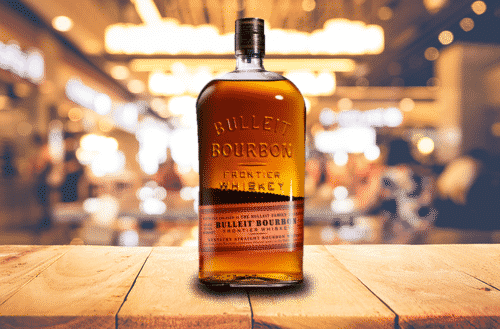 There are three main varieties of Bulleit Frontier Whiskey available, but both the Bulleit Bourbon standard and ten-year are excellent Southern Comfort substitutes.
The bold, intense flavors are very similar to SoCo, making it one of the top alternatives when drinking it straight or in a drink.
Bulleit Bourbon is smooth, delivering a bold but mellow flavor that's slightly milder than other alternatives. At 90 proof, the taste of honey and smokiness is strong, with a vanilla undertone being barely noticeable but present.
4. Yukon Jack – Sweet Canadian Liqueur And Complex Alternative to SoCo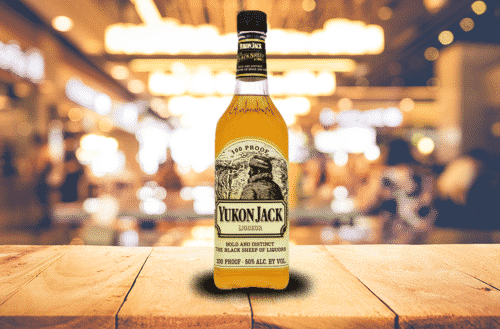 The Black Sheep of Canadian Liquors is a tasty Southern Comfort substitute that carries a similar flavor profile thanks to the sweetness of Canadian whiskey and honey.
It's a great drinking whiskey but maybe slightly sweeter than you expect if you've never tried it and are used to SoCo.
The smoothness will surprise you over and over again, but the taste of bourbon may be a little less woody than you'd hope for, with the mellow flavor rounding off sweet instead of musky.
Opt for Yukon Jack if you're a fan of SoCo's sweetness but would prefer milder spicy undertones.
5. Wild Turkey – Fruity, Sweet Honey-Infused SoCo Substitute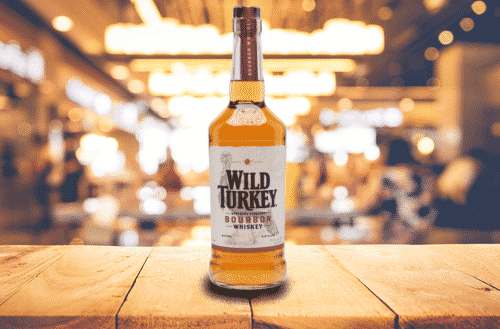 Wild Turkey American Honey delivers the richness, smooth taste of bourbon infused with honey. The sweet edge is the first thing you'll notice and the most similar component to SoCo.
It's one of the best-tasting whiskey liqueurs to serve on the rocks, with more fruity flavor than Southern Comfort and less spiciness.
Oak and butterscotch flavors fuse into a medley that makes Wild Turkey bourbon a must-try for anyone who enjoys the mellow, woodiness of a good whisky without the astringent, dry quality that's present with most aged spirits. Instead, sweetness rounds off the flavor just like SoCo.
6. Amaro di Angostura – Sweet and Sour Bitter Alternative To Southern Comfort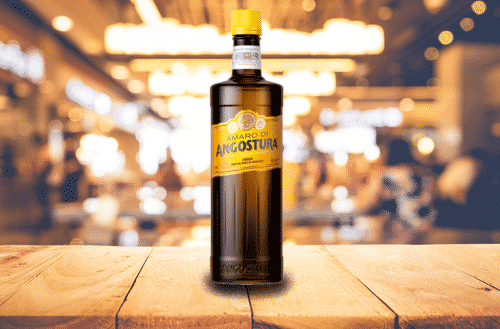 The House of Angostura's Amaro di Angostura is a liqueur that infuses the house's unmistakable aromatic bitters with a neutral spirit and a range of spices.
The taste of toasted caramel and cinnamon comes through strong, rewarding one with pleasant bitter undertones and the subtle taste of licorice. The flavor is finally finished off with the lingering taste of chocolate and roasted sugar.
Like Southern Comfort, Amaro di Angostura has a caramel-based flavor profile that makes it a reliable alternative. Opt for Amaro if you're after the toasty sweetness instead of the taste of bourbon.
7. Amaro Averna – Bittersweet, Spicy SoCo Substitute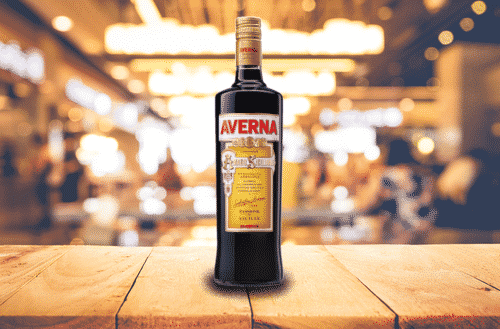 Amaro Averna is a bittersweet Italian liqueur made from a range of herbs and roots which carry a caramel base.
If you're after a Southern Comfort substitute for the sweetness, this is one of your best options. Not only does Amaro Averna taste fantastic on the rocks or in cocktails, but it's also a reliable digestive aid.
Hints of anise, citrus, juniper berries, myrtle, rosemary, and sage linger with each sip, creating a flavor infusion with a similar sense of spiciness to SoCo. You'll need to add a little less in cocktails, but the aftertaste is almost identical.
8. Drambuie – Scotch Based, Complex Flavor Southern Comfort Substitute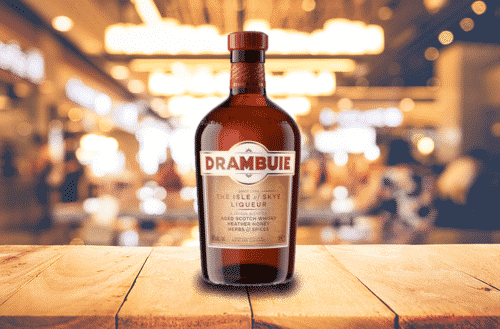 Drambuie is a Scotch whiskey liqueur that's an excellent alternative to Southern Comfort if you're looking for a very sweet bourbon.
Scotch and honey come through strong with a spiciness that immediately reminds one of Southern Comfort. Heather honey, herbs, and an array of spices blend into a smooth Scotch-based liqueur that suits various tastes.
Drambuie is a honey-sweetened Scotch that makes it very versatile and a tasty drink to enjoy straight. Cardamom and vanilla undertones are subdued, arising as with the lingering sweetness of sugar in the background.
Final Words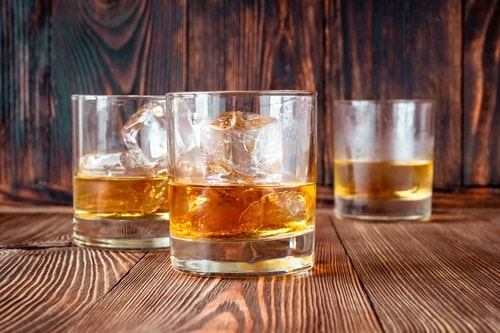 Southern Comfort is a high-end liqueur that perfectly balances sweet, spicy, and rich undertones.
The way that SoCo infuses sweet flavor into a single smooth drink is hard to match, but these substitutes will have you covered if you're fresh out of everyone's favorite New Orleans spirit.
Each will add its own flavor notes, so be sure to try them all one by one whenever you're in the mood for something different.