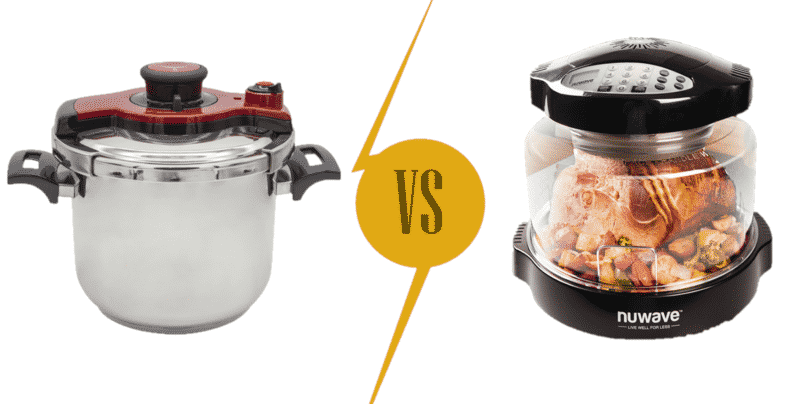 Pressure Cooker vs Nuwave Oven
There are many things to consider when you want to cook your food. The Nuwave oven vs pressure cooker debate is a very interesting one because it offers you some interesting options. You can either use an oven to cook your food with pressure, or you can rely on the pressure cooker to do that for you. Which one of these is better, however?
Nuwave oven
The way the Nuwave oven works is very interesting. One thing to note is that cooking foods in a regular oven are not that efficient because the air is not conducting any heat. What the Nuwave oven and other convection ovens do is boost the air cooking efficiency by using a fan to force heated air against the food.
As that happens, the heat transfer is better and more efficient. And in the end, you will end up with a much better cooking time than you would imagine. The moving air is reducing the effects that normal hot and cold spots would have in the oven. And you are also evaporating moisture which means all the food is prepared evenly.
Using the pressure cooker
When we study the Nuwave oven vs pressure cooker idea, we also need to understand how pressure cookers work. The process is simple here, you have a unit where you add all the ingredients and some water, put the lid and then start cooking (with electric options offering you extra features like timers). In this case, the pressure cooker will build up pressure and generate steam from the added water. As steam builds up, it helps cook the food naturally and with great success. You do need to make sure that the safety valves are handled adequately and any steam buildup can be removed naturally if possible.
Which should you choose from Nuwave oven vs pressure cooker?
Pressure cooking is great because it's not very time-consuming and you have quite a lot of safety options. The Nuwave oven, for example, relies on convection and that helps it prepare meals up to 25% faster than a regular oven. It's particularly good for roasting or baking. With its help, you can keep the temperature pretty low, so there are no safety issues to be concerned about. Simply put, this is great for fish fillets, pork chops, breaded chicken and so on.
With pressure cooking, on the other hand, you have access to a huge range of other foods you can cook. This is more focused on cooking meals rather than roasting or baking, to begin with. Sure, you can try to cook foods with the Nuwave oven too, but it will not perform as good as the pressure cooker does. However, the pressure cooker is not ideal for roasting or baking.
In the end, the Nuwave oven vs pressure cooker debacle can easily be solved based on what you want. A lot of people have both units in their homes as they are great at cooking different types of food.
Related Video: