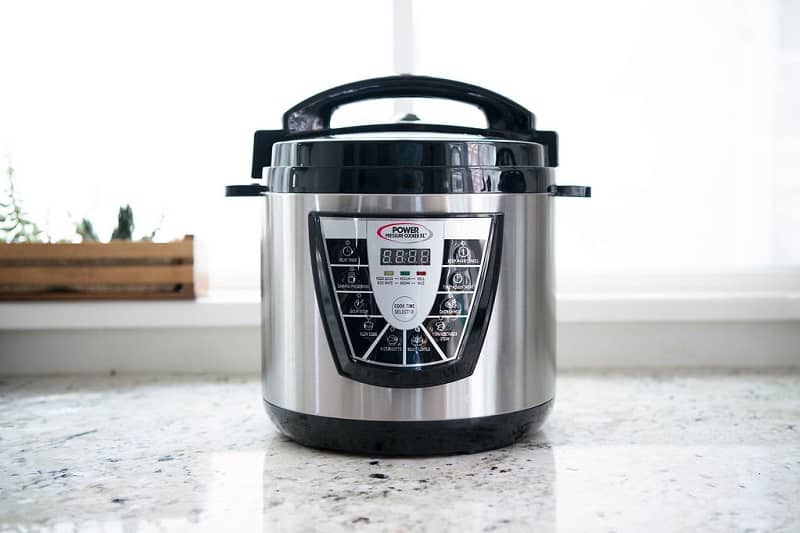 Power Pressure Cooker vs Power Pressure Cooker XL
There are many different pressure cooker brands available on the market and they all seem to offer a slightly different spec to customers. The Power Pressure Cooker range, for example, looks pretty rugged and comes with extra functions such as canning that makes it seem a good choice for homesteaders. So let's check out Power Pressure Cooker vs Power Pressure Cooker XL to find out what the difference is and which one is best.
Power Pressure Cooker XL
This pressure cooker is described as XL but in fact, you can buy 6 qt sizes so it is hard to see where the XL size comes into it! That said the Power Pressure Cooker XL is a versatile and adaptable pressure cooker. To us, the key feature is that the Power Pressure Cooker XL can be used for canning. This is not a common feature with most pressure cookers and should never be tried unless you can be sure that the pressure cooker is suitable
According to the advertising the 10 qt size, quite literally the Power Pressure Cooker XL is suitable for canning and you can check out the user guide before you buy to find out more about this.
The Power Pressure Cooker XL is suitable especially for foods with low acidity content including vegetables, seafood, and meats. There is no room for a chance with canning. Failing to cook at the correct temperature will lead to bacteria such as salmonella causing botulism or food poisoning so you need to ensure that you cook at the optimum temperature of 240 degrees to avoid the chances of this happening.
In addition canning at an altitude of above 2000 feet is not possible. The key feature here is the maximum cooking temperature of 240 degrees and if this is not reached (such as with cooking at high altitude) you must not do it.
Away from the canning feature, the Power Pressure Cooker XL looks fairly ok but is nothing special. The inner pot is constructed from aluminum lined with Teflon and customers have complained that this does come off in the food.
The Power Pressure XL 10 qt is a very heavy appliance. It weighs a whopping 19.8 lbs when empty so it will be even heavier than full. Luckily you can release steam without the need to move the appliance.
If you are buying the Power Pressure XL 10 qt for canning, you can buy the full range of accessories direct from the company including wire racks and jars.
There is a warranty available with the Power Pressure XL 10 qt. This is good but the downside is that it is only valid for 6 months so it is important that you use your pressure cooker regularly within this time frame so that if there are any issues you can get a replacement.
The Power Pressure XL is expensive. It costs $159.00 so is much more expensive than many other models on the market. However, it is low priced when you consider that it also functions as a canner.
Pros
Easy to use
Suitable for canning
Comes with a recipe book and some accessories
Cons
The inner pot is aluminum coated with Teflon
There are customer complaints about malfunctions
Warranty is inadequate and only valid for 60 days
Power Pressure Cooker
Worryingly there seem to be a lot of people trying to sell the Power Pressure Cooker second hand (and at the fraction of the original price) so it seems to suggest there are a lot of issues with this pressure cooker.
Strangely there does not appear to be a designated product website. Most people selling the Power Pressure Cooker seem to be doing so via eBay and other third party sites so we are getting the impression that this brand may not be the highest quality.
The Power Pressure Cooker is inexpensive. Made by TriStar, the manufacture is aluminum so although this may offer benefits such as low weight, many of the models on sale are bog-standard stovetop models. These can be cheap and effective but in no way compare to multi-function pressure cookers that you just plug in and set to cook. A stovetop pressure cooker requires constant supervision, unlike multi-function electric models.
Even more worrying is that there are some concerns about the canning function of the Power Pressure Cooker XL. Consumers have been warned against using pressure cookers for canning by the National Centre for Food Preservation (NCHFP) associated with the Dept of Agriculture.
Confusingly the multi-function electric range of pressure cookers; the Power Pressure Cooker is always described as XL regardless of size. But with TriStar, the makers of this brand, also providing a range of low-cost pressure cookers this could be a cheap solution to some customers.
As ever, you do always tend to get what you pay for. We are unimpressed by the Power Pressure Cooker range because it just looks too basic for today's users.
Pros
Inexpensive pressure cooker range
May suit traditionalists
Cons
Hard to find any background about these pressure cookers
Mainly sold via cheap sites such as eBay
No guarantee or warranty
In conclusion
We have serious concerns about the Power Pressure Cooker vs Power Pressure Cooker XL comparison. The main selling point about the XL model is that it can be used for canning yet the government agency suggests otherwise. To stay safe you probably should not use your pressure cooker for canning. Away from this feature, there seems to be little point in buying the Power Pressure Cooker or Pressure Cooker XL. In our opinion, a better option would be to forget this range and buy yourself an Instant Pot. That way you know that your food will be safe and well cooked.