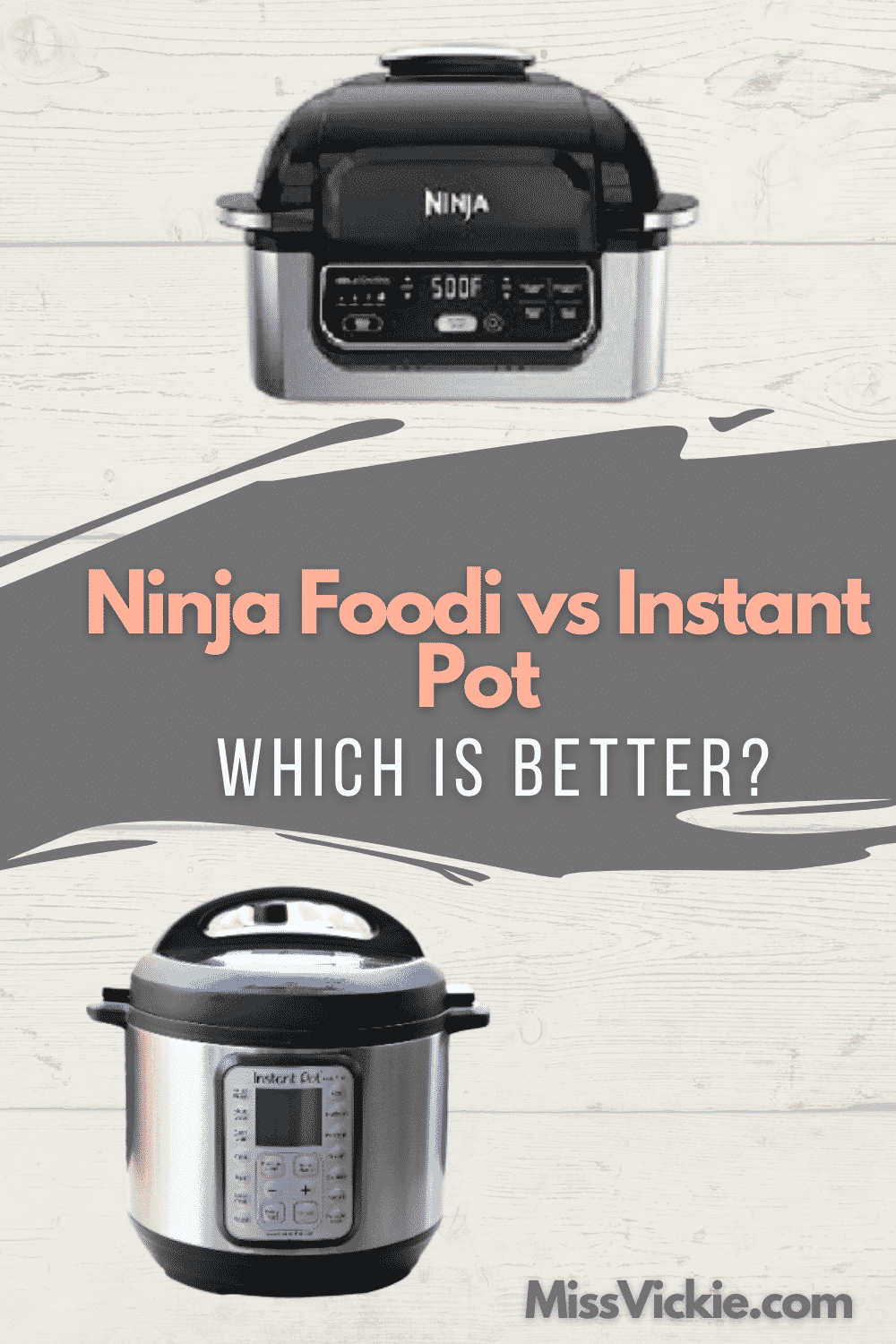 You have been going through a few rough weeks. The kids are a handful and your job doesn't leave you with any breathing room.
As a result, you are struggling to keep a healthy diet. Your daily food intake consists of instant ramens and cheap take-outs and the monumental amount of pressure, stress, and anxiety is slowly consuming you from the inside.
So how can you cook healthy within these circumstances?
Although this problem has a very complex exterior the solution turns out to be an extremely simple one.
All you have to do is cook faster.
Before technology had such a fierce impact on our food industry. To cook faster people used pressure cookers. But pressure cookers can only cook in a single way.
Nowadays technology has blessed us with many alternatives. One of them is a multi-cooker and two of the most prominent ones are Ninja Foodi and Instant Pot.
A multi-cooker as its name indicates can allow you to cook in a multitude of ways through a single piece of cooking equipment. Giving you the ability to cook a large variety of things in less amount of time without losing taste and texture.
Since there are so many of them. Here in this article we will compare two brands and give you their pros and cons thus making you better equipped to make a proper life-improving choice.
The two pieces of kitchen equipment are Ninja Foodi and a multi-cooking pot released by Instant Pot.
Ninja Foodi vs Instant Pot
Ninja Foodi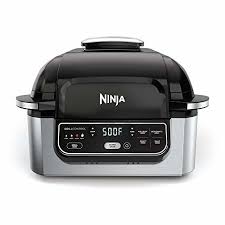 After seeing the success Instant Pot was having, a brand that previously excelled in making blenders came up with its own multi-cooking pot called Ninja Foodi. Similar to any other multi-cooker it can cook a lot of things.
It's a multi-cooker having a six-liter pot and a removable three and a half liter frying basket. It also comes with a grilling rack and has two lids one for the air fryer and another for pressure cooking.
But what are the qualities that will make it worth it or leave it for you? Down below we will list its pros and cons in detail.
Pros and Cons of Ninja Foodi
Nothing in this world is perfect. Everything comes at a cost. If you want to eat something high-class. You will have to visit a gourmet restaurant. And if you want to make it at home you will have to put in the time.
Similarly to do so many things, this multi-cooker has to cut some corners. How much does doing that affect its performance?
Also is it worth your money?
Ninja Foodi Pros
1. Every function is a plus point
It's a typical case of doing everything perfectly. Although it boasts a large number of choices it nails them all perfectly. Whether it's baking potatoes or prepping braised ribs for the holiday dinner it does both superbly with swift efficiency.
2. There is a multitude of functions to choose from, all of them are detailed below:
Pressure cooking: Shaving off an hour thus having a fully roasted chicken on your table in 15 minutes, cake bites which took 20 minutes in the oven are now cooked in four, and having a 10-minute risotto. The pressure cooker does a lot. There is a system of building and releasing pressure inside the cooker. Ninja Foodi has an instruction manual that describes the process in great detail.
Steam cooking: Only needing a grill and some water, steaming your food inside Ninja Foodi is extremely easy. Although not groundbreaking it does the job perfectly.
Slow cooking: you want to make a broth maybe some pulled pork anything can be slowly cooked with the push of a button. Ninja Foodi does a phenomenal job of maintaining a stable temperature.
Sear/sauté: Push a button, place your vegetables inside and watch as they get a beautiful brown color. Sear/saute takes caramelizing your ingredients to the next level.
TENDERCRISP: A set of options that allows you to Air crisp your fries, roast a rack of lamb ribs, and grill some vegetables to go with your Sunday night steak.
Warm food: Whenever your food gets cooked Ninja Foodi automatically turns to Warm. This function allows you to keep the food warm for up to 12 hours.
Long hours and high temperatures
The Air Crisp option allows you to fry your ingredient for an hour straight and the temperature can be adjusted to 400 degrees Fahrenheit. This level of temperature is the highest in any multi-cooking pot.
3. Value for price
There is no doubt that it's expensive equipment. But to have this many options in a single cooking instrument and have them all function with such high efficiency it's totally worth it.
Having to learn a single piece of equipment than two or three separate types of equipment and have less space consumed in your kitchen is always better.
4. Easy to cook with
It has a simple button layout. All you have to do is press a button and your meal gets cooked.
There is a learning process but it's achievable through studying the guide.
5. Comes with a cookbook
To make things easier and accessible, Ninja Foodi also provides its customers with a cookbook and an instruction manual. This allows you to look through the cookbook, buy ingredients, put them inside your Ninja Foodi while following the instructions, and wait for your food to be cooked.
6. Durable Materials and guarantee
It looks bulky and has an ugly appearance but it's extremely durable. It comes with a stainless steel exterior and gives you a one year warranty.
7. Safe
It has fourteen levels of safety and has passed testing to earn a UL safety certification. The build is beastly and the protection it gives is impeccable.
Ninja Foodi is a very good piece of cooking equipment but it still has its pitfalls
Ninja Foodi Cons
1. Expensive
It's very expensive. 180 dollars will buy you a brand new Ninja Foodi on Amazon. For the same amount of money, you can buy two Instant Pots and still have some change.
2. Bulky
As mentioned before Ninja Foodi is extremely bulky. It's like a crockpot with a suit of armor. The weight is off charts thus you will have to strain your arms and back muscles while trying to shift it to a new place.
Also, it's big and consumes a large portion of your kitchen area.
3. Design
It truly has an abysmal design. The design is its worst aspect.
Ninja Foodi comes with two lids. One for the pressure cooker and another non-removable one for the Air fryer which means no cabinets can hold this machine. It's like having another dispenser.
4. Learning curve
It has a lot of functions which means a lot of things to learn and eventually master.
So for the first few weeks, you will be using Ninja Foodi with the instruction manual lying open on the table.
Instant Pot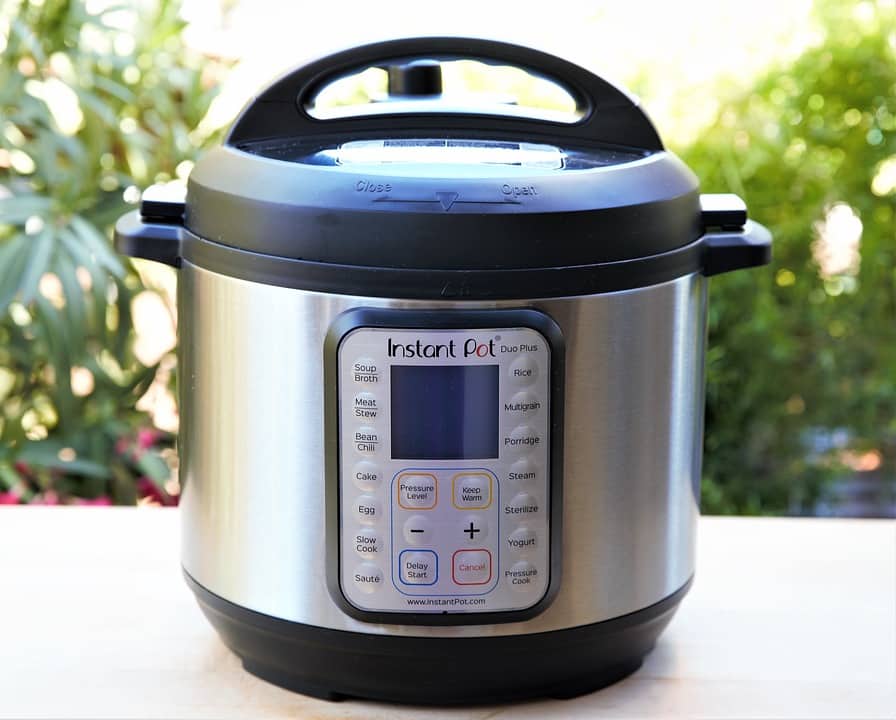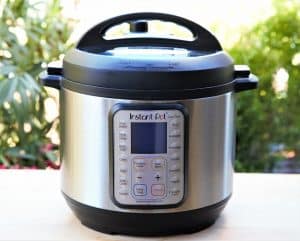 A brand that makes kitchen equipment mainly multi-cooking pots. Being a brand it showcases a wide range of pots. All pots come with a set of similar functions besides a few differences here and there. For example, a new model released by Instant Pots allows you to control the pot's configurations through a Wi-Fi network. Names of the pots with different sizes and functions that you can choose from are given below:
Max.
Ultra.
Duo.
Duo Plus.
Duo SV.
Duo Evo Plus.
Duo Nova.
Duo Crisp+Air Fryer.
Lux.
Viva.
Smart Wi-Fi.
Pros and cons of Instant Pot
We will only consider the common functions across all models and describe to you their pros and cons. Also during each point, we will be comparing it with Ninja Foodi pots.
Instant Pot Pros
1. A large variety
Ninja only has one similar product. But with Instant Pots, you can pick and choose whichever one you like.
2. Options for cooking
Similar to Ninja Foodi, pots from Instant Pots also allow you to cook your food in many different ways namely slow cooking, pressure cooking, steam cooking, sauté, and a few built-in modes that automatically set your settings to cook a type of ingredient.
It can also be used to make yogurt which is a function you don't find in a Ninja Foodi.
But it doesn't come with an Air Fryer. Fear not, by spending a few more dollars you can buy a new one for your Instant Pot.
3. Design and materials
Similar to a Ninja Foodi, the exterior of an Instant Pot is made up of stainless steel. Unlike Ninja Foodi's pot, the multipurpose pot here is also stainless steel.
The design is minimalistic yet elegant allowing for an easier cleaning experience.
It's smaller than a Ninja Foodi thus making it much lighter. So you can move it around with more ease also storing it under a shelf is not that difficult as well.
4. Cheaper
It's cheaper than Ninja Foodi. You can buy a new one on Amazon for 80 dollars, which is half the price of what you will have to pay for a Ninja Foodi.
It's not all good things with an Instant Pot. It has its issues.
Instant Pot Cons
1. Just faster than a crockpot
If have time to spare just buy a crockpot cause the food tastes the same.
2. Average
Its performance overall is average. It does a lot of things but unlike Ninja Foodi nothing it does goes anywhere above average.
You have to be a top chef to make something gourmet out of an Instant Pot. It's like instant noodles. Fast, feeds your belly, but nothing that will impress your date.
Conclusion
Comparing Ninja Foodi vs Instant Pot, If are on a tight budget buy a used Instant Pot from Amazon. But if money is not an issue and you have a large amount of space available in your kitchen then Ninja Foodi is the most optimal choice.