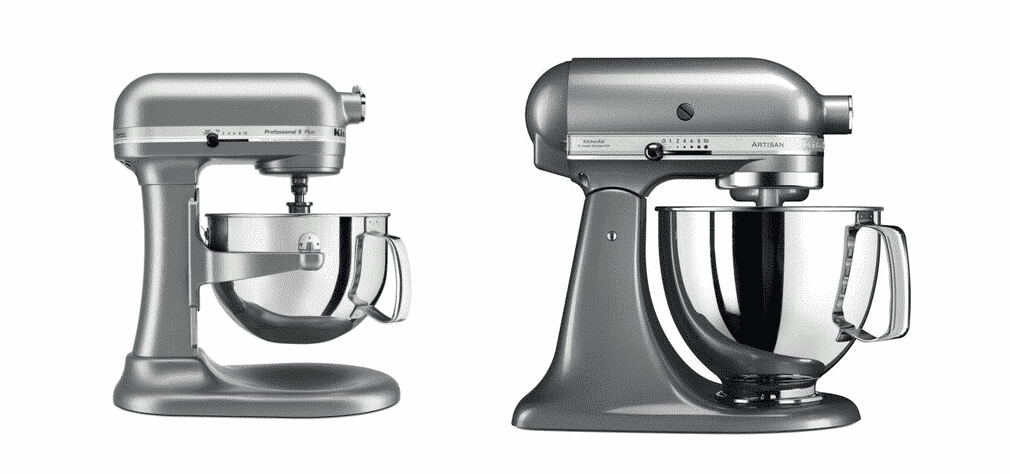 Kitchenaid is a famous brand for manufacturing amazing kitchen gadgets that can assist you in so many kitchen-related tasks. There are various kinds of countertop oven air fryers and mixers for your different culinary activities. They have categories of gadgets including small appliances, cookware, and bakeware.
They also deal with tools and gadgets with various styles and efficient Technology. They have this amazing collection known as the cordless collection that is powered without the cord and can allow you hassle-free cooking. However, we are here to discuss the difference between the two famous kitchen products that are Artisan mixer versus Professional 5 Plus.
KitchenAid Professional 5 Plus vs Artisan
Kitchenaid Artisan Mixer
This product is very efficient and widely known for its well functioning. This mixer comes with a motor that works on 325 watts of power. When you're talking about capacity the bowl size of the artisan mixer is 5 quarts. However, you can select different glass bowl options. For different cooking ingredients, it has a different power. For flour, it can work with up to 9 cups of flour that is 1125 grams. However, for bread, it allows 4.5 loaves in a single Mix while for cookies it allows 9 dozen in a single Mix. It has a direct drive transmission option as well. However, it does not have an All-steel gear transmission.
This product by KitchenAid is completely nylon coated which makes its dishwasher safe. It comes in white color because of the nylon coating. The white color is the indication for those attachments of this mixer that can be washed in the dishwasher. There are also burnished metal mixer attachments available with this product. The good part of using burnished metal mixer attachments is no coating will peel off even after years of use. The dough hook of this mixer is nylon coated and available in C shape.
Kitchenaid Professional 5 Plus
It is another product of Kitchenaid and it is also well known for its amazing features and functions. This KitchenAid mixer has a motor that works on 450 Watts of power. It has an AC motor which is comparatively slower than a usual DC motor. It has a 5 quarts bowl size which is large enough for mixing a large number of food ingredients. It also works with different maximum quantities for different ingredients.
For mixing flour you can mix 12 cups that are 1500 grams of flour. However, if you want to make bread then you can make 6.5 loaves of bread. You can Mix 10 dozen in a single Mix when mixing cookie powder. However, if you are mixing mashed potatoes then 7 pounds of ingredients can be mixed in a single mix.
Unlike KitchenAid artisan mixers, it has All-steel gear transmission along with a soft start feature which can minimize its splatter. Moreover, it also has an electronic speed sensor which can let the mixer maintain precise speed while mixing. It also comes with commercial-style motor protection which makes the motor shut off automatically when there is an overload to protect motor life. This product comes with a nylon coating which is why it is dishwasher safe. Due to the nylon coating, it comes in white color, and all the attachments in white color are safe for dishwashers as well. The dough hook is made with a nylon coating and it is a white spiral dough hook which makes it dishwasher safe as it is not made of burnished metal.
Motor Capacity
Kitchenaid artisan mixer has a smaller motor capacity of 325 watt
Professional 5 plus has a greater motor capacity of 450 watt
Mixing Capacity
Artisan mixer can mix up to 9 cups of flour
Professional 5 plus can make 12 cups of flour and has a larger mixing capacity.
All Steel Gear Transmission:
Artisan mixer does not have All-Steel gear transmission
Professional 5 plus comes with All-Steel gear transmission
Soft Start Feature
Artisan mixer does not have a soft start feature
Professional 5 plus comes with a soft start feature
Electronic Speed Sensor
Artisan mixer does not have an electronic speed sensor
Professional 5 plus comes with precise mixing speed because of the electronic speed sensor
Conclusion
Professional 5 plus and artisan mixers are both amazing mixers of Kitchenaid however professional 5 plus come with improved and better features allowing easier and efficient use of the machine.