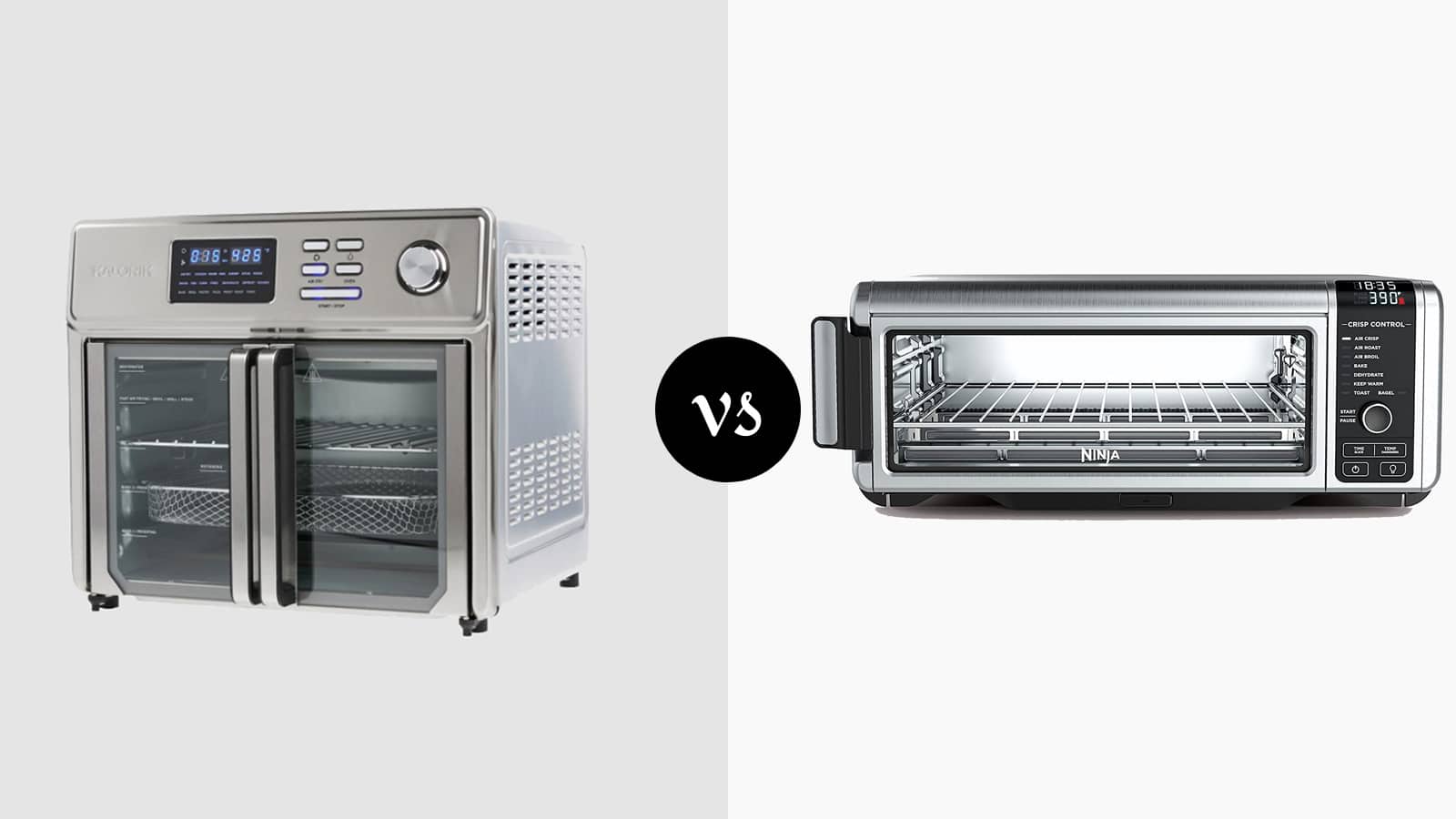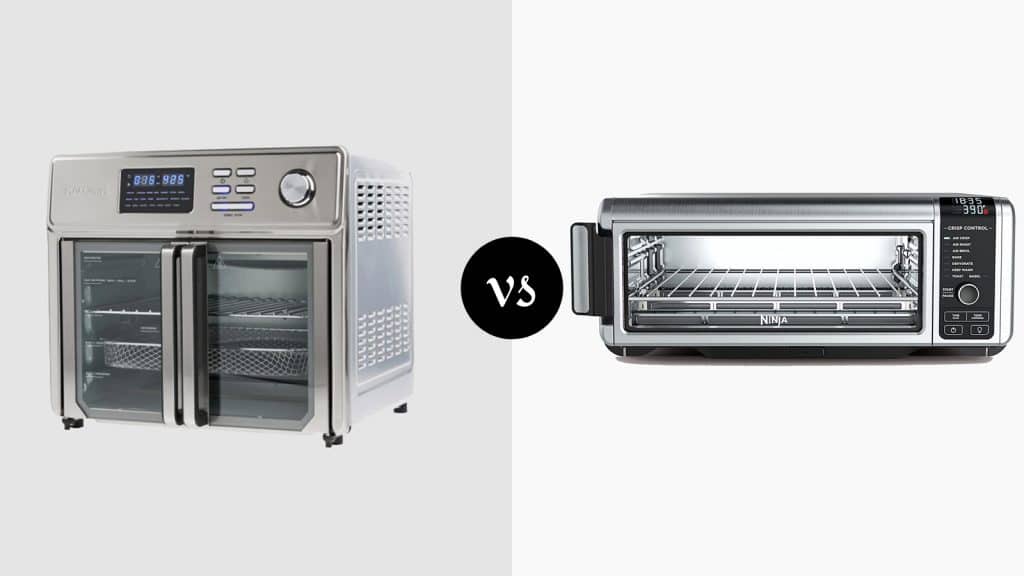 The air fryer oven is an essential kitchen equipment that blows hot air to cook food. Modern models are enhanced a lot with cutting-edge features to improve your experience. With so many different Air Fryer manufacturers on the market today, selecting one might be challenging.
Two well-known air fryer manufacturers, Kalorik Maxx and Ninja Foodi are particularly popular among users. Let's compare Kalorik Maxx and Ninja Foodi air fryer ovens!
Kalorik Maxx Air Fryer Oven vs. Ninja Foodi
Comparison Table
| Features | Kalorik Maxx | Ninja Foodi |
| --- | --- | --- |
| Price | High | Moderate |
| Dimensions | 15.75 x 12.5 x 14 inches | 19.72 x 7.56 x 14.96 inches |
| Presets | 21 presets | 8 presets |
| Capacity | 26 quarts | 8 quarts |
| Wattage | 1700 watts | 1800 watts |
| Max temp | 500 degrees | 450 degrees |
Kalorik Maxx
If you appreciate aesthetic designs and want your kitchen to look trendy and simple, the Kalorik Maxx is undoubtedly a gadget you should have in your kitchen.
It has been featured on the Food Network, Cooking Channel, and more. This air fryer oven not only has the most incredible design but also has some of the best functionality features.
Features
Kalorik Maxx offers many wonderful features and a large cooking capacity of 26 Quarts. This is the best option for roasting a whole turkey or fitting any other dish entirely inside the oven. It can roast a 14-pound turkey quickly and up to 27% quicker than a traditional oven.
The French glass doors of the Kalorik Maxx have a single-hand opening to minimize scorching and leaking on oven doors. You can use them to check the cooking progress inside the air fryer oven.
Performance
Unlike most air fryers on the market, the Maxx oven can reach 500°F to make precisely caramelized meats, vegetables, and more. It also cooks food quicker, thanks to its high-efficiency 1700W Turbo technology and increased airflow.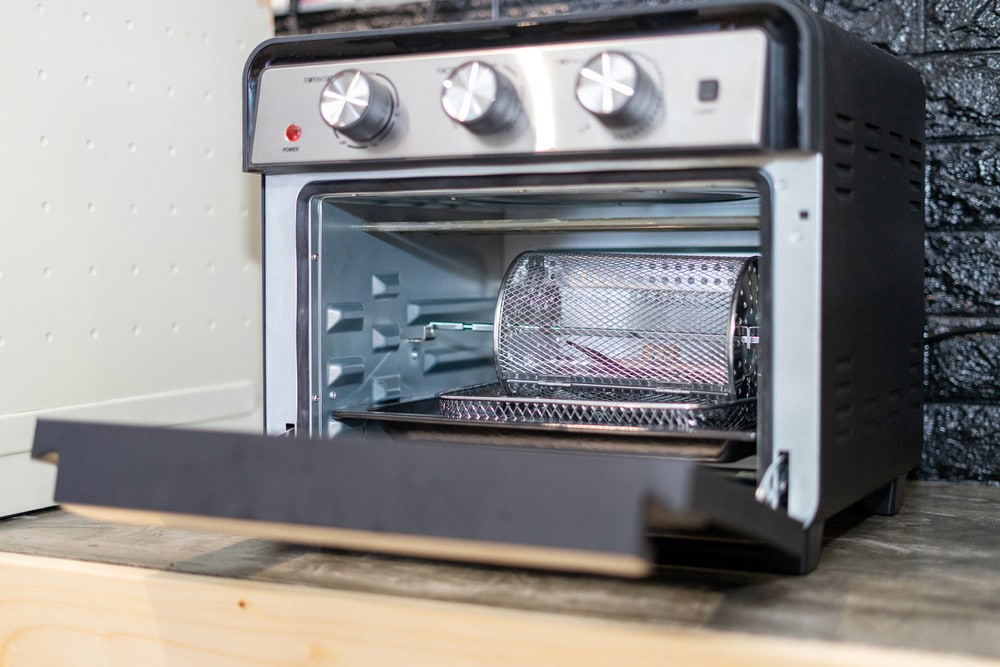 The air fryer has advanced technology that consumes less power. It would conserve more electricity than typical ovens or air fryers, thus saving you tons of money in the long run.
You have complete flexibility with functions for baking, toasting, grilling, roasting, and broiling. While decreasing oil and calorie by up to 75%, you may still obtain the same crunchy texture and rich flavor of fried cuisine.
Price
The Kalorik Maxx air fryer oven is a bit pricey, which could be a deal-breaker for some people. But when it comes to its features and specifications, the cost is completely justified!
Ninja Foodi
Ninja Foodi is a reputable company that provides a variety of kitchen equipment to meet a variety of purposes.
Features
Ninja Foodi air fryers are popular due to their innovative features, less power consumption, and safer frying experience. With two specific features, dual heat technology and a smart thermometer, Ninja Foodi is certainly among the best models on the market.
Performance
As far as the temperature range is concerned, the Ninja Foodi can reach up to 450 C. The maximum temperature is a bit lower than its Kalorik Maxx air fryer, but it works well for most users.
You get an incredible air fryer with the Ninja Foodi that has an 8-quart capacity and a 2-basket air fryer (6-in-1 dual zone). These two baskets allow you to air fry two foods simultaneously and control their temperatures separately.
This will enable you to accomplish the task much faster. This feature will be particularly helpful when making two or more meals simultaneously. The air fryer has a matte grey coating that protects it from humidity, oil, and scrapes. Not only does it protect the unit, but it also adds to its elegance.
Price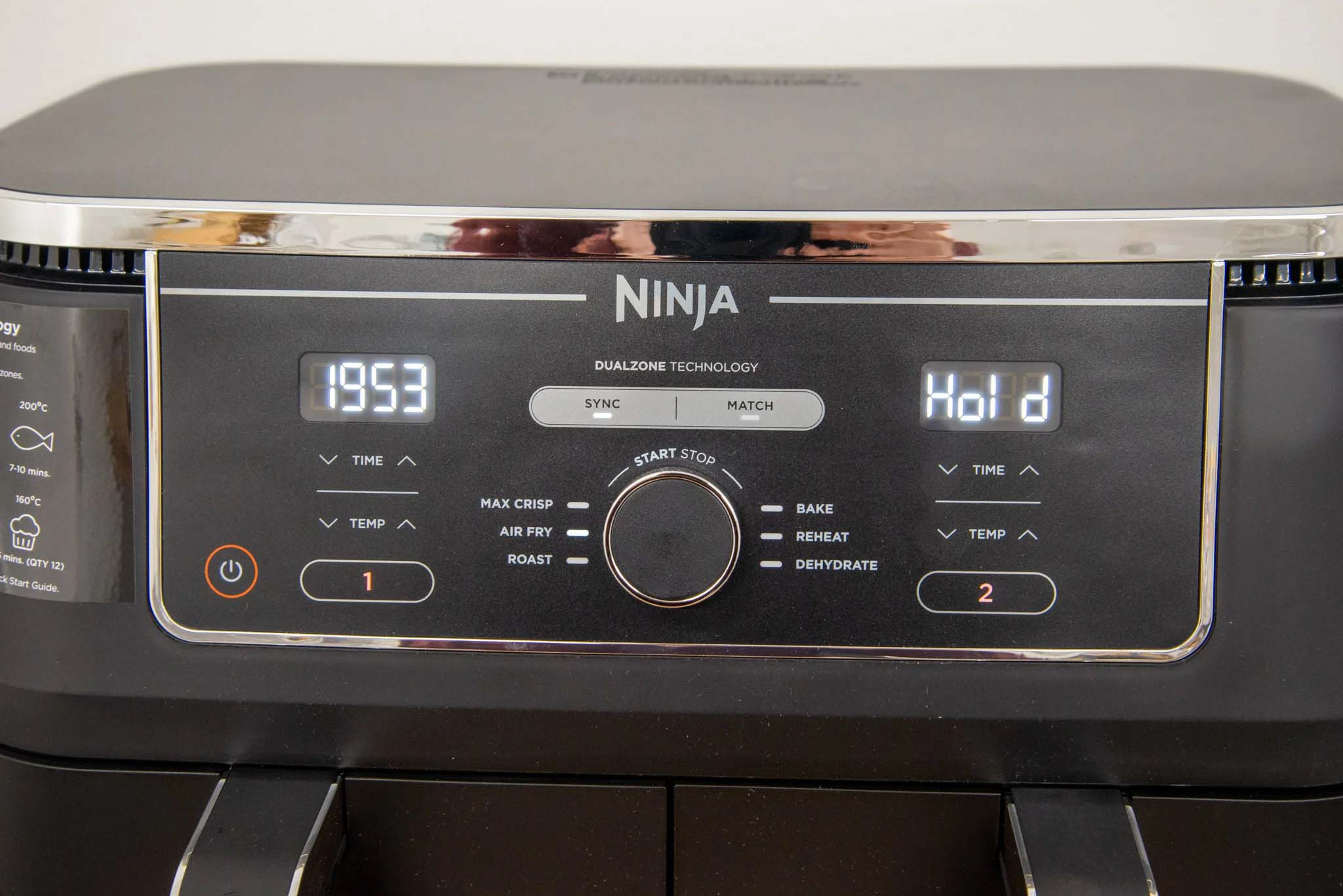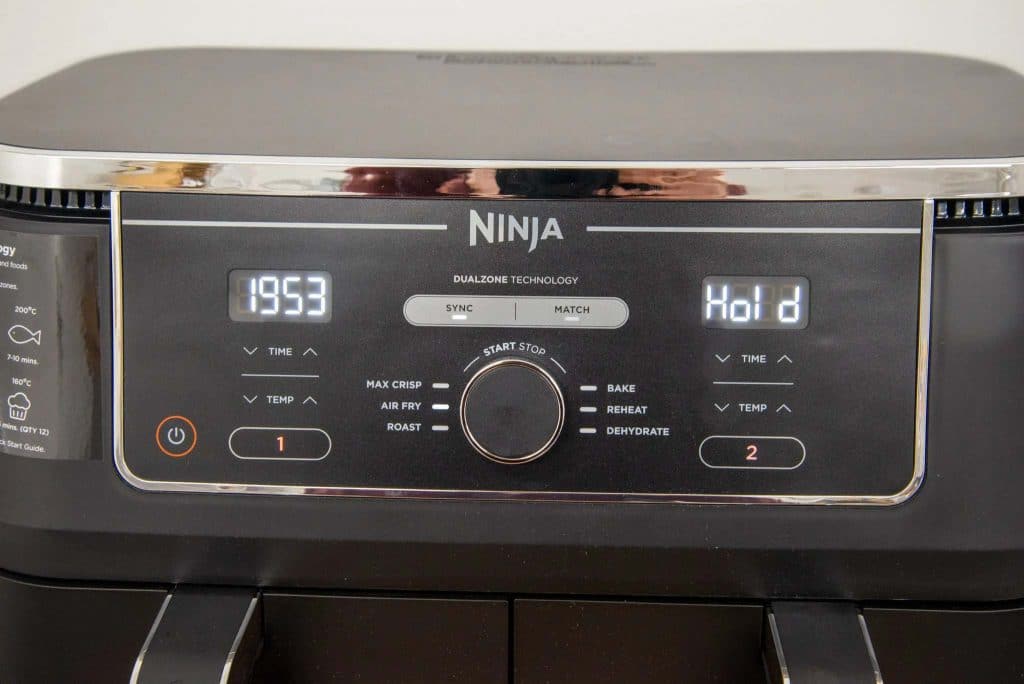 The Ninja Foodi 6-in-1 8-Quart 2-Basket air fryer has been priced reasonably, making it an excellent choice for those who are low on budget. And the tons of cool features mean that you are getting full value for your money.
Final Verdict
To sum it up, the Kalorik Maxx looks like a good option if you are looking for a model with greater capacity and additional features. However, Ninja Foodi is the clear winner, thanks to its higher efficiency and dual-zone options. What's the best part? It is also cheaper than Kalorik Maxx.