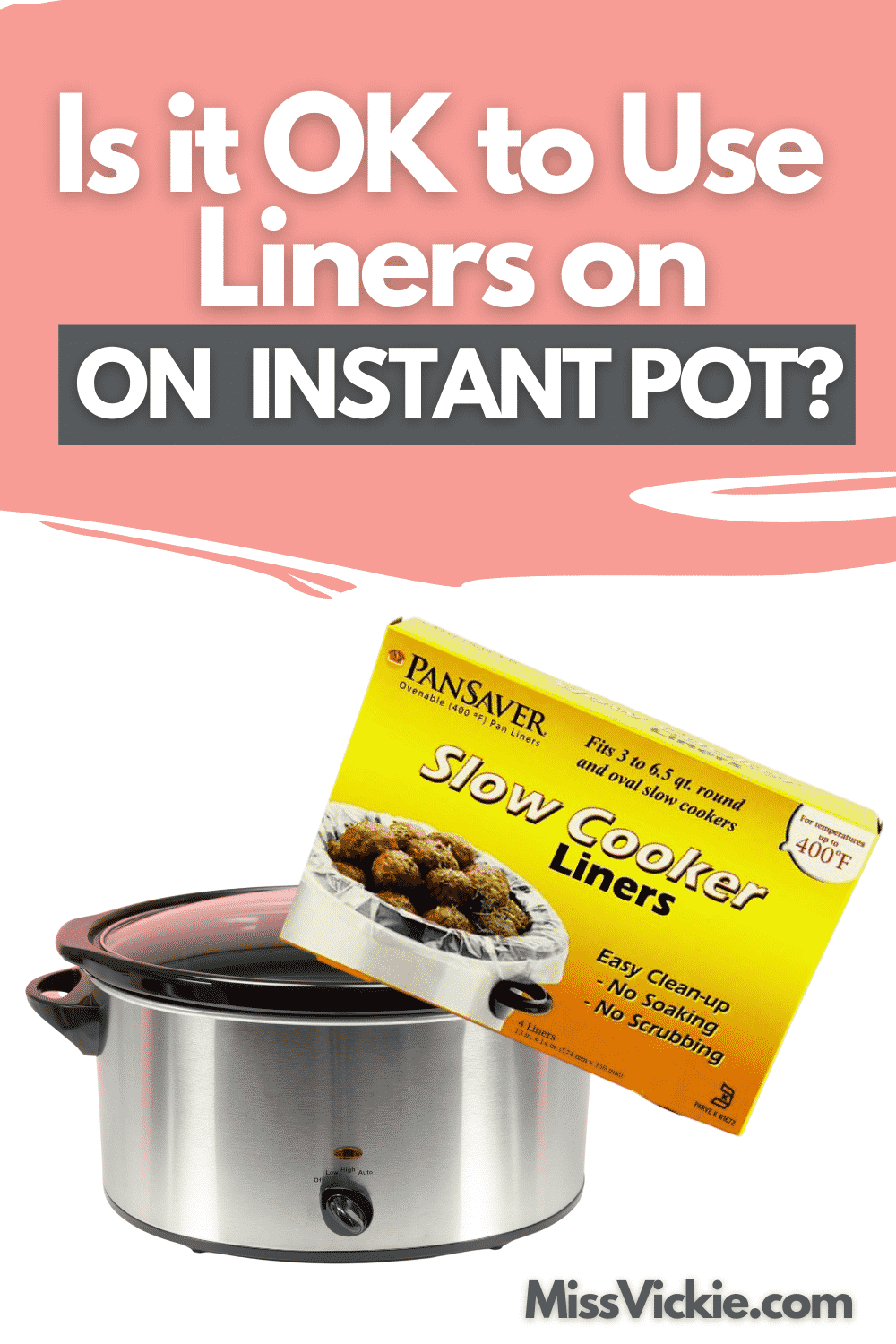 Is it Ok to Use Instant Pot Liners?
DISCLOSURE: This post may contain affiliate links, meaning when you click the links and make a purchase, I receive a commission. As an Amazon Associate I earn from qualifying purchases.
Instant Pot liners are readily available online and in most grocery stores. They cost around $3 for a pack of 6. Most brands fit any size of Instant Pot, from 3-8 quart, whether they're round or oval.
What are the liners made of?
We create amazing recipes. Gain FREE access to Miss Vickie's special recipes.
We won't send you spam. Unsubscribe at any time.
Most liners on the market are made of nylon and silicone ones are available too. This material is safe for low, medium, and high settings up to temperatures of 400 degrees F.
That means that they're safe in pressure cook mode too. The majority of liners are BPA-free but please make a point of always checking for this on the packaging.
Why would I use them?
Instant Pot liners make cleaning up fast and easy. You don't have to wash your inner pot but simply throw the liner away after use.
This means there's no soaking or scrubbing of your Instant Pot and you get to enjoy more time with your family!
Instant Pot liners also make it easier to transfer leftovers from the pot to a container for refrigeration or freezing.
How to use Instant Pot liners
Simply remove a liner from the box, open it out, and use it to line the inner cooking pot of your Instant Pot. Insert the inner cooking pot, liner and all, into the Instant Pot cavity.
Make sure that the liner is tucked in securely around the top edge. Now add your ingredients, as usual, secure the lid, and continue cooking as normal.
Once your food is done, we advise you to spoon it out while the liner is still in the pot. Do not attempt to lift the liner and the hot food out of the pot. If the liner tears, you will have a mess and you may get badly burned.
When you buy liners, here's what to look out for:
Make sure you get BPA-free liners. BPA has been associated with many serious health issues.
Some liners are thicker and stronger than others. We reiterate: be very careful when removing them from your Instant Pot with hot food in them.
They have been known to tear and you may burn yourself. It's better to spoon out the food before removing the liner.
Look for eco-friendly, recyclable Instant Pot liners. We all need to do our bit to preserve our environment.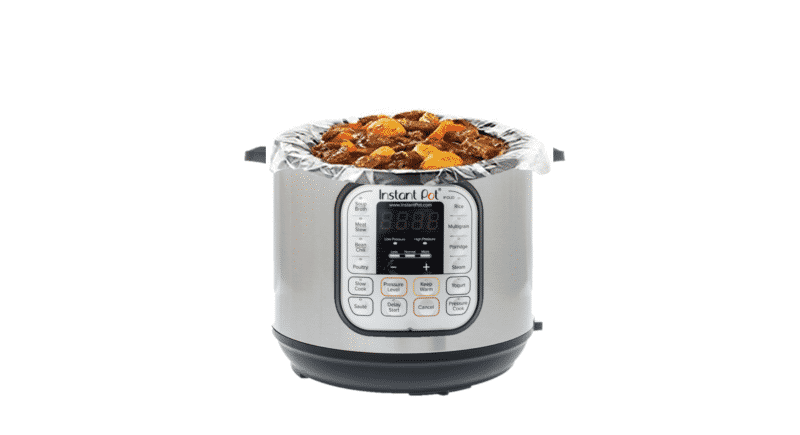 Please do not…
Never try to economize by using plastic bags as liners for your Instant Pot. Firstly, plastic cannot withstand the high cooking temperatures of an Instant Pot, especially in pressure cook mode.
Secondly, plastic will release dangerous toxins into your food when heated.
Safe alternatives to Instant Pot liners
If you decide not to use liners for your Instant Pot, your next-best option is to coat the insert with a non-stick cooking spray whenever you cook.
This makes cleaning up a lot easier, especially when cooking with sticky sauces or when using your pot on the browning mode.
Another alternative, if you decide not to go with Instant Pot liners, is to use silicon baking or mixing bowls on top of the trivet.
This also helps with the transfer of leftovers and makes cleaning up much easier. Again, please don't use ordinary plastic bowls as they will release toxins into your food.
Summing up
To answer the original question then…yes, it is definitely okay to use Instant Pot liners. If you can afford it, the extra cost is worth it because you will save time on cleaning up.