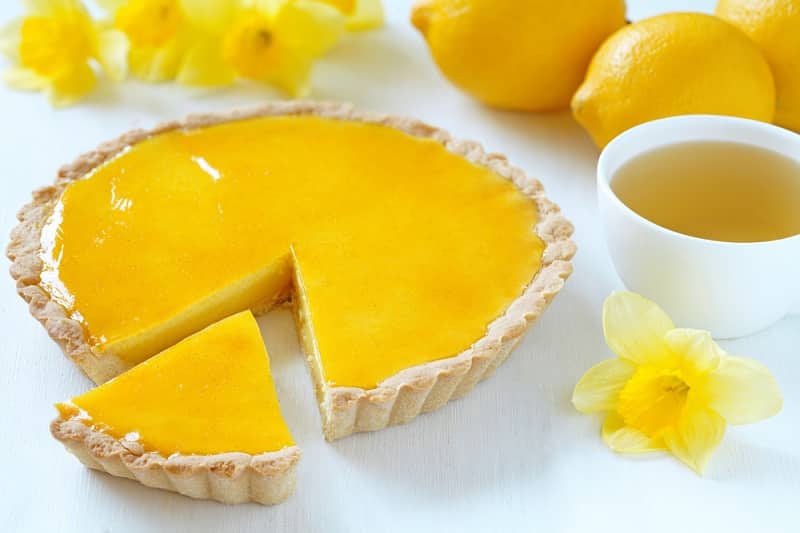 DISCLOSURE: This post may contain affiliate links, meaning when you click the links and make a purchase, I receive a commission. As an Amazon Associate I earn from qualifying purchases.
If you have a sweet tooth (or maybe even if you don't), we are sure you're a fan of lemon pudding. Instant lemon pudding is one of the most convenient desserts around.
Lemon is also one of the most widely loved flavors, making this dessert a favorite go-to for many. If you have run out and are looking for an instant lemon pudding mix substitute, read on. We've got all the best alternatives coming up.
Instant Lemon Pudding Mix Substitute
There are several solutions available to sort out your cravings. Each of these instant lemon pudding alternatives comes out great and takes very little time at all to make.
1. Create Your Own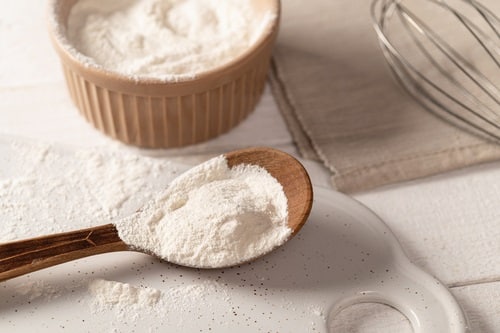 If you can't find instant lemon pudding mix anywhere, we suggest trying this recipe and making your own. In no time, you'll have a tasty batch of pudding that may taste even better than the store-bought mix you're used to.
Ingredients:
1 Lb. Cornstarch
8 Cups Nonfat Dry Milk Powder
4 Cups Sugar
1 Teaspoon Salt
1 Cut Vanilla Bean Whole With Seeds
Method:
Combine all your ingredients in a large mixing bowl and mix well.
Divide the mixture into batches of one and a quarter cups each.
Once you're ready to whip up a batch of lemon pudding, combine the mix with boiling water in a pot.
Heat the mixture on a stovetop over low heat, constantly stirring until it thickens.
Once thick, add a teaspoon of lemon extract, a tablespoon of butter, and a tablespoon of lemon juice. Serve hot.
2. Lemon Enhancers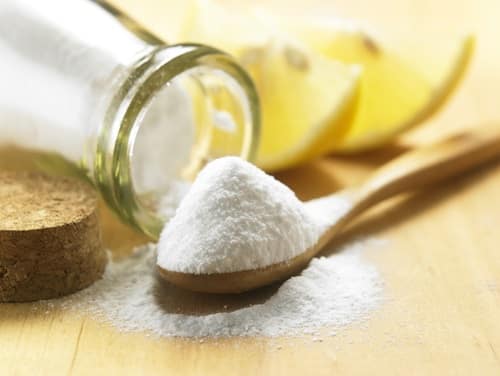 If you've been working in any culinary field for some time, you will know just how great lemon enhancers are for desserts and pies. Use regular simple instant pudding as an instant lemon pudding mix substitute.
Add a little lemon enhancer, and you'll instantly have a tasty lemon pudding good-to-go. Opt for lemon zest or lemon juice added to simple pudding if you can't get your hands on any lemon enhancer.
3. Vanilla Mix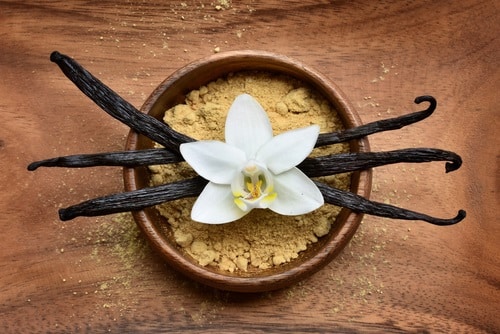 If you can't find an instant lemon pudding mix, give a vanilla mix a try. Instant vanilla pudding mix is typically readily available and doesn't run out as fast as other flavors. All that you need to do to transform this into a lemon pudding is add in lemon flavor. Whether you add lemon zest, lemon juice, or a lemon enhancer is up to you.
4. Cake Mix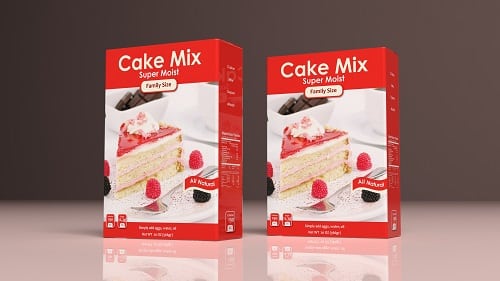 Pudding mix can run out fast, especially around a seasonal holiday. Grab a cake mix kit instead if you can't find any instant lemon pudding available. Cake and pudding have nearly identical ingredients. Even standard vanilla cake mix will work. Just add flavor with lemon zest, lemon essence, lemon juice, or a lemon enhancer once again.
5. Lemon Filling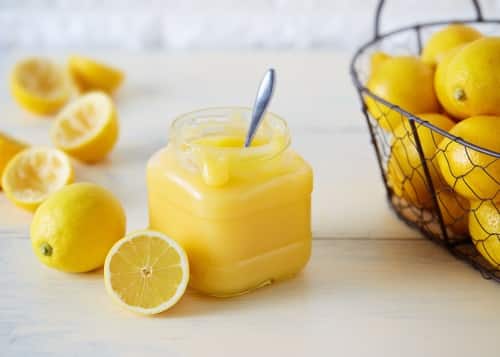 Lemon filling is one of the easiest and most effective substitutes out there. It's readily available in supermarkets and extremely easy to make at home. Here's a fantastic recipe courtesy of Betty Crocker for you to try.
Ingredients:
3/4 Cup of Sugar
3 Tablespoons of Cornstarch
2/3 Cup of Water
1/4 Teaspoon of Salt
1 Teaspoon of Lemon Zest
1/4 Cup of Lemon Juice
1/2 Teaspoon of Yellow Food Coloring
Method:
Combine the sugar, cornstarch, and salt in a large pot, gradually stirring in the water until it's all dissolved.
Heat this mix on your stovetop at medium heat, constantly stirring until it begins to thicken.
Once thick, boil for a further minute and then remove from the stove.
Blend in the butter and lemon zest.
Blend in the lemon juice and food coloring.
Cover the mixture with a sheet of plastic wrap, pressing down tightly to prevent a thick layer from amassing on top.
Refrigerate until set (this usually takes around two hours)
There you go! Homemade lemon filling that'll last in the fridge for five days. Just don't try freezing it. Before use, defrost at room temperature for half an hour and stir before serving.
6. Custard Mix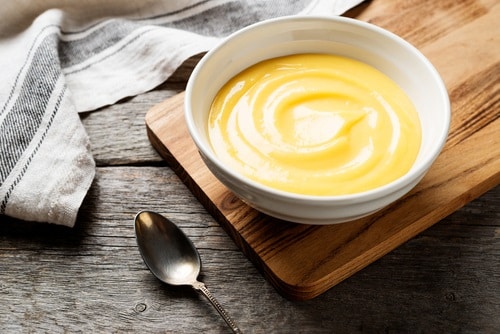 Custard mix is readily available in most stores. So, if you love instant lemon pudding and can't find the mix in stock, go for custard instead. Powdered custard lets you mix up as much as you like. We recommend adding a little gelatinized starch to give it the same texture as instant lemon pudding. With a little extra lemon essence or lemon zest, you'd never be able to tell the difference.
7. Make Your Own Vegan Lemon Pudding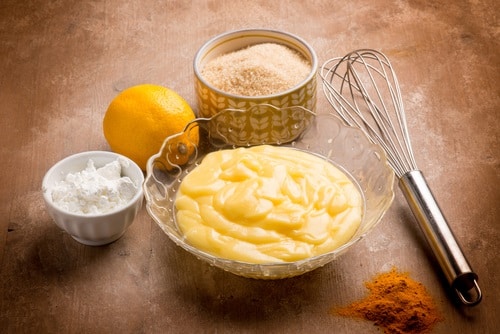 Using this recipe, you can have a tasty vegan lemon pudding ready in under fifteen minutes. Sure, that may not be instant, but it's close enough. Use these ingredients and follow our instructions.
Ingredients:
¼ Cup of Lemon Juice
2 Tablespoons of Arrowroot
¾ Cup of Coconut Cream
⅓ Cup of Coconut Milk
Lemon Zest
2 Tablespoons of Either Agave, Maple Syrup or Golden Syrup
⅓ Teaspoon Turmeric Powder
Method:
Whisk together the lemon juice and arrowroot in a small pot, whisking until smooth.
Blend in coconut cream and coconut milk as well as your choice of syrup, whisking until smooth and well-combined.
Heat the pot on moderate heat, stirring your mixture constantly while mixing in turmeric.
Whisk the blend for five to turn minutes, maintaining a steady, slow bubble but never letting it boil.
Remove your pot from the stovetop and let it cool down for fifteen minutes.
Whisk for the last time and then dispense into a container and cover.
Chill your lemon pudding in the fridge for a couple of hours, giving it time to set.
Feel free to adjust the amount of syrup relative to the sweetness you prefer. The same goes for the lemon zest; keep in mind that a little goes a long way.
Never Be Without An Instant Lemon Pudding Substitute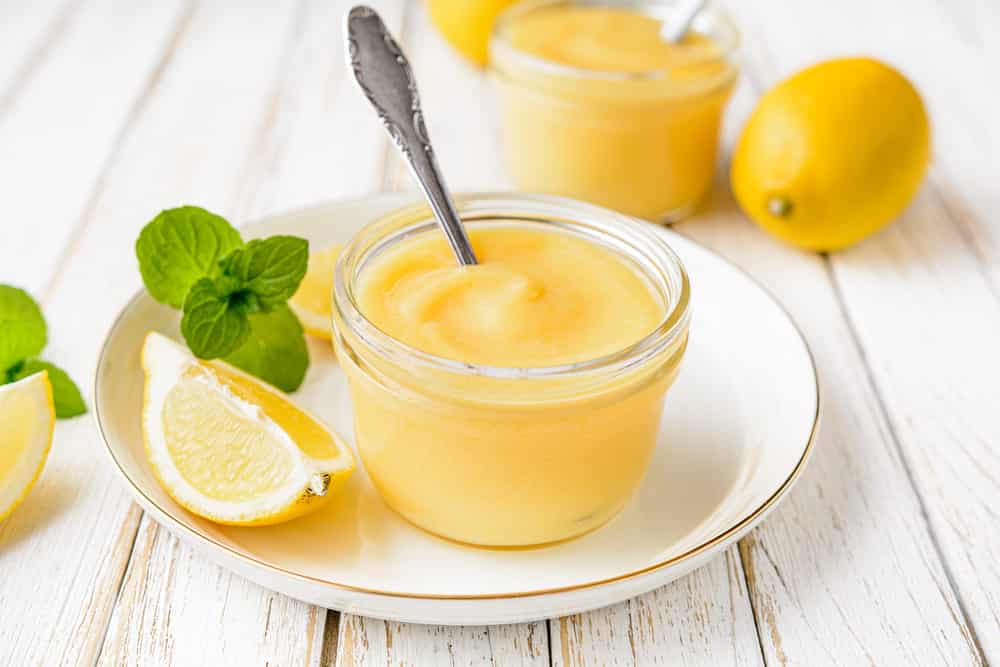 Just because you don't have any instant mix on hand, this doesn't mean you can't enjoy a lemony pudding almost instantly. Instead, opt for any of the instant lemon pudding substitutions on our list, and you'll have a tasty treat in no time.
Remember, you can swap out the lemon flavor to just about any other sweet, natural taste you can think of. Citrus will, of course, work best, but adding intense flavors like baking extracts will transform a regular pudding into something amazingly unique in no time.