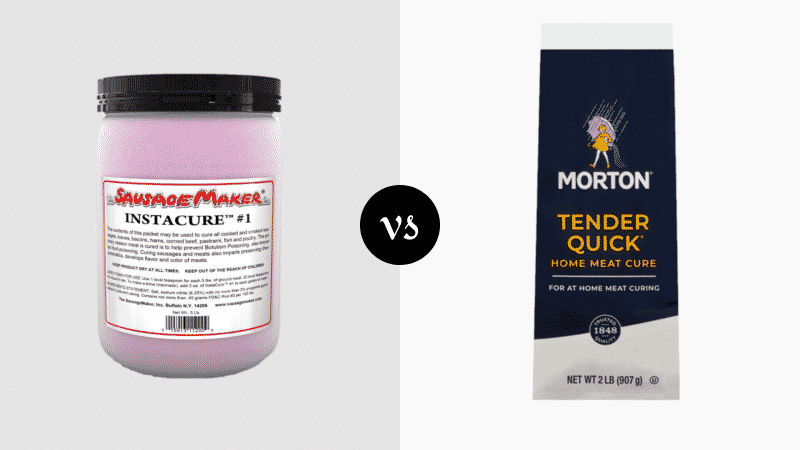 DISCLOSURE: This post may contain affiliate links, meaning when you click the links and make a purchase, I receive a commission. As an Amazon Associate I earn from qualifying purchases.
If you consider yourself an amateur cook who has a good amount of experience in the kitchen, you definitely know that you sometimes have to make sacrifices for recipes to work.
There will come times when you can't always find every single ingredient that you need. Everyone has to settle for an alternative.
In this case, we have Insta Cure #1 and Morton Tender Quick, which are both replacements for pink salt.
However, which one of them is better? If you're wondering the same thing, read on to find out all about the differences between these two fine curing salts.
If you've ever cured meat before, you've likely come across a multitude of salt-water curing recipes that instruct you to use Prague Powder.
Meat processing uses Prague powder extensively, relying on its formulation of 93.75% table salt and 6.25% sodium nitrite, an inorganic preservative and antioxidant, to cure meat quickly.
Insta Cure #1 vs. Morton Tender Quick Comparative Overview
| | | |
| --- | --- | --- |
| | Insta Cure #1 | Morton Tender Quick |
| Availability | Order Online Only & Specialty Stores | Highly Accessible Widespread Availability |
| Cost | $10.49 Per Pound | $4.14 Per 2 Pound Pack |
| Ingredients | Pink Food Dye, Salt, Sodium Nitrite (6.25%) | Salt, Sugar, Sodium Nitrite (0.5%), Sodium Nitrate (0.5%), Propylene Glycol |
| Uses | Wet Curing | Quick Dry Curing |
| Directions | Mix With Water To Create Saltwater Brine For Wet Curing | Run One To Two Pinches Directly Onto Meat To Dry Cure |
| Flavor | Tangy, Zesty Salty | Bold Saltiness |
Insta Cure #1 vs. Morton Tender Quick Comparison
Insta Cure #1 and Insta Cure #2 are similar compounds to pink Prague powder, and they're pretty close in similarity to each other as well.
However, there are definite differences. Let's take a closer look at Insta Cure #1 vs. Morton Tender Quick.
Insta Cure #1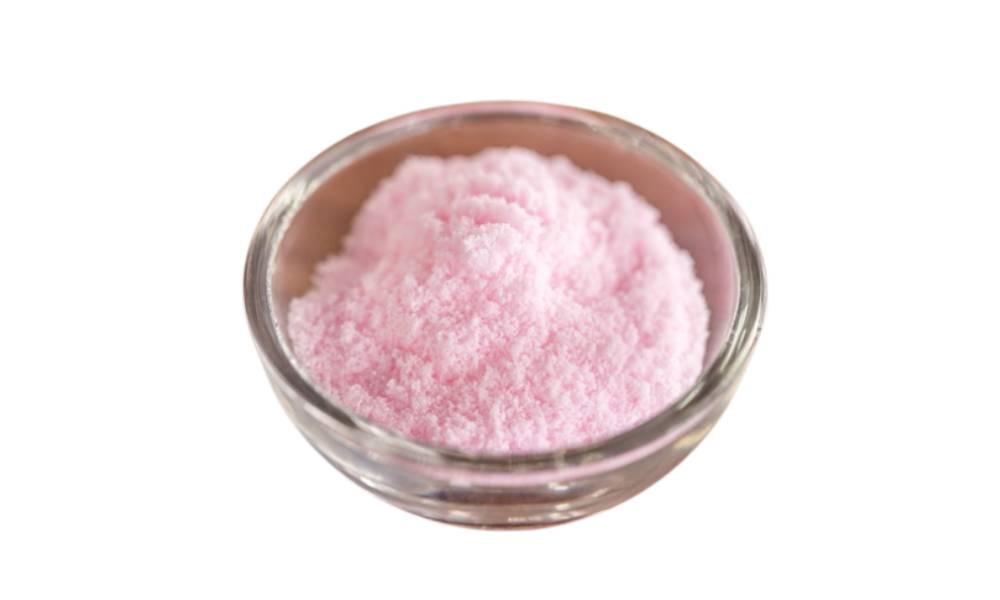 Insta Cure #1 is a trusted curing agent for wet curing across all types of meats, poultry, and fish. When a recipe calls for Prague Powder, this is what it is asking for.
Prague Powder No 1 was rebranded to Insta Cure #1. Here's a breakdown of all its information and detailed uses.
You'll conventionally only find Insta Cure #1 in gourmet food stores, spice distributors, specialty food retailers, and at certain butcheries. It's also available online to order from Amazon.
At $10.49 per pound, which is enough Insta Cure #1 to cure 480 pounds of meat, you've got a cost of fewer than 2 cents per pound of meat curing.
The average American citizen only eats 274 pounds of meat per year in total, on average. It's dirt cheap and of great value.
Insta Cure #1 contains salt and 6.25% sodium nitrite, as well as Erythrosine, otherwise known as pink food dye Red No. 3.
Insta Cure #1 is a curing salt intended to be used for short saltwater curing.
Unlike Insta Cure #2, which contains nitrate for long, dry curing, Insta Cure #1 has nitrite, which is suited to wet cures lasting up to several days at a maximum.
It is not seasoning salt and isn't suitable to be applied directly to the meat and other food.
All it takes to cure meat, poultry, sausages, and fish is one level teaspoon of InstaCure #1 for every five pounds of ground meat used. Make a brine by adding fifteen level teaspoons of InstaCure to every gallon of water.
Insta Cure #1 only contains sodium nitrite at a far higher concentration than Morton Tender Quick and salt, which means it's got a pronounced tangy, zesty saltiness imparting a sweet sensation ever so slightly.
It brings out the flavor of the meat while adding a salty taste that isn't simply flat.
Morton Tender Quick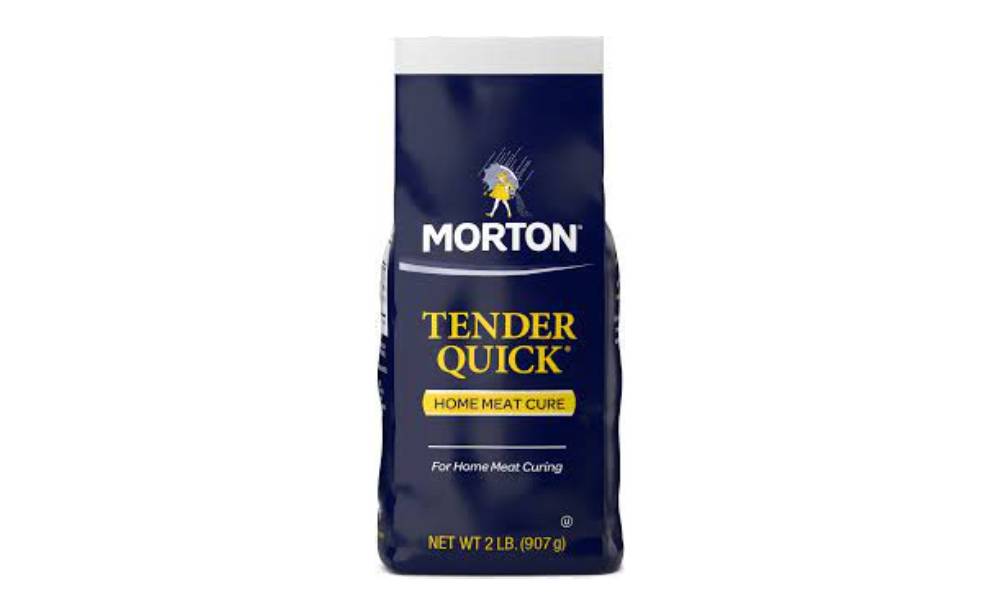 All that it takes to give the meat a cured flavor and pink color is a pinch or two or Morton Tender Quick. It's ideal for small cuts of meat like pork chops, chicken, turkey, and spareribs.
This fast-cure mix has been a staple for a very long time, and it is far more versatile than most would at first think. Let's take a closer look at Morton Tender Quick.
Morton Tender Quick has been sold in stores since 1848, making it readily available all around the US.
Two pounds of Morton Tender Quick costs just $4.14 on Amazon. That's enough Tender Quick to make 16 cups of saltwater brine or one gallon.
One typically uses one quart of brine for each pound of meat, which means you'll make enough saltwater curing solution for four quarts or four pounds of meat.
InstaCure #1 is ridiculously cheaper when one breaks down the cost, but using it as a rub isn't recommended.
Morton Tender Quick contains salt, sugar, 0.5% sodium nitrite, and 0.5% sodium nitrate, as well as propylene glycol.
Morton Tender Quick is a home meat-curing salt that is applied directly to the meat.
Unlike Insta Cure #1, which is used to make a brine, Tender Quick is applied in the same way as a regular seasoning salt but for curing purposes.
Curing takes roughly 12 hours per inch to permeate the entire thickness, while large poultry and roasts can cure for up to 48 hours.
The suggested amount of curing salt to add is one tablespoon per pound of meat, poultry, pork, sausage, or fish.
This means that there's enough Morton Tender Quick in each two-pound package to dish out 64 tablespoons – enough curing salt to apply directly to 64 pounds of meat when used as a rub.
When making a brine, Morton Tender Quick recommends one cup of Tender Quick in four cups of water.
As a product designed to season and soften meat by means of fast curing and direct application, Morton Tender Quick is saltier than Insta Cure #1.
This is mainly due to a small concentration of sodium nitrate and sodium nitrite, bringing out the taste of salt.
Are Insta Cure #1 and Morton Tender Quick Similar?
The answer you are looking for is an alarming NO. Unfortunately, Insta Cure #1 and Morton Tender Quick are not meant to be substituted for one another.
You should definitely avoid replacing the written salt in your recipe with either of these. Neither is seasoning.
Both are for curing meat in different ways. You can, however, use both products to create saltwater brine for curing. Insta Cure #1 is far better suited to wet curing, though.
Can You Interchange Insta Cure #1 with Morton Tender Quick?
Everyone has separate tastes and preferences, but we personally recommend that you do not confuse these salts with each other unless you're feeling dangerous and are willing to experiment.
Rather, find recipes that call for Insta Cure #1 and Morton Tender Quick specifically. It's the best way to know that your dish is going to come out tasting great.
Insta Cure #1 vs. Morton Tender Quick – Each Has Its Purpose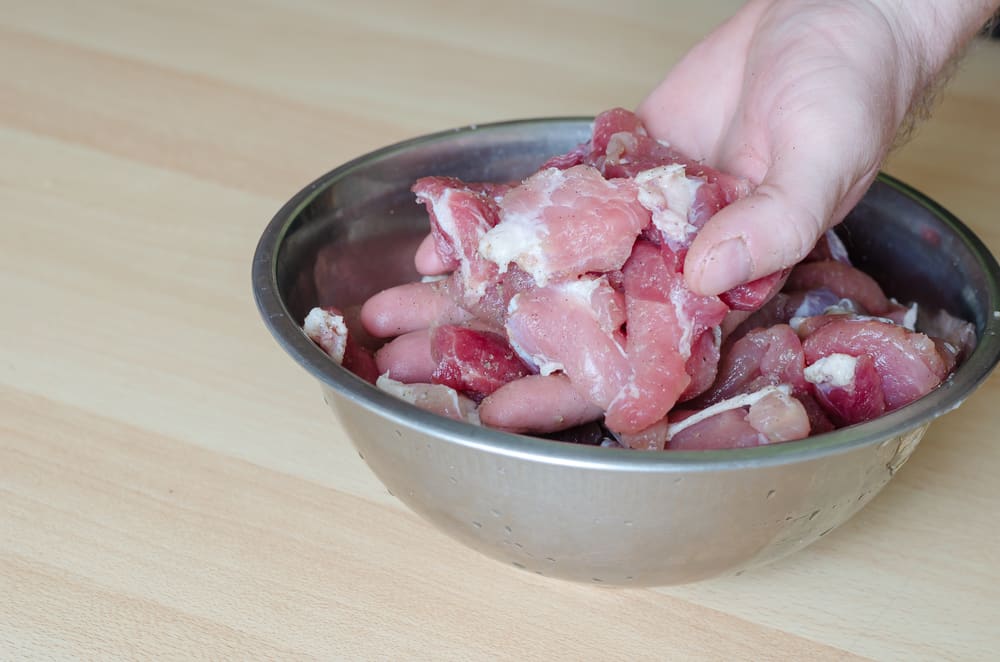 The wonderful thing about both of these curing salts is that they use the same principles to cure meat differently.
Although both hold potential for wet curing, Morton Tender Quick is the only product out of these two that will work for a dry rub.
Don't waste your time dry curing with Insta Cure #1 for this job, but you've got to try saltwater brine with all your favorite meats. Chicken, turkey, pork, and beef all come out succulently juicy.
Now that you know the differences between Insta Cure #1 vs. Morton Tender Quick, it's time for you to start curing and begin discovering all the wonderful ways you can add flavor to the meat while softening it in the process.