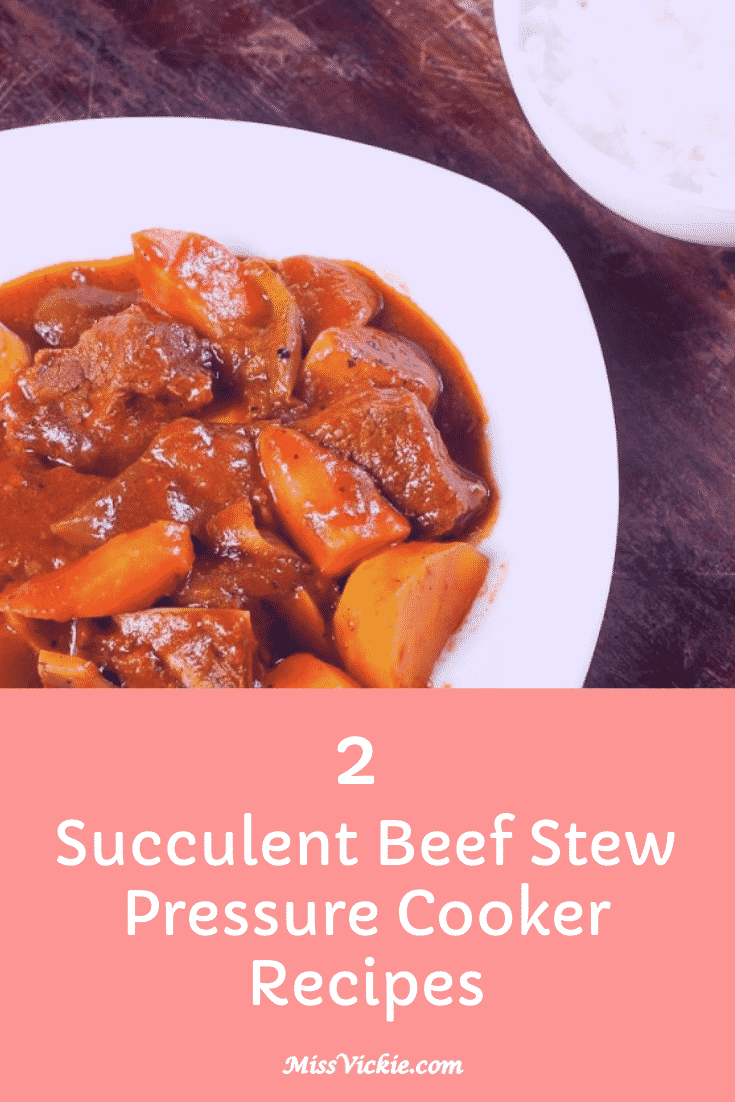 Pressure Cooker Beef Stew Recipe
1. Beef Stew
Ingredients
2 teaspoons cornstarch
1 tablespoon vegetable oil
2 cups of water
1 small onion
2 teaspoons salt
2-pound cubed beef stew meat
5 carrots – peeled and diced
8 medium baking potatoes
2 cubes beef bouillon
Directions
First, heat the oil carefully in the pressure cooker over medium-high temperature.
If the stove has an insert, separate it and cook it directly in the bottom of the pan.
Add the beef, onion, and properly cook it until browned on all sides.
Next, mix in and stir the bouillon cubes, water, and carrots.
Then lock the lid and secure the pressure regulator properly.
Heat it until there is a sizzling sound, then carefully reduce the temperature to medium, and set the timer for 25 minutes. If you have a flexible pressure regulator, set it spontaneously for 10 pounds of the pressure.
Meanwhile, place the potatoes in a saucepan with sufficient water to cover.
Then bring it to a boil, for about 15 minutes, and cook it until tender.
As the rest of the stew, this entire process should take about an equal amount of time.
After 25 minutes, release the pressure carefully from the pan according to the manufacturer's directions – if needed, place the pressure cooker under cold running water for 10 minutes until the lid can be free.
After that, remove the lid carefully, and put the pot over medium temperature.
Take it to a boil.
Mix the cornstarch into a little amount of cold water to prepare a slurry.
Stir it into the stew, and cook it for several minutes.
Finally, place the potatoes in the serving dishes, and ladle the stew smoothly over them.
Nutrition Facts (For Per Serving): calories: 487; fat: 23.8g; carbohydrates: 42.4 g; protein: 25.6 g; cholesterol: 76 mg; sodium: 900 mg.
2) Spicy Beef Stew with Mushrooms and Carrots
Ingredients
1 or 2 cups mushrooms
1 tablespoon Worcestershire sauce
1-pound beef chuck – 1-inch cubes
2 cloves garlic
1 tablespoon tomato paste
1 teaspoon salt
4 Yukon Gold potatoes
3 cups beef broth
1 or 2 teaspoon ground black pepper
1 or 2 teaspoons dried rosemary
2 carrots – 1 or 2-inch thick slices
1 tablespoon butter
1 onion – cut into six wedges
Directions
First, turn it on a pressure cooker and choose the Sauté function.
Then melt the butter and cook the beef chuck cubes in batches until browned it accurately on all sides, about 10 minutes each batch.
Then return all the beef chuck smoothly to the pot.
After that, add mushrooms, potatoes, carrots, onion, and garlic; cover it with the beef broth.
Then stir it in tomato paste, Worcestershire sauce, pepper, salt, and rosemary.
Lock and close the lid carefully.
Select the Stew or Meat function according to the manufacturer's directions; set the timer for 30 minutes.
Then provide 15 to 20 minutes for pressure to build it.
Finally, release the pressure applying the natural-release technique according to the manufacturer's directions, 15 to 45 minutes.
Then Unlock and separate the lid.
Nutrition Facts (For Per Serving): calories: 352; fat: 16.4 g; carbohydrates: 32.2 g; protein: 20 g; cholesterol: 59 mg; sodium: 1321 mg.