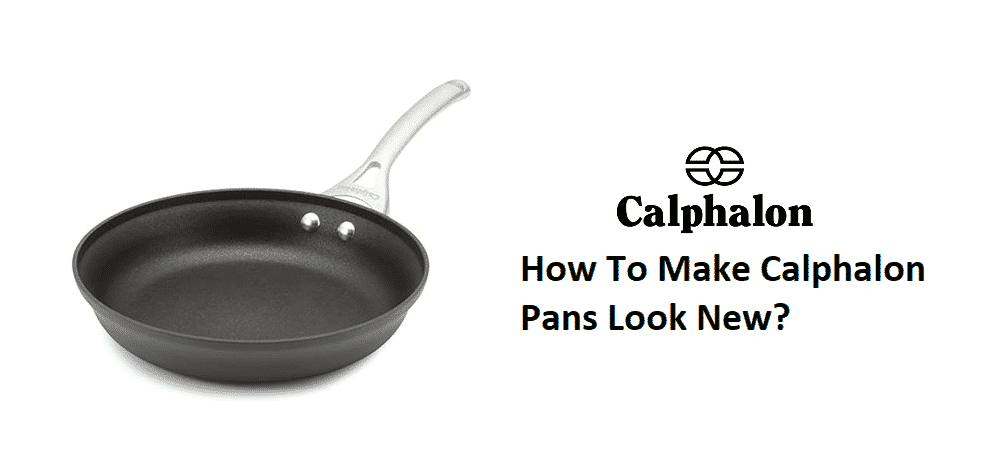 Calphalon is a brand that offers Amazing quality pots with brilliant nonstick coating on them. The non-stick coating on Calphalon pans makes easy cleaning possible and they are also dishwasher safe. These pans are quite low maintenance. However, you can have cooking accidents like overheating your Calphalon pan or forgetting your pan on the stovetop.
These disasters are common when working in the kitchen. That is why we have listed a few ways to restore your Calphalon pots and pans.
How To Make Calphalon Pans Look New?
Calphalon products are quite sturdy and durable. However, you can get them damaged if you're using abrasive Chemicals or wrong methods for cleaning after having food burnt on your cookware.
Apply Mild Dishwashing Liquid On Burnt Calphalon Cookware
All of us have burnt food while cooking and the solution is using the appropriate liquid to clean up all the remnants of burnt food. However, your regular solution for cleaning burnt Calphalon cookware should not be using strong dishwashing liquid. You might require a few more steps to deal with it.
First of all, you must put mild dishwashing liquid on your burnt Calphalon pan or pot.
Make sure that you add the solution directly to the affected areas of your cookware.
Now place the Calphalon pan with the dishwashing liquid on the stovetop at medium heat.
To assist the dishwashing liquid in cleaning your pan you must leave your pan for about 15 to 20 minutes on the stovetop until it simmers.
Now turn off the heat of your stovetop and set aside your Calphalon pan for about half an hour until it cools down.
After 30 minutes when your pan is cooled, you can Scrub gently to remove all the stuck food from your pan.
Do not Scrub all the remains of burnt food at once. Continue scrubbing with intervals to remove a crusted layer.
Now you must rinse wash your pan properly and pat dry it.
However, if you do not want to follow this procedure then you can go for an alternative procedure that uses vinegar.
Vinegar To Remove Burnt Stains From Stainless Steel Pan
It is one of the best ways to clean your stainless steel Calphalon Pan by soaking it in white vinegar. White vinegar is acidic and will react with the layer of burnt food on your Calphalon pan.
First of all, you must mix white vinegar along with distilled water in an equal ratio.
Now you must soak your burnt Calphalon pan into this mixture for about 10 to 15 minutes.
After 10 to 15 minutes the burnt remnants of food will start coming out.
Once all the burnt remnants of food have come out you must throw away the vinegar and water mixture into the Sink.
Wash and pat dry your Calphalon pan thoroughly.
Hopefully, this blog helped you in restoring your burnt Calphalon Pan/pot with the help of these few steps.