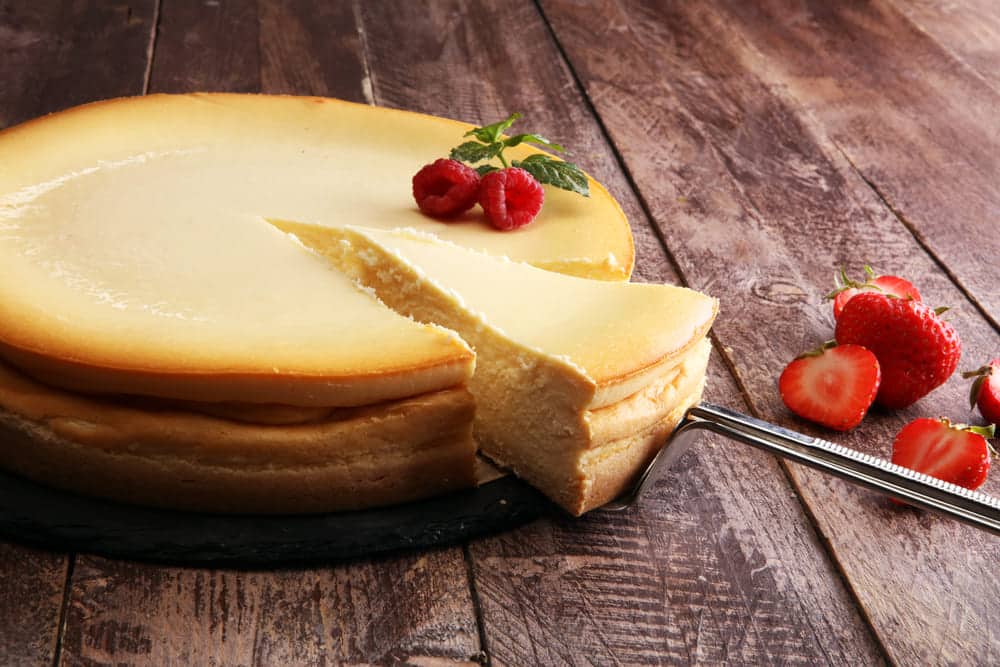 Cheesecake is a widely liked dessert having one or more layers. The main and thickest layer comprises a blend of soft, fresh cheese, sugar, and eggs. If there happens to be a bottom layer, it often comprises a base or crust made from pastry, graham crackers, mashed cookies, or sponge cake.
How To Fix A Cheesecake That Didn't Set?
Wondering how to fix a cheesecake that didn't set? Well, here's a list of some tips and tricks to overcome this problem:
1. Runny Cheesecake
It is usually suggested that when you take out the cheesecake from your oven, you must put it in the refrigerator overnight. If you don't want to sit and wait a whole day when you've baked the cake in the morning, then you should keep your cake in the refrigerator for no less than eight hours.
Now, this will provide you enough time for the cheesecake to cool down and get thicken up, transforming it into the perfect cheesecake that everyone desires and adores.
2. Cracked Cheesecake
The reasons behind the cracking of cheesecakes and the best ways to avoid them.
a. Overmixing of the batter:
Problem:
The overmixing of batter. While preparing your filling, overmixing can cause too much air to enter the batter. When done baking, the air bubbles will blow up causing the cheesecake to fall and crack.
Fixing:
The significant reason why you've overmixed your batter is because of the cold ingredients which are facing difficulty in mixing. So you need to bring your ingredients to room temperature before beating so the batter will need the least mixing.
b. Overbaking of the cheesecake
Problem:
Baked over time. Most probably you just forgot to set the timer or the wiggly center made you hesitant. No matter what, if you overbake your cheesecake then the egg proteins will be cooked over time and will cause cracks.
Fixing:
This problem can be fixed by using a water bath. It helps the cheesecakes to bake at a steady and gentle temperature. Additionally, you can utilize an instant-read thermometer to know when your cheesecake is ready.
Cracks occur when your cheesecake gets very dry. Withdraw your cake out of the oven when it's still wiggly to avoid this mistake.
3. Sticky Cheesecake Base
Problem:
Most probably you forgot to prepare your pan bottom or might be possible your oven is angry at you for some reason and wants a sacrifice of your beautifully put-together cake. Whatever's the reason, attempting to scrape off a determined cake out of the pan is irritating and also very heartbreaking.
Fixing:
If you haven't already, let your cake cool down completely. Now you need to wrap it in foil and pan and then place it into the freezer. When it's completely frozen, you can place two butter knives or a spatula under the cake and pull it out gently in one piece. Give it some more time to thaw, then frost it and enjoy.
Conclusion
Now you're aware of the mistakes that cause your cheesecake to get cracks, runny, or sticky. Well, with the help of this article you'll know how to fix a cheesecake that didn't set, you're completely able to prepare a cake that everyone will love, kudos!