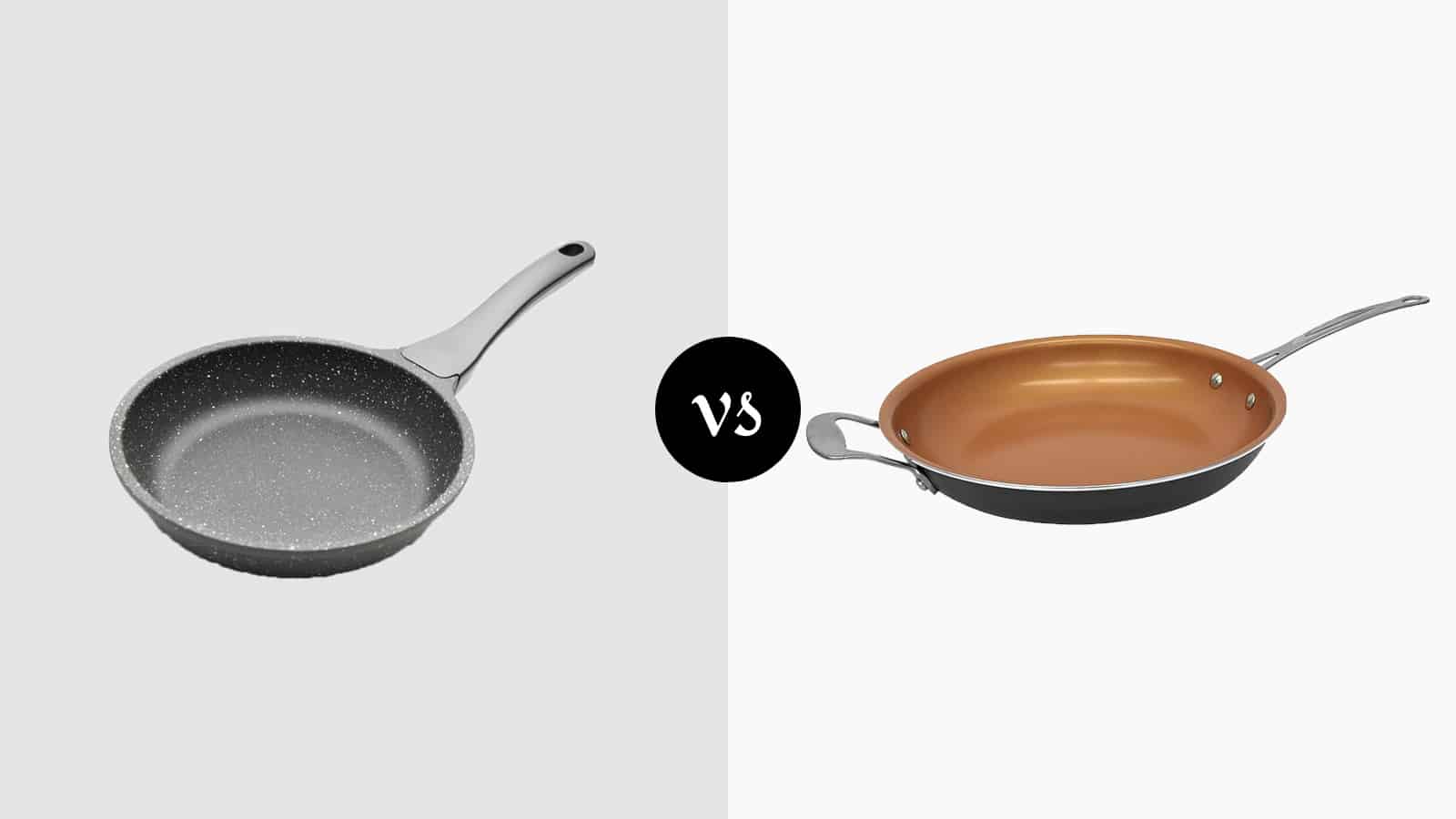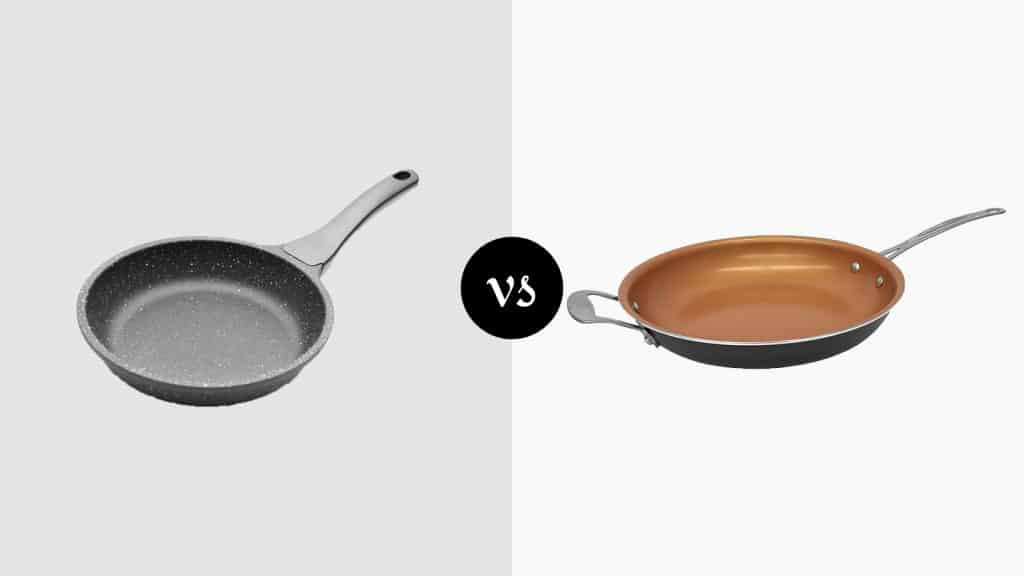 Selecting the right cookware makes all the difference between a stunning, well-equipped kitchen that could well last a lifetime if well taken care of and a selection of pots, pans, and bakeware that need to be replaced every few months to save frustration.
Poor cookware delivers terrible results. To guarantee you'll never be plagued by heat inconsistencies and the like, two outstanding choices arise.
We'll be taking you through a comprehensive comparison of Granite Rock Vs. Gotham Steel cookware, two of the very best mid-range options out there.
Granite Rock Vs. Gotham Steel Comparison
Granite Rock
Gotham Steel
Product Range
Egg Pan, Fry Pans, Pots,
Colander, Knives
Gotham Sets, Pots & Pans, Bakeware, Grills & Fryers, Kitchenware
Composition
Aluminum Pressed Core Coated With Granite Rock Diamond-Flecked Coating
Titanium Core Coated With Food-Grade Ceramics
Surface Texture
Textured But Smooth Surface Resembling Slate Granite Rock
Rough, Textured Surface That Requires Seasoning To Be Non-Stick
Best Uses
Electric Stove Cooking
Applications
All Purpose Versatility, Suits Ultra-High Temperature Cooking
Handle
Steel Handle (Prone To Getting Hot)
Steel Handle (Prone To Getting Hot)
Advantages
Non-Stick, Non-Scratch, Dishwasher Safe, Oven-Safe Up To 500°F, Limited Lifetime Warranty
Non-Stick, Non-Scratch, Dishwasher Safe, Oven-Safe Up To 500°F, 1 Year Warranty, 90-Day
Money Back Guarantee
Considerations
Despite Being Non-Stick, A Coating Of Oil/Butter/Fat Will Always Be Needed
Even Though Safe To Use At High Temperatures, Food Begins To Stick
Cleaning
Supremely Easy To Clean
No Abrasive Cleaners
Affordability
10" Frying Pan - $30 | 10 Piece Set - $140 To $150
9.5" Frying Pan - $30 | 10 Piece Set - $120
Granite Rock Vs. Gotham Steel
Two of the best brands in mid-range cookware delivering exceptional performance and durability are, without a doubt, Granite Rock and Gotham Steel. Yet, with these two over-delivering in almost all regards, picking a winner can be troublesome.
Here is a complete breakdown of what you can expect from both fine lines of popular cookware.
Gotham Steel
Gotham Steel's outstanding ceramic-coated and nonstick cookware is among the best you'll find among mid-range offerings. It's nonstick, high-performance cookware that'll blow you away with its superior aesthetic and innovative composition.
Product Range
Gotham Steel Non-Stick Cookware includes Gotham Sets, pots & pans, bakeware, grills & fryers, and a range of kitchenware. There are affordable baking sets supplying kits with conveniently bundled bakeware like a muffin pan, cookie sheet, and Brooklyn brownie tray.
Just as much affordable convenience is offered by the cookware kits. For example, the Ultimate Cook-Off set includes a 12.5″ fry pan, a crisper, and a pasta pot.
There's just about every item you could hope for available from Gotham Steel, with well-thought-out money-saving bundles sold too. In addition, there is also a variety of cookware accessories, griddles, and knives in the range.
Composition
Gotham Steel uses a titanium core that sets the shape and frame for each pot, pan, or alternate cookware/bakeware. The inner titanium is coated with durable food-grade ceramics, which offers a nonstick cooking surface that's totally PTFE/PFOA & PFOS free.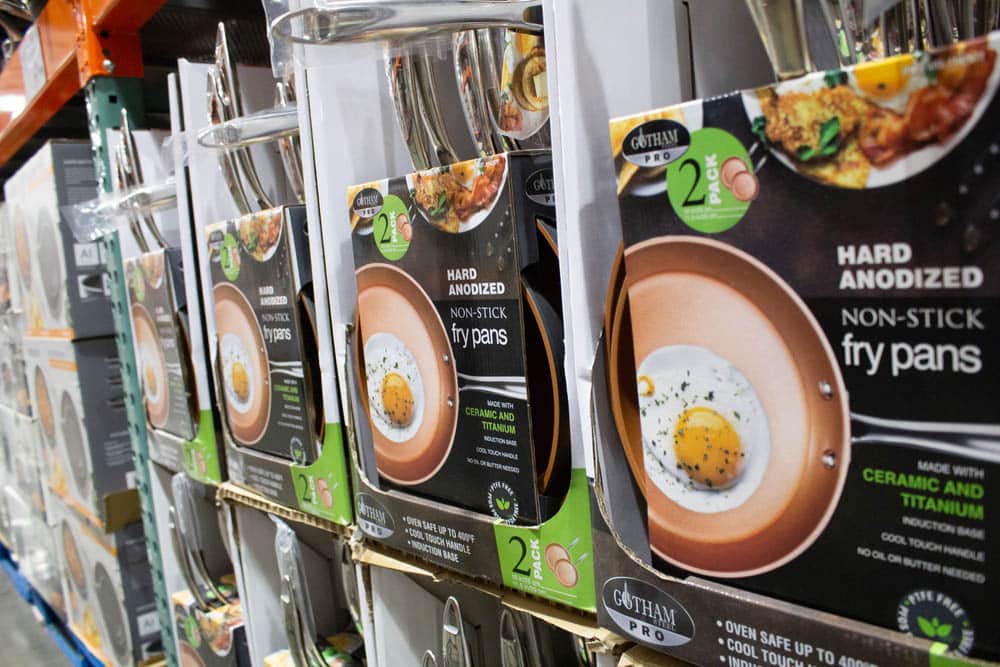 Surface Texture
Every Gotham Steel pan will need seasoning before the cooking surface becomes nonstick enough to fry an egg. Instead of being polished and smooth, pots and pans in the Gotham Steel collection are textured and rough.
Best Uses
Use Gotham Steel cookware when you're using a midrange electric stovetop or oven. The Gotham Steel collection isn't suited to ultra-high temperature cooking over extensive periods.
It is, however, the best for lower sustained temperatures which makes Gotham Steel the optimal pick for those who bake, simmer, slow-fry, or slow-cook.
Handle
Just like the Granite Rock collection, Gotham Steel cookware features a steel handle which at times gets very hot. There's no heat-proof coating protecting the handles.
The handle is conveniently placed and has a hole for hanging the pan, facilitating easy storage that works practically and better than most competing designs.
Advantages
All Gotham Steel products are nonstick, non-scratch, and dishwasher safe. All pans, pots, woks, roasters, and other products are oven safe up to 500°F, but when frying pans and pots reach maximum temperature, food tends to begin to stick.
Gotham Steel bakeware is nonstick without needing any baking sheets or oil/butter. In addition, these pans all come with a one-year warranty and also have a 90-day money-back guarantee.
Considerations
One of the only downsides to the Gotham Steel collection is that it is not induction compatible. The cooking surface isn't suitable for metal utensils. Also, food begins to stick when too high of a temperature is reached.
Cleaning
While relatively easy to clean, care must be taken to avoid using abrasive cleaning materials. A soft soap washcloth or sponge is safest to protect the coating from damage.
While more durable and rugged than a polished non-stick surface, the textured nature of Gotham Steel can make cleaning off oil and grease a time-consuming process.
Affordability
To give you an idea of the Gotham Steel Collection's pricing, a 9.5″ frying pan retails for around $30, whereas a ten-piece pot and pan set sells for around $120.
Granite Rock
If you want a sure-fire nonstick pan, Granite Rock is generally the best brand to go for. With every pan you could hope for a rock-like appearance, Granite Rock pans will blow you away with their amazing texture that prevents food from sticking.
Let's take a closer look at how Granite Rock compares to Gotham Steel.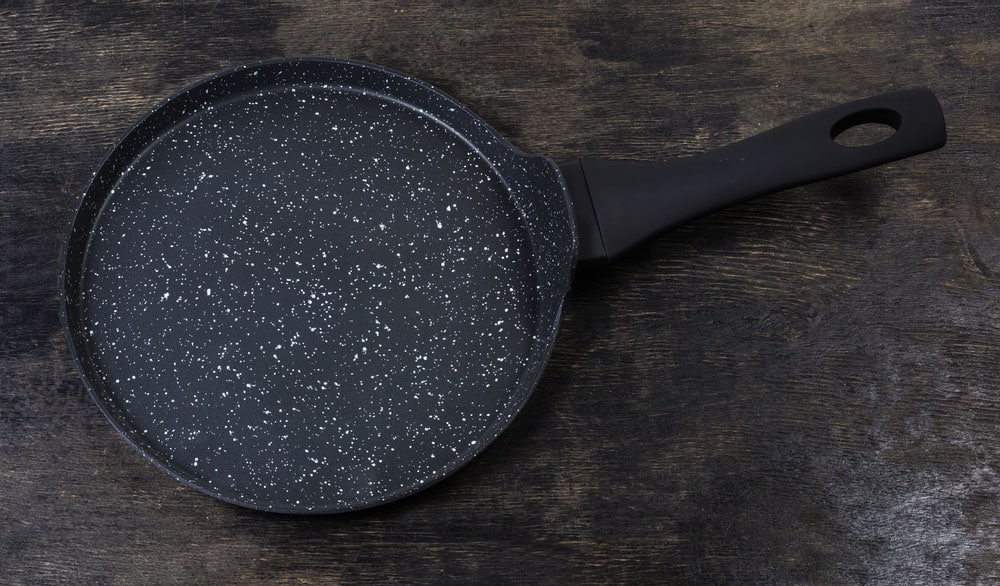 Product Range
You'll find various sized egg pans, fry pans, and pots available in the Granite Rock collection, as well as colander and knives.
Composition
Granite Rock pots and pans utilize a pressed aluminum core pressed from a single, solid disc granting consistent, even heat distribution. The ultra-conductive aluminum pan is then triple-coated with a Graniterock nonstick finish.
The Graniterock coating is reinforced with diamonds to provide exceptional durability.
Surface Texture
The surface of each Granite Rock product is made to resemble real granite. Compared to the Gotham Steel collection, it's equally nonstick, which means that you'll still need a little oil or butter.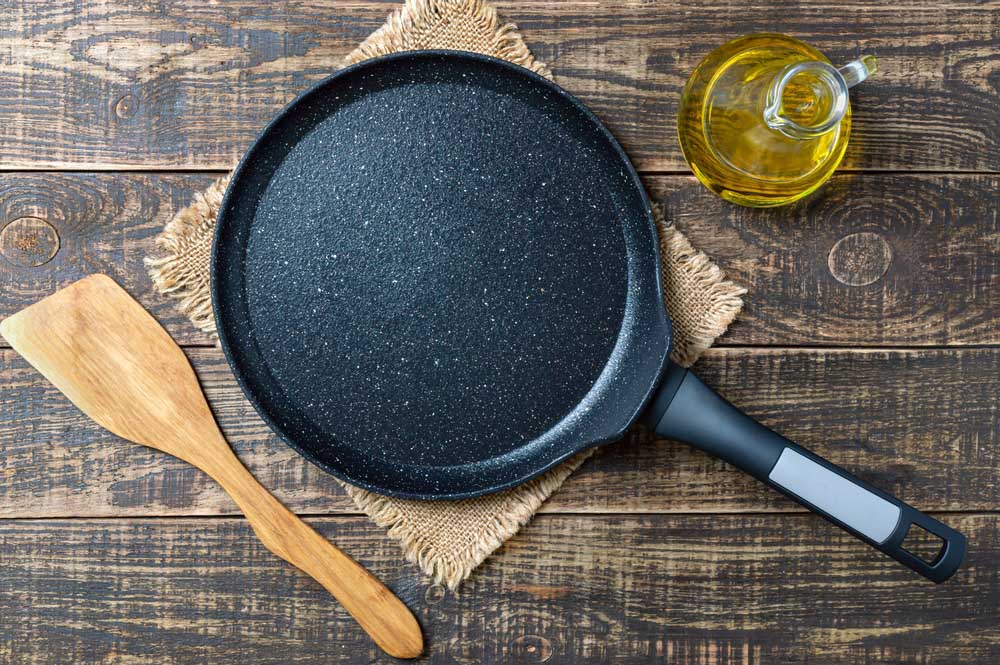 However, the combination of granite and diamond flecks creates a surface that's truly scratch-resistant and fully compatible with steel cooking utensils without the risk of damaging the pot or pan.
Best Uses
While both brands are ever-versatile, offering size and style of pot, pan or bakeware suited to just about every application in the kitchen, the Granite Rock collection is better for high-heat cooking.
Cooking at the maximum temperature possible doesn't result in any sticking, nor will the cooking surface warp.
Handle
Unfortunately, the Granite Rock collection has steel handles that get extremely hot to the touch. Many users have criticized the design for not providing rubber covers.
Advantages
Even after extensive use, Granite Rock pans do not warp. Users report fantastic durability and long-lasting performance even when used on a daily basis. All Granite Rock products are oven safe up to 500°F.
Considerations
Even though Granite Rock cookware is more nonstick by default than the equivalent Gotham Steel Cookware, it is still not completely nonstick. For example, frying an egg will always call for a little oil or butter to guarantee that it doesn't stick.
Cleaning
One of the best things about the Granite Rock collection is that each pot and pan is very easy to clean. Grease and bits of food wipe away effortlessly. While food is unlikely to stick, even burnt food is a breeze to clean.
Affordability
To gauge the pricing of the Granite Rock collection, a 10″ nonstick frying pan sells for around $30, while a ten-piece cookware set retails for approximately $140 to $150.
While the individual pots and pans are priced on par with Gotham Steel cookware, the sets are slightly more expensive.
What Is The Difference Between Granite Rock And Gotham Steel?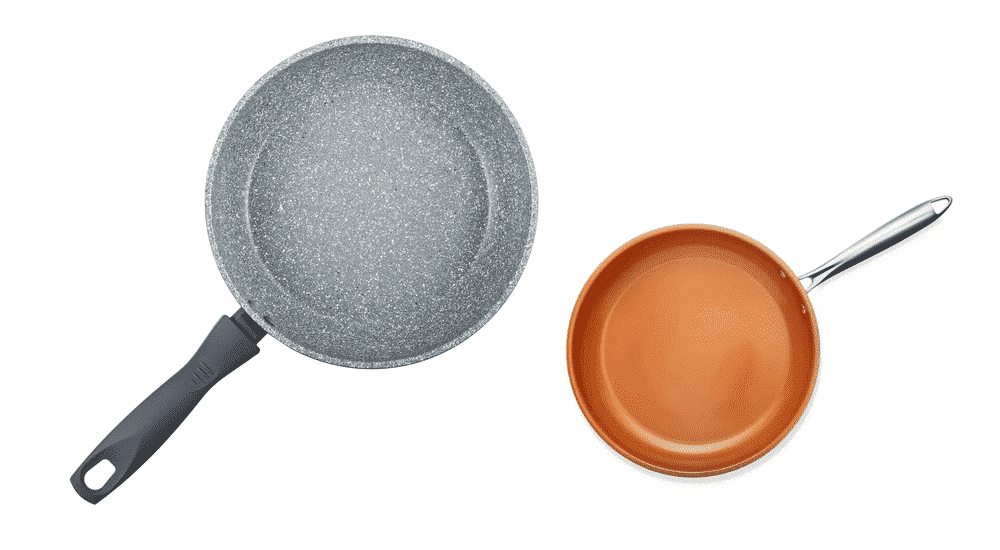 The main difference between Granite Rock and Gotham Steel cookware is that Granite Rock is made from a pressed aluminum disc coated with diamond-infused granite, whereas Gotham Steel cookware is made from a titanium core coated with food-grade ceramics.
Both are unsuitable for induction cooktops.
Which Is Best Between Granite Rock Vs. Gotham Steel?
The best option between Granite Rock vs. Gotham Steel depends on how and what you typically cook.
Those who spend most of their time cooking at ultra-high temperatures will want Granite Rock, whereas anyone who prefers steady low to medium temperature cooking will find the best performance from the Gotham Steel collection.