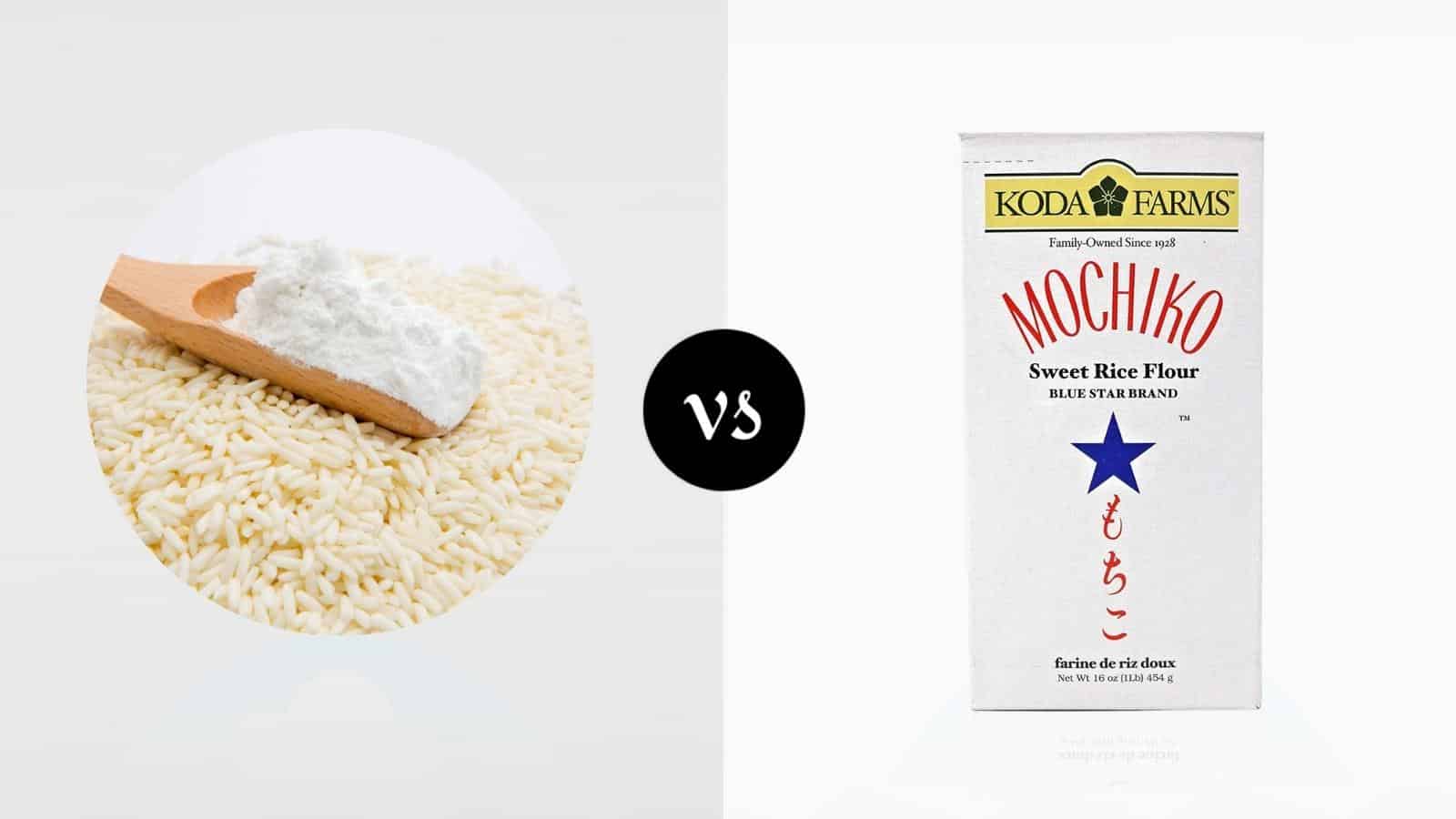 DISCLOSURE: This post may contain affiliate links, meaning when you click the links and make a purchase, I receive a commission. As an Amazon Associate I earn from qualifying purchases.
Rice flour has multiple purposes in the kitchen. As the name says, rice flour comes from grinding rice into powder form. There are more than 40,000 different varieties of rice available worldwide.
This means there can be as many as 40,000 different kinds of rice flour.
Rice flour can be milled using both white and brown rice, and there are countless flours like Glutinous Rice flour and Mochiko Rice Flour available. Each is produced from a different type of rice.
In countries like China, Japan, and India, rice flour is readily available and consumed as a staple diet. Rice is easily accessible in these areas because it is widely cultivated in these countries.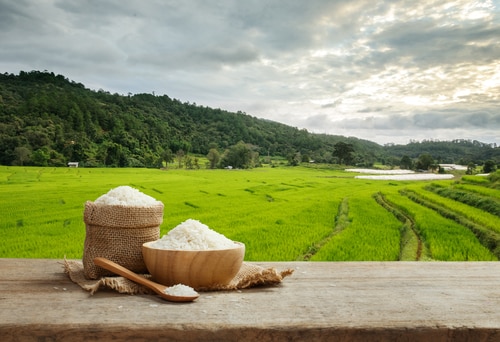 Rice flour is low in cholesterol and sodium salts. In addition, it provides good fiber and is high in nutrients. Therefore, rice flour is ideal for a balanced diet.
Rice flour is gluten-free and is suitable for those looking to lose weight. This is what makes it popular among most age groups. Rice flour is used to coat chicken and seafood. With a bit of deep-frying, it can give you the perfect crisp.
Now, you've heard all about rice flour but are you stuck figuring out which kind is the best?
For example, is glutinous rice flour better than Mochiko rice flour? Or is it the other way around? You'll get all your answers by the time you finish reading this article.
Glutinous Rice Flour Vs. Mochiko Rice Flour Comparison
| | Glutinous Rice Flour | Mochiko Rice Flour |
| --- | --- | --- |
| Origin | China/Mainland Asia, 2000-4000 Years Ago | California, Koda Farms, 1928 |
| Composition | Oryza Sativa Glutinosa | Mochigome |
| Milling | Harvested By Hand Then Dry-Milled, Semi-Dry Milled Or Wet Milled | Mochichome Grains Harvested, Soaked And Husked Then Dried And Ground |
| Nutrition | 42 G Carbs, 0.2 G Fat, 3 Protein, 180 Calories Per Half A Cup | 110 Calories, 25 G Carbohydrates, 2 G Protein Per Half A Cup |
| Uses | Used As Starch In Savory & Sweet Goods, Excellent For Coating/Dredging And Baking | Used As Starch In Sweet Goods Primarily |
| Affordability | $0.69 Per Ounce | $0.56 Per Ounce |
| Availability | Asian Food Stores, Gourmet/Imported Food Section, Online | Asian Food Stores, Gourmet/Imported Food Stores, Online |
Glutinous Rice Flour vs Mochiko
Glutinous Rice Flour
You'll find glutinous rice flour available in most stores and across countless different brands. It's an Asian staple treasured by all forms of cuisine. Let's take a closer look at this tasty ingredient.
Origin
Glutinous rice flour is milled from glutinous rice. Glutinous rice has been cultivated in China for more than 2,000 years.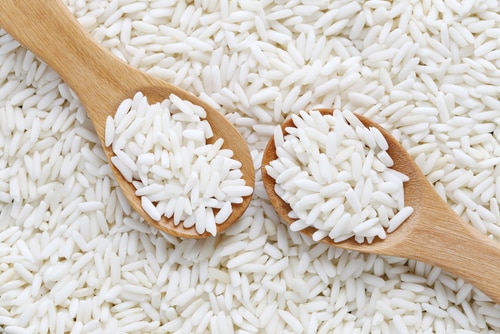 In fact, the earliest use traces back to widespread regions across the mainland of South East Asia dating as far back as 4000 years ago.
Today, it is grown in various other countries like India and Bangladesh.
While historians debate the precise point and time of origin, sticky rice has been growing in Laos for so long that it has become the official national dish of the region.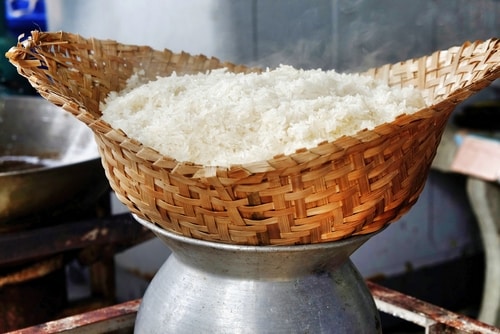 Since ancient times, glutinous and non-glutinous rice has been a staple in China, Myanmar, Thailand, Cambodia, Vietnam, and, of course, Laos.
Composition
Glutinous rice is a specific cultivar (Oryza Sativa Glutinosa) of which there are at least 11,000 known varieties in Laos, according to recent agricultural studies.
All sticky rice lacks the starch amylose, which allows it to congeal and separate into bundles of rice stuck to each other without an extensive degree of cooking being needed.
The stickiness is also more substantial and flavorful without the texture of the individual rice grains being lost completely.
Milling
Sticky rice grains are most harvested from mature stalks by hand and then packaged into white sacks. In many of the rural areas where glutinous rice grows in abundance, it is consumed for survival, not its delicious flavor.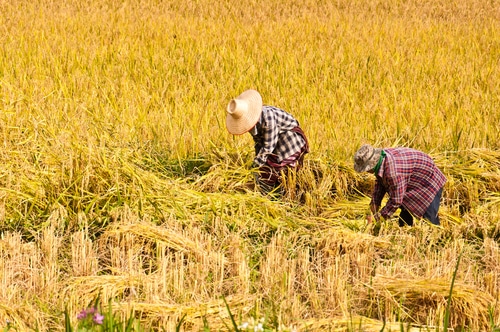 Three different types of milling are used to produce glutinous rice flour.
Dry-milled rice flour is higher in starch than other varieties and thus slightly less sticky when cooked.
Wet rice flour and semi-milled rice flour have a very similar texture to each other and are the most common varieties found for export.
Nutrition
Glutinous rice flour supplies a healthy concentration of vitamins B and D as well as potassium and phosphorus while delivering 42 grams of carbs, 0.2 grams of fat, 3 grams of protein, and 180 calories per half a cup.
There is absolutely no gluten in glutinous rice.
Uses
One uses glutinous rice flour in the same way that you'd use a starch like cornstarch, potato starch, or arrowroot powder. Many forms of cuisine use it to coat fried chicken and seafood as it fries wonderfully crispy due to its starchy nature.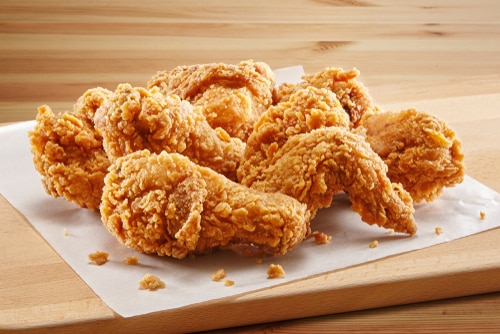 Glutinous rice flour sticks easily to meat. However, just use a little egg if you're facing any trouble. Marinate the chicken for a while, dip it in whisked egg, then coat it with glutinous rice flour.
Glutinous rice flour is also used extensively in baking and is favored for pancakes and other desserts, both firm, and batter-based.
It's widely used across countless baked goods from Japanese, Hawaiian, Chinese, and Indian cuisine. Mochi is easily one of the most famous foods around.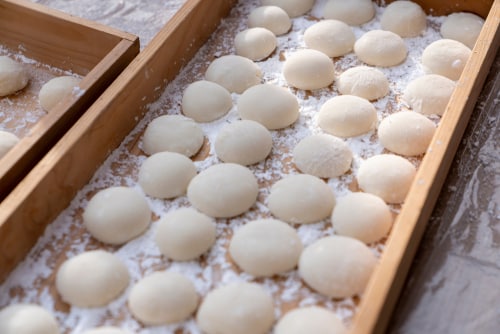 Made from short-grain japonica glutinous rice, these tasty Japanese sweet rice cakes come in endless variations, and all take advantage of the high amylopectin levels and low amylose content of sticky rice flour.
They're a prime example of how glutinous rice flour's gel characteristic is useful in baking.
Countries like India love the glutinous rice flour for making 'chapati' which are otherwise known as roti – unleavened flatbread with a rewarding chewy-but-crunchy texture.
Affordability
Expect to pay in the region of $0.69 per ounce. The average size of a bag is 16 ounces, placing the cost when sourced from a supplier like Amazon at $10.99.
While there are in actuality many different sticky rice flour brands available, one of the best known in the United States and globally is Erawan glutinous rice flour, which is imported from Thailand.
Availability
You won't find glutinous rice flour in every store, but it's generally easier to procure than Mochiko rice flour. All varieties of glutinous rice flour will be available in gourmet food stores and shops that carry a specialized Asian food section.
Mochiko Rice Flour
Many familiar with Asian cuisine will know Mochiko rice flour as a go-to choice. As a variety of glutinous rice flour with a distinct grain, texture, and sweet taste, it's a popular option that stands out among the many cultivars commercially produced.
Let's take a closer look at what makes Mochiko rice flour so well known
Origin
Despite being a specific genus of glutinous rice, Mochiko Sweet Rice Flour is a patented brand of sticky rice flour grown, milled, and sold by Koda Farms.
Koda Farms is California's oldest family-owned and operated rice farm and mill.
The company was founded in 1928 in Dos Palos, California, by Keisaburo Koda, who was born in Ogawa, Japan. His father was both a Taira Clan samurai and a seasoned, prominent miller and trader of rice and rice flour.
Kenzaburo took his experience and insight to the US and began at-the-time groundbreaking rice techniques, including sowing rice seed by plane. The innovative founder became fondly known as the 'Rice King' in America.
Composition
Mochiko is milled from short-grain sweet rice called mochigome. As the second most common variety of sticky rice, mochigome lacks the starch amylose while being high in amylopectin, which grants the rice its sticky quality.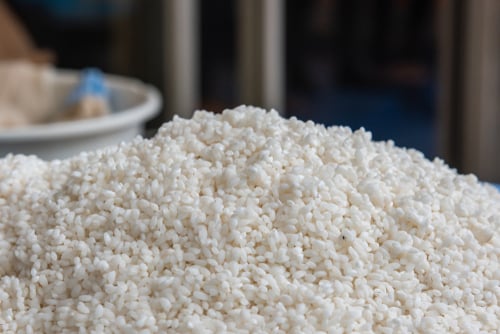 Milling
Mochiko rice flour is milled from a glutinous variety of Japanese short-grain sweet rice called mochigome. Mochiko grains are left in the water to remove the outer husk.
Once removed, the kernels are dried and ground together to make mochiko rice flour. Since mochigome rice is naturally very sticky, its rice flour is also stickier than other varieties.
Don't allow the sweet description to lead you to think that mochiko rice flour has a sweet flavor. All sweet rice varieties are neutral in taste, but sweet rice and sweet rice flour are stickier than other types and are generally better suited to sweet goods.
Nutrition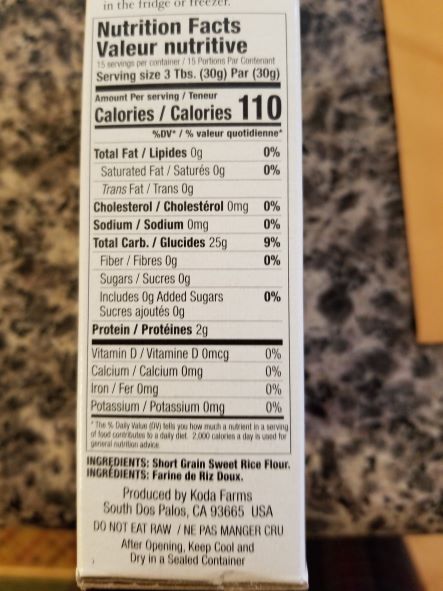 There are just over 110 calories, 25 grams of carbohydrates, and 2 grams of protein in half a cup of Mochiko Sweet Rice Flour.
Uses
Unlike Glutinous rice flour, which can be used to crumb coat chicken, Mochiko rice flour is only used in making desserts. This is due to its sticky consistency, which makes it challenging to fry with.
The famous Mochiko Ice cream is made using Mochiko flour. Mochiko Ice was launched in 1981, and by the early 1990s, it became trendy in the USA. To date, Mochiko Ice cream is a culinary delicacy.
Other than ice cream, Mochiko rice flour is also used to make rice cakes, plum cakes, and various desserts like rice mouse and rice pudding.
Affordability
A standard 16-ounce package of Mochiko Sweet Rice Flour retails for $9, which equates to roughly $0.56 per ounce. When buying in bulk, you can typically find Mochiko from Koda Farms at as low as $0.46 per ounce.
Availability
You can easily find Mochiko rice flour at any Asian superstore. In addition, you can always place an online order with a reliable vendor. Mochiko Rice flour may not be very commonly used, but it is readily available.
Glutinous Rice Flour Vs. Mochiko Rice Flour, Which Is Best?
Glutinous rice flour and Mochiko rice flour are both Gluten-free.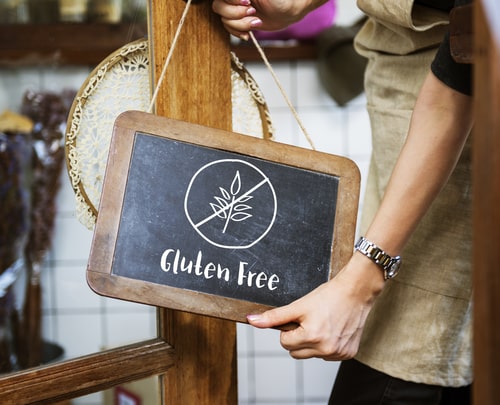 Mochiko rice flour is sweet and chewy, making it ideal for desserts like the famous and widely sought-after Mochiko ice cream.
However, glutinous rice flour is best suited for crumbing, granting a great texture and golden color to chicken and other foods when deep frying.