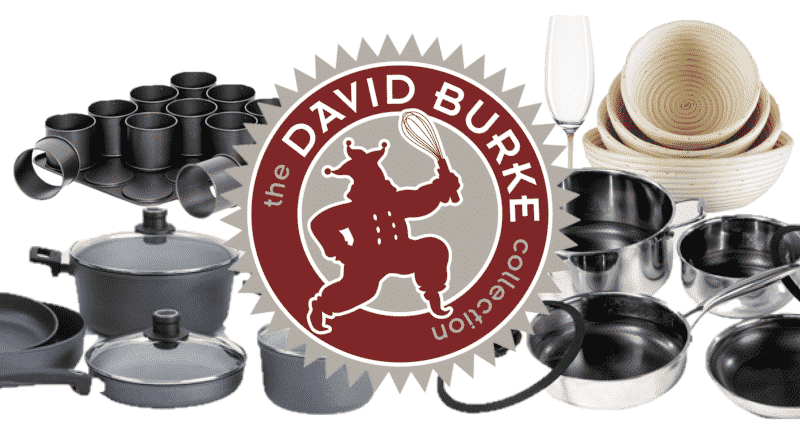 Choosing the right cookware is vitally important for every kitchen. After all, your cookware affects both the outcome of the food and dictates the cooking experience itself. When it comes to high-quality cookware, David Burke has risen to become one of the most popular names in the culinary world.
We'll be taking a closer look at what makes the David Burke Collection the top recommendation of countless professional chefs. Once you learn the many benefits of owning a set of these premier pots and pans, you'll soon realize why no discerning cook can go without them.
Chef David Burke Cookware Review
The acclaimed celebrity chef David Burke partnered with Frieling USA to create the David Burke Collection of high-quality cookware. Established in 1988, Frieling is praised for manufacturing high-end kitchen and hospitality products.
For over forty years, infallible service and outstanding style and durability have been delivered. Together, Burke and Frieling created a selection of signature cookware battle-tested by the renowned chef and his team. Professional performance is guaranteed throughout the range.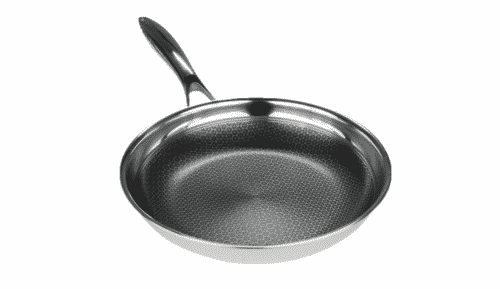 The Black Cube Fry Pans from the David Burke Collection give you all the benefits of stainless steel and nonstick cooking surfaces. Black Cube fry pans are made from stainless steel using three-ply construction with a PFOA-free nonstick coating applied over a raised pattern. This lets you brown without sticking, and there's no risk of the coating coming off when using metal cooking utensils.
You'll be blown away by the quality of the nonstick coating. The unique Black Cube design ensures that your cookware will perform for many years to come, and the nonstick performance itself is remarkable. Therefore, there's no chance of your fried food sticking in one of these pans. Oven safe up to 500°F, the David Burke Black Cube fry pans are induction-ready and dishwasher safe.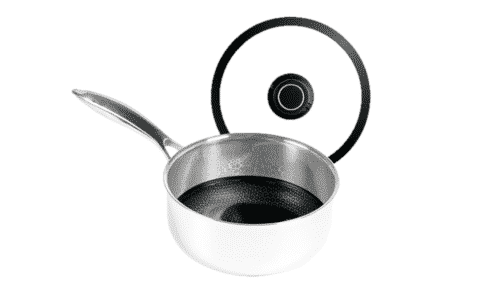 The David Burke Black Cube Sauce Pans feature the same stainless steel and nonstick coating combination applied over a raised pattern. While this grants great performance, it's the small characteristics of their saucepans that put them ahead of the crowd.
Firstly, David Burke Black Cube Saucepans have a glass lid with ventilation holes allowing proper heat release. The glass is also heat-resistant making it cool to the touch for longer and safer use at high temperatures. Furthermore, you'll find that all the lids are interchangeable. So you can use the same size lid across all pots and pans that it fits.
Their heat-resistant handles ensure they stay cool throughout use. However, some criticize the use of rivets as they are prone to rusty after prolonged use. Nevertheless, the durable design and general longevity ensure that you won't be faced with this issue for a long time to come, giving David Burke saucepans considerably good value for money.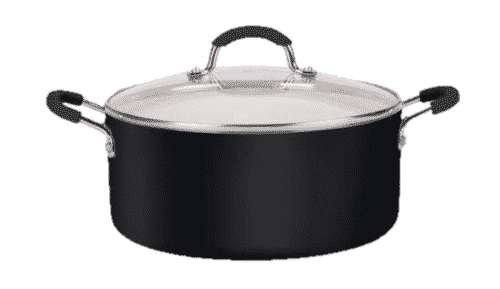 Dutch ovens are rapidly rising in popularity and can today be found in almost every kitchen. Most Dutch ovens are suitable for roasting, stews, and casseroles alone. However, the ceramic interior free from PFOA makes David Burke's pot great for all types of dishes.
The aluminum body grants both quick heating and even heat distribution. You'll find David Burke's Dutch oven to cook quicker and better thanks to the steady head retention and balanced rate of dissipation. Furthermore, the ceramic nonstick coating is straightforward to clean, taking little more than a light wipe and a rinse in most cases. Nothing sticks to this Dutch oven.
Combine the performance with silicone-coated handles, and you've got a cool-to-the-touch pot that couldn't be more comfortable to use. Rivets secure the handles, which means no rusting, and the construction clearly conveys quality and long-lasting durability. Finally, tempered glass lids with a well-designed large handle and ventilation holes offer practical, easy handling.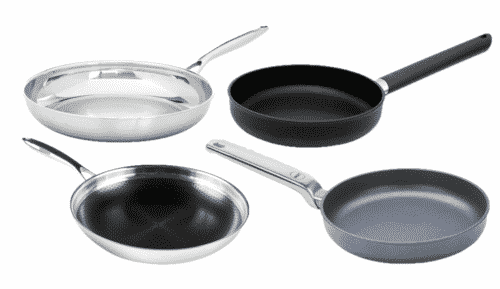 If you're fond of easy, hassle-free cooking, the David Burke Collection frypan sets will give you everything you need. They're affordable, convenient, and deliver a range of sizes that leave nothing lacking in your kitchen. The only downside to the frypan sets is that no lids are provided. As a result, you'll need to purchase them separately at an additional cost.
Each fry pan set features tri-ply aluminum construction and an interior ceramic coating that's PFOA-free. This ensures that your food is free from any form of chemical infusion. The standard fry pan set gives you three pans – 8-inches, 10-inches, and 12-inches. Every pan in the set is oven-safe and compatible with all cooking surfaces.
Large Cookie Sheet Bakeware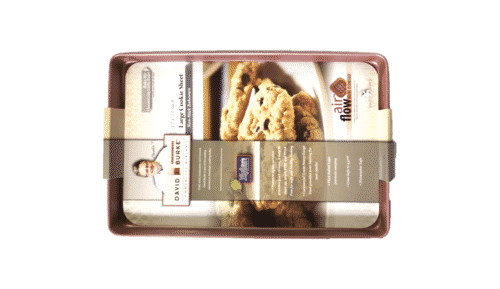 The Chef David Burke Collection bakeware is manufactured from commercial-grade heavy gauge steel and carries a rose gold finish. The high-quality construction ensures even, steadily head and balanced heat distribution throughout.
In addition, chef David Burke's baking pans feature patented airflow baking technology, which uses a distinctive diamond textured surface to increase airflow, granting better baking and a more effective nonstick surface.
Each pan is coating with a premium Xylan nonstick coating which is PTFE and PFOA free. A thick rolled edge prevents warping, and the pan is oven safe up to 450°F. You'll also find that these baking sheets are among the easiest to clean and are completely dishwasher safe as well. In addition, the coating and quality design reduce the risk of scratches occurring significantly.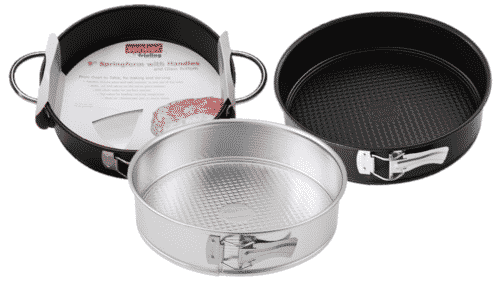 Like the rest of the bakeware in the Chef David Burke Collection, the springform pans are made from commercial-grade heavy gauge stainless steel. Finished off in rose gold, each stylish cake pan has an outstanding chemical-free Xylan nonstick coating.
The edges are also thick and rolled like the cookie sheets to prevent warping. Again, airflow technology grants superior heat distribution and a surface that nothing will stick to. Overall, the springform pans from Chef David Burke are a top-notch choice boasting surprisingly good value for money.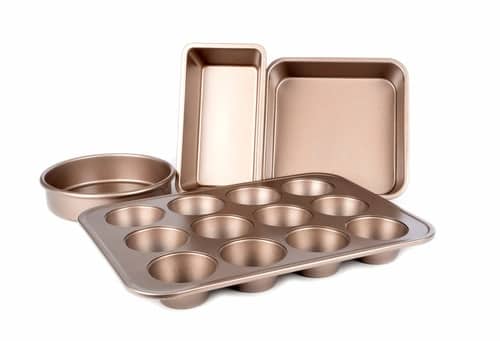 There are several other pans available in the Chef David Burke collection. All are made from the same durable stainless steel with the patented airflow technology and reliable Xylan nonstick coating.
Be on the lookout for fluted baking pans, pizza pans, muffin pans, and various shaped baking dishes. There's bakeware for all uses and across a wide range of sizes, with outstanding affordability across the range.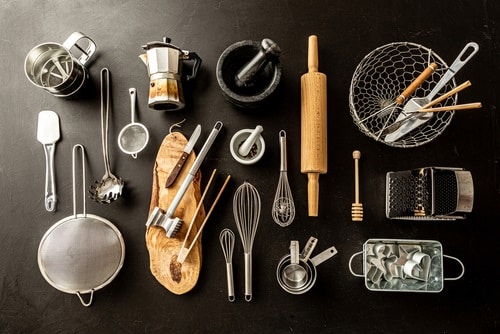 In the Chef David Burke collection, you'll find far more than only pots, pans, and Dutch ovens.
There's graters, apple corers, serving forks, spatulas, cheese planes, fruit peelers, vegetable swivels, oyster knives, cheese knives, cheese cutters, whisks, funnels, spoons, slices, serving spoons, spaghetti spoons, garlic presses, meat pounders, presses, can openers, splatter guards, soup ladles and skimmers readily available.
Each comes at a slightly higher price than your average utensils. However, the stylish, practical design and top-end manufacturing quality ensure that you're making a purchase that'll last a lifetime. It's professional kitchenware at attainable prices. Finish off your kitchen to perfect by taking advantage of the wide array of high-end kitchenware available. There's even glassware too.
Final Verdict – Chef David Burke Cookware Review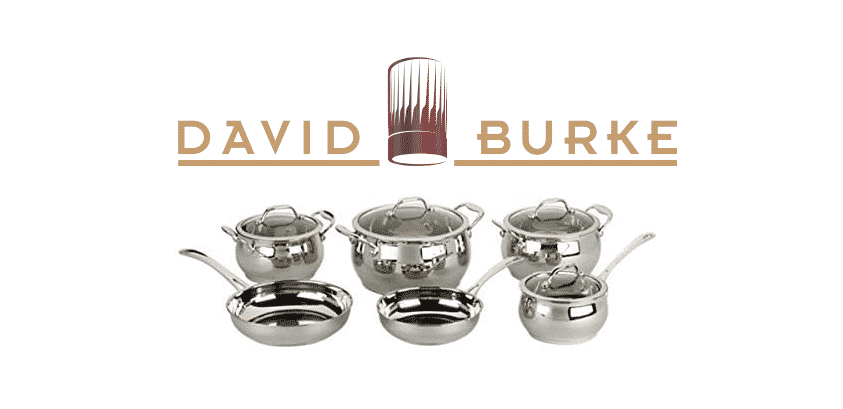 When you compare the average lifespan, superior handling, and stylish looks of the Chef David Burke Collection to other cookware in its price range, the affordability becomes clear. Each purchase is a guaranteed lasting addition to your kitchen, which will serve you well if well taken care of.
It is luxury, professional-quality cookware, kitchenware, bakeware, utensils, and glasses at their best and prices in reach of every household. They look great and work even better, with quality that can't be faulted.