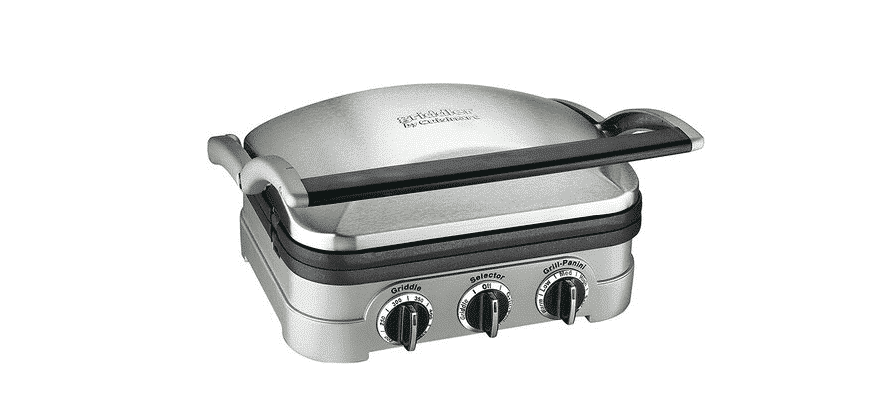 While cooking with your Cuisinart Griddler there can be different temperatures and times that you are required to cook your food. It all depends on the food you are cooking, how much time it requires, and what temperature is more feasible for getting the juicy and delicious result.
The cooking guide along with your Cuisinart Griddler comes with complete guidelines of how to prepare your food, how to position it inside the Cuisinart Griddler, and the suggested time along with temperatures.
Cuisinart Griddler Cooking Times
Cooking Beef Or Boneless Steak
It is suggested that if you are cooking your beef in a closed position then you must preheat your Cuisinart Griddler so that it can Sear.
Put the temperature as 450 degrees Fahrenheit which is also the default temperature.
You can put your steak on your preheated at 450 degrees F grill plate.
You can use the same temperature for preheating when you want to cook in an open or flat position.
Cooking Chicken Breasts
If you are cooking chicken breast then you can preheat your Cuisinart Griddler at 400 degrees Fahrenheit.
You must cook your chicken breast for about 7 to 9 minutes
You must also make sure that the internal temperature of your Cuisinart Griddler is 165 degrees Fahrenheit.
Maintenance of internal temperature to 165 degrees is necessary for making the juices run clear without any sign of pink.
Cooking Chicken Thighs
For cooking your chicken thighs you must preheat your Cuisinart Griddler to 400-degree Fahrenheit.
Cook Your Chicken thighs for about 8 to 10 minutes.
You must maintain the internal temperature to 170 degrees Fahrenheit
Cooking Fish Steaks
First of all, you need to preheat your Cuisinart Griddler at 400 degrees Fahrenheit.
Cook your fish for around 6 to 7 minutes and grill it in the closed position
If you want to Grill your fish in a flat position then you must grill it for 7 to 12 minutes.
Cooking Open-faced Sandwiches
First of all, you need to preheat your lower plate of Cuisinart Griddler to about 350 degrees Fahrenheit.
Now you have to preheat the upper plate to about 450 degrees Fahrenheit.
Once you have preheated it put the sandwiches on your preheated lower grill of Cuisinart Griddler.
Now by using the upper plate and height adjuster you must completely melt the cheese by placing an upper plate over your sandwich.
Brown your sandwich for about 5 to 7 minutes depending upon the appearance you want.
Cooking Quesadillas
For cooking Quesadillas you must preheat both the plates to about 400 degrees Fahrenheit.
Close the upper plate of your Cuisinart Griddler and close the cover with the help of your height adjuster.
Grill your Quesadillas for about 2-4 minutes and the cooking time depends upon your choice of appearance you want.
These are all the temperature and cooking time guidelines that are mentioned in your Cuisinart Griddler's manual. Hopefully, these guidelines are helpful for you.