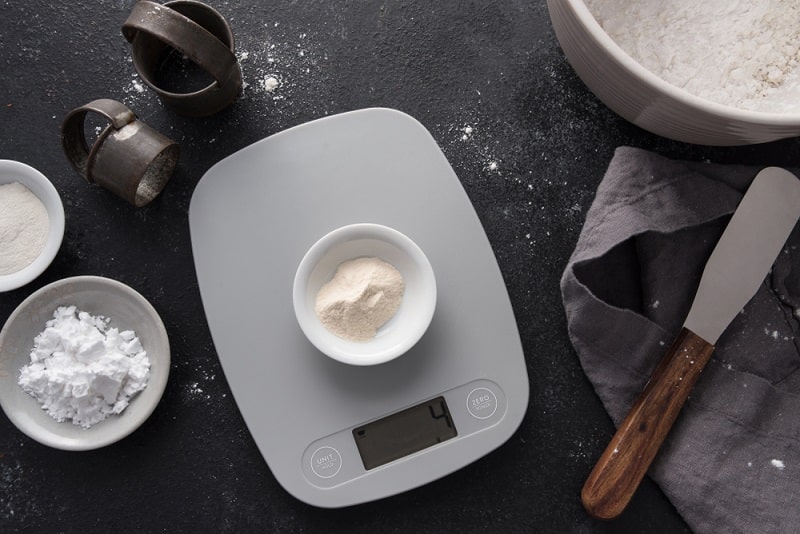 What is Xanthan Gum?
Some of you may not be familiar with xanthan gum and its uses in cooking. It's an ingredient that has been widely used in the food industry since the 1950s but is only now starting to be used in home cooking.
Xanthan gum is a white, odorless, powdery ingredient used for thickening and solid particles suspended in a liquid. This may sound awful, but it's made from fermented bacteria!
Xanthan gum is used as a thickening agent and is commonly used in bottled salad dressing and ketchup to prevent them from splitting when on the shelf. It's also used in commercial ice creams because it gives the dessert a creamy texture by preventing ice crystals.
Home cooks are starting to use xanthan gum more as gluten-free cooking becomes more popular. That's because gluten-free flours do not bind ingredients together as wheat flour does.
Baking with them results in crumbly baked goods. Remember, it's the gluten in wheat flour that provides the elasticity and characteristic stickiness of the dough.
Xanthan gum helps provide the correct texture for gluten-free baked items. The ingredient is more readily available now, and you might be able to find it on your supermarket shelf. Alternatively, look online in health food stores or specialist cooking websites.
Xanthan gum is also a handy substitute for cornflour (corn starch) when thickening gravies and stews. Home cooks are often unsure how much xanthan gum to substitute for cornflour, so we've provided some useful ratios to make it easy for you to swop the products out.
Cornstarch To Xanthan Gum Ratio
Will it Spoil the Taste of My Dish?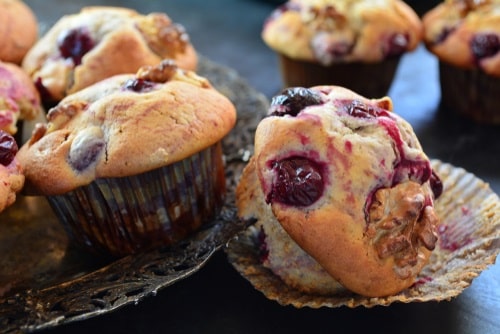 Similar to the cornflour, xanthan gum is flavorless and odorless so that it will be undetectable in your finished dish.
How to Use Xanthan Gum
For dishes requiring gelatin, you can use the gum as a vegan alternative. You do not need to heat or cook it for it to thicken. It simply needs to be mixed into a liquid, and it will start to gel immediately.
We recommend starting with 1/8 of a teaspoon of xanthan gum powder in a cup of liquid. The more you put in, the thicker your liquid will become, so start sparingly.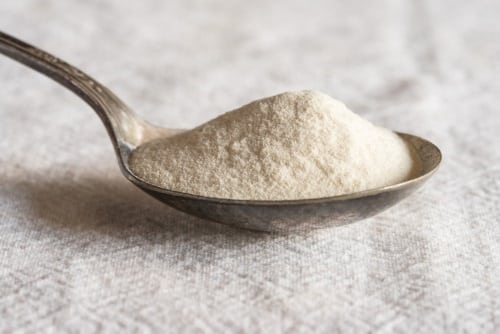 Remember to mix it in a blender, or it will become lumpy. It isn't easy to obtain the right texture when mixing it by hand. The gum is unaffected by acids or heat, so that you can use it with a wide variety of ingredients.
If you are using it to thicken a sauce, it is helpful to mix the gum with a little oil before adding the rest of the liquid. This will create a rich, creamy texture that is often provided by dairy items like cream. For this reason, it's great for vegan cooking.
Most recipes will call for about a tablespoon of the powder when using xanthan gum for baking gluten-free bread and cakes. A rule of thumb is to use ¼ teaspoon of xanthan gum for every cup of gluten-free flour.
Some of these flours already have the gum added to them, so please remember to check the ingredients on the bag. Do not add more. Too much will make your baked product "gummy."
The gum powder is added to the dry ingredients such as flour, yeast, and salt when making bread. Then, while mixing constantly, the liquid ingredients are added gradually.
Remember This When Baking!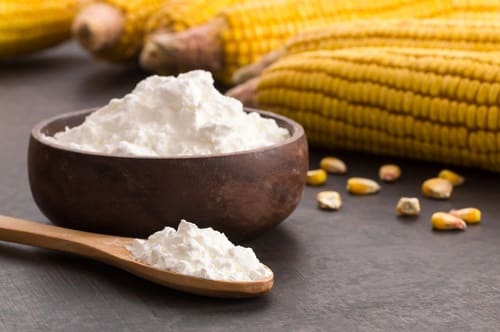 If you are trying to substitute cornstarch and xanthan gum with each other in a baking recipe, remember that they are not interchangeable in this case.
For example, some shortbread recipes call for a cupful of cornstarch and two cups of flour. You must not add a cupful of xanthan gum instead!
You would use two cupfuls of gluten-free flour, such as almond flour, plus about ½ a teaspoon of xanthan gum. (This means you're keeping to the ratio of ¼ teaspoon for every one cup of gluten-free flour.)
The Bottom Line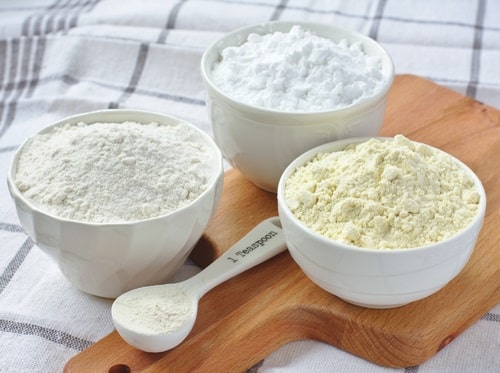 We hope our article has cleared some of the confusion for you for everyone who has been confused about the cornstarch to xanthan gum ratio. Please let us know how your experiments work out, and most of all, have fun in the kitchen!