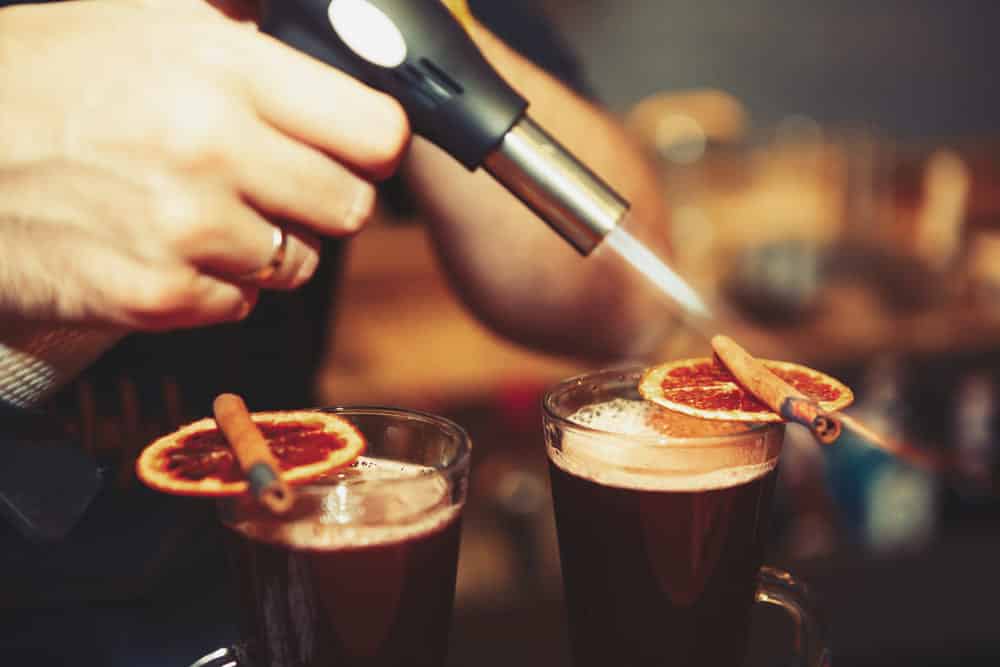 In case you are serious about cooking and culinary work, we are certain that you would have torches in your kitchen. There is a wide variety of torches available in the market, which brings us to butane vs. propane torch cooking.
It doesn't matter if you use a propane torch or butane torch; both of them leave behind the odor and taste of the food. So, with this article, we are talking about these two different types of torches for cooking!
Butane vs Propane Torch Cooking
Butane Torch
As the name suggests, this torch uses butane (it's the flammable gas) which is suitable for creating the intense and hot flame. Butane torches are suitable for different cooking niches and recipes. In the culinary world, butane torch can be deployed as a kitchen gadget for caramelizing the sugar in recipes. That being said, it's perfect for caramelizing the crème Brulee.
Butane torch might be advertised as cooking torches, kitchen torches, and culinary torches. However, caramelizing sugar is not the only application of a butane torch. This is because a butane torch can be used for browning the toppings on soups and casseroles. It can be used for melting the cheese, and we love how it can be used for charring and roasting vegetables.
In addition to the culinary use, the butane torch is used by bartenders for flaming and smoking the cocktails. This little tool has become the ultimate kitchen tool for people who want to brown the food surface. The butane torch delivers a controlled and direct flame. It is needless to say that butane torches are only used by expert chefs and cooks.
When it comes down to using the butane torch, people often ask if they are safe for food. To answer this question, butane torch is safe because butane gas is an alkane, and it doesn't produce byproducts. That being said, it will not impact the smell or flavor of the food. A butane torch is an apt tool that delivers a consistent flame, and it's pretty economical.
Butane torch can be used for browning the food but is safe for cooking food directly. Some people suggest that butane torches can make a bit of carbon monoxide, but it's not absorbed by food. That being said, it is best to keep the windows open while using the butane torch. For the most part, torching the food is not complicated or difficult, but it's best to keep the point away from food.
As far as the taste is concerned, butane torch is likely to deliver hotter results. To summarize, the butane torch doesn't leave behind the aftertaste.
Propane Torch
The propane torch is another torch used in the cooking and culinary world. That being said, the propane torch makes a great addition to the chef's kitchens. It uses propane to directing heat or flame. A propane torch is used in a variety of industries in addition to the cooking industry, such as manufacturing and construction industries. The propane torches are extremely efficient and are pretty compact.
A propane torch is a perfect option for people who want an economical torch and is easy to use. The majority of propane torches are designed with refillable or detachable propane tanks. These torches can be used for caramelizing the sugar and a variety of meringue toppings. The propane torches are simple to handle, but it's the most preferred choice for chefs.
This is primarily because propane torches tend to deliver a stronger flame as compared to butane torches. Even more, propane is hotter, but it doesn't compromise on the control. The best thing about propane torches is that they are easy to find, even in hardware stores. The propane torch delivers controlled heat that can brown the cheesecake and unmold ice creams and jellies.
Even more, people have been using the propane torch for warming up the knife and cutting through frozen food. Propane torch makes a great tool for people interested in sous vide cooking and is suitable for searing seafood or fresh fish. What we love about the propane torch is its ability to skin tomatoes and peppers. All in all, it's perfect for roasting the food. The propane torch is a reliable and inexpensive way of caramelizing the top of food.