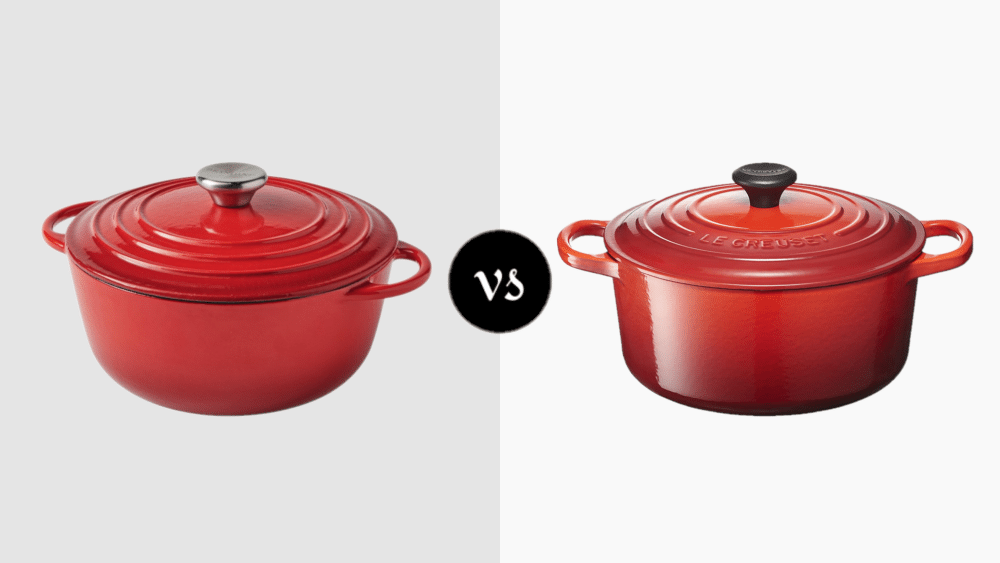 We're living in tough economic times, and when it comes to saving wherever you can, people also like to invest in cookware that will last.
Cast iron Dutch oven cookware is highly sought after as you can use it for all kinds of cooking. They simply bake, boil, braise, and fry as the need arises.
The cool thing about these pots is that you can use them on the stovetop and then place the pot straight into the oven and from there onto the table.
Culinary experts will tell you that these cast-iron Dutch ovens, available in a round and oval shape, will give you excellent cooking results every time. They say you can replace all your other cookers with this one exceptional pot.
But the question is – which brand to choose? Brandani cast iron Dutch oven or Le Creuset? They're both .going to give you excellent results with your cooking, but there must be one or two differences between them, and we're going to see what they are.
Brandani Cast Iron Dutch Oven vs. Le Creuset
Le Creuset Cast Iron Dutch Oven
When you start doing research on cast iron Dutch ovens, you'll see that Le Creuset is a brand name that is always recommended. True, they may be a little bit more expensive than some of the other brands, but it's always a worthwhile investment.
Not only does the pot last a lifetime, but the Le Creuset brand is renowned for its loyal customers who love the brand that is constantly bringing out new trendy colors and products. Having one of these cast iron Dutch ovens is like having a status symbol.
We look at seven unique aspects of the Le Creuset Dutch oven: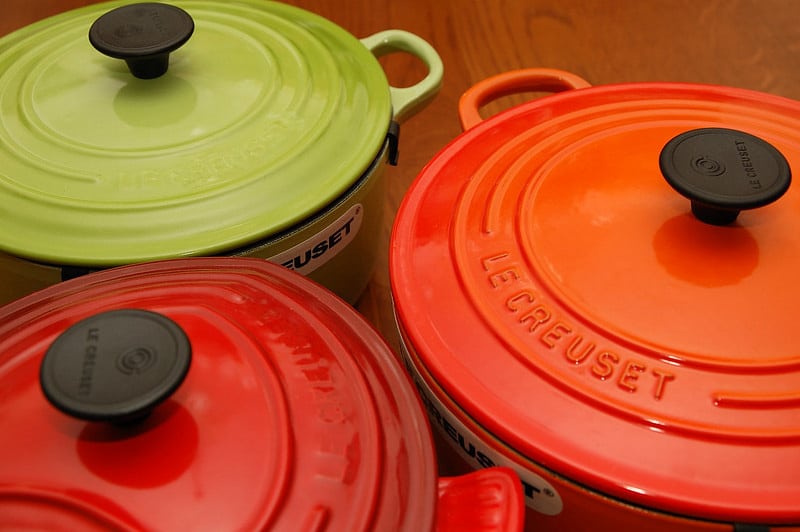 Le Creuset is a

French cookware company

that was founded in

1925

.
You've got lots of

trendy colors

to choose from. In fact, these pots are so attractive to look at that you can bring them straight from the oven onto your table.
The newer models have

larger handles

, making it easier to handle the pot. The tight-fitting lid with a phenolic knob is able to cope with temperatures as high as

375°F

.
The Dutch oven's snug-fitting lid and the pot's

thick cast iron walls

keep moisture in,

conducting heat evenly

to ensure a moist dish packed with flavor.
The Le Creuset pot comes with

a lifetime warranty

. In fact, to ensure the cookware is super durable, it undergoes a

12-step manufacturing process

and is given two layers of enamel, fired at about 80°C. This ensures the enamel is

damage-resistant

while in use.
The pot is

dishwasher-safe.

Le Creuset Dutch ovens come in a variety of sizes to suit the cooking needs of just one person up to large families and groups of people. You can take your pick from a

1-quart Dutch oven right up to a 15.5-quart Dutch oven

that can feed up to 14 people. The company has embedded the size of the cookware on the bottom of its cookware. The number refers to the inside diameter of the oven.
The French cookware company has provided beginner and seasoned cooks with a top-brand Dutch oven. The cast iron cookware is a great addition to your kitchen and allows you to tackle many different recipes with confidence.
This versatile, multi-purpose cookware, with some unique features, has established itself as a must-have staple piece of cookware in the kitchen.
Brandani Cast Iron Dutch Oven
Those who are experienced with using a cast iron Dutch oven will tell you that your Brandani Dutch oven should be made in Italy, as you can then be assured of the best quality pot.
We're going to look at 7 unique and notable aspects and features of the robust pot:
Brandani Dutch ovens come in

various attractive colors and different sizes

. So you will find a

5-liter oven, 7-liter, and their 10-liter

suitable for up to 12 people.
The

thick walls

of the Brandani, together with a

snug-fitting lid

, keep heat and moisture in, making the pot ideal for slow cooking.
Unlike the Le Creuset Dutch ovens, which are expensive, the Brandani Dutch oven is

reasonably priced

while still giving you

well-made cast-iron cookware that will last

.
The

enameled cast iron

allows for

excellent heat distribution and retention

.
The pot is

easy to clean

and

resists chipping, cracking, and staining

. The Dutch oven is

dishwasher-safe

, and the sturdy handles are large enough to allow you to grip them even when you're wearing oven mitts.
Cooks love the pale-colored,

cream-like interior

so that one can easily see how your food is progressing.
The pot comes with

a lifetime warranty

.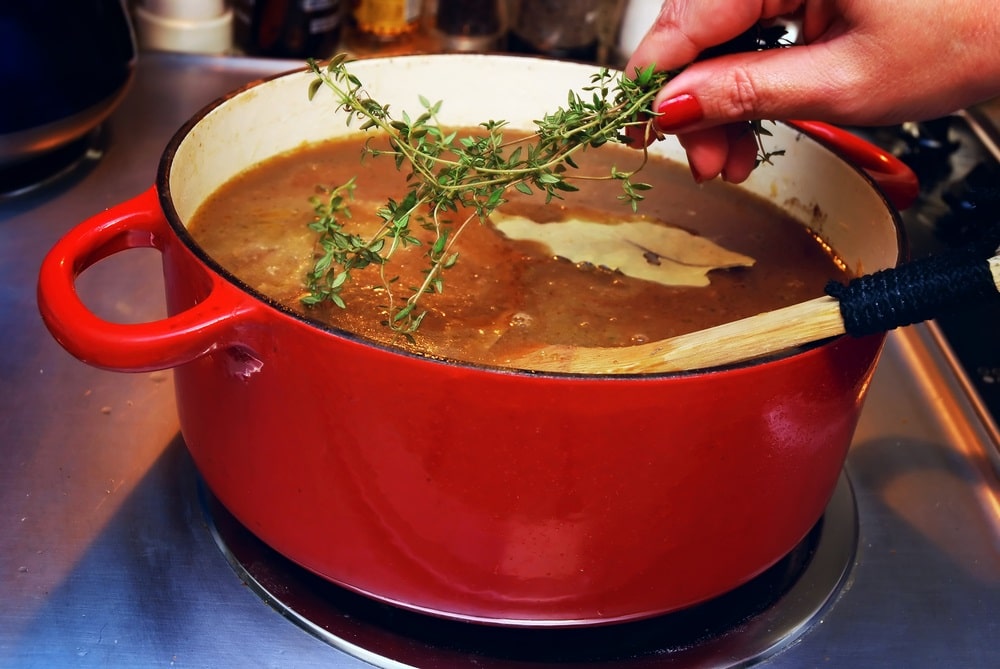 The Brandani company doesn't just want to sell a product, but they want to satisfy the needs of the consumer. Staff are always available to help and solve any problems you may have.
The Brandani enameled cast iron Dutch oven is the perfect choice for you if you are looking for high-quality, good-looking cookware. With its lifetime warranty, when you invest in one of these, you're getting true value for money.
If you're wanting a top-quality enameled cast iron Dutch oven, you need to check out the Brandani Dutch oven, as the non-stick cooker will turn your stews and casseroles into something extraordinarily delicious.
Cooks love the pot's simplicity and user-friendliness, and it's also regarded as excellent value for money.
Which Dutch oven cookware is it to be?
Brandani cast iron Dutch oven vs. Le Creuset: which one? True, Le Creuset is the best-known enameled cast iron Dutch oven brand there is, but in tough economic times, the solidly constructed Brandani Dutch oven is made appealing with its more affordable price tag.
Both the Brandani and the Le Creuset cast iron Dutch ovens are worthwhile investments in any kitchen. Ideal for slow cooking, every dish you prepare will have your guests saying 'bon appetit'.
Their different sizes and beautiful shades of green, blue, pink, red, orange, and other colors make them the perfect choice for everyone looking to have stylish, robust, versatile cookware that will last them a lifetime.