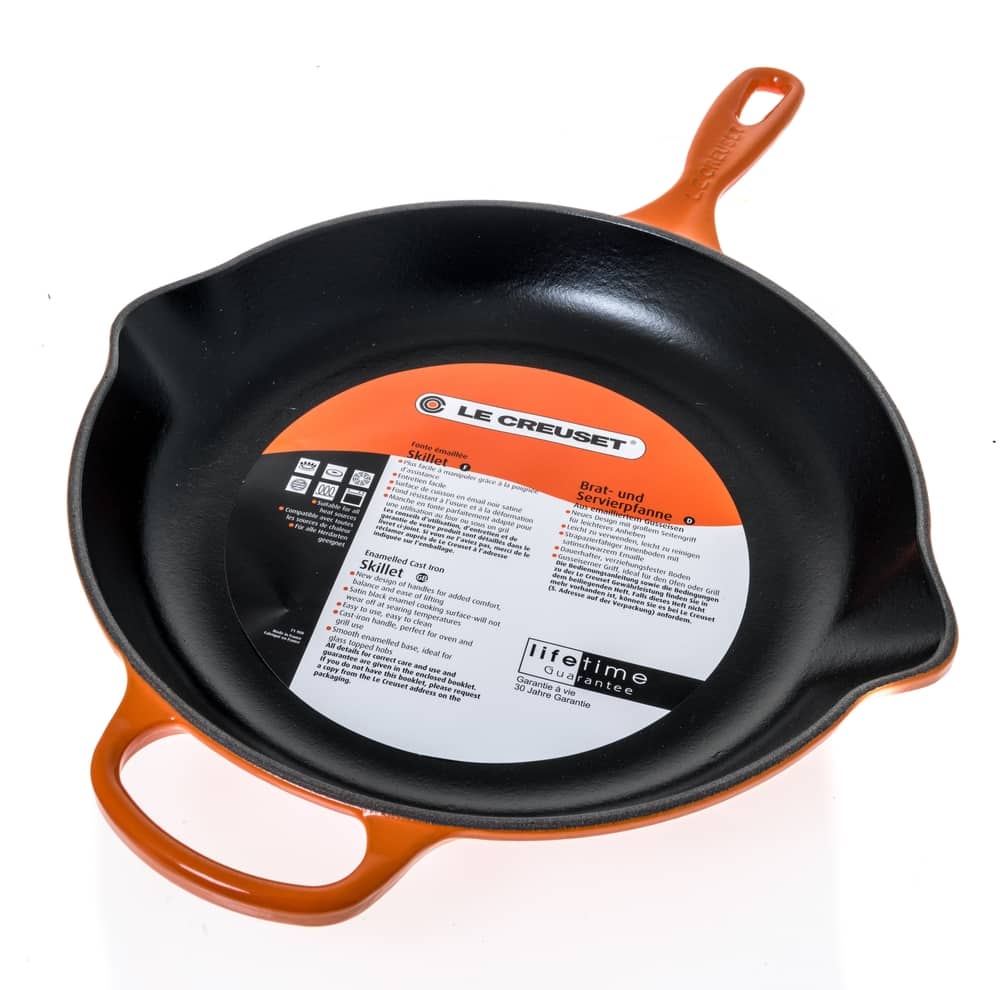 Dutch ovens have become an important part of the kitchens and it's undeniably the best kitchen utensil for home cooks. Made from uncoated or coated cast iron, these are high-end pots designed with strong handles.
The Dutch ovens are designed with thick walls and walls to trap steam and heat, promising even food cooking. However, all these perks can be enjoyed if you choose the right Dutch oven, which is why we have Pampered Chef Dutch oven vs Le Creuset comparison in this post!
Pampered Chef Dutch Oven vs Le Creuset
Le Creuset Dutch Oven
Le Creuset is a leading cookware brand with decades of experience in manufacturing cookware and it wouldn't be wrong to say that they have gained millions of positive reviews. They have the most appealing Dutch ovens but nothing matches the quality and aesthetics of the signature Dutch ovens. Honestly, these Dutch ovens are expensive but they are worth the price – these are built to last for decades, so you don't need to purchase a Dutch oven again and again.
Le Creuset only uses enameled cast iron material for manufacturing the Dutch oven, which promises advanced and quicker heat distribution that promises well-cooked, quick, and easy meals. The interior of Dutch ovens is designed with a special coating that prevents the chances of food sticking to the bottom. In addition, the smooth interior coating promises easier cleaning. As far as the exterior is concerned, it's scratch-resistant and you don't need to be worried about cracks and chipping.
The Dutch ovens are available in twenty-two different colors, ranging from minimal/basic colors to bright and vibrant colors. In addition, Le Creuset has an exceptional size range available to meet the cooking requirements of different people – the size range starts from 1-quart to 15.5-quart Dutch ovens. The sizes up to 5-quart are suitable for medium-sized families and the bigger Dutch ovens are suitable for restaurant chefs or if you host parties frequently. The Dutch oven has walls of around 3.8mm, promising better heat retention, so your food remains warm even if you serve the food on the table.
The Dutch oven is integrated with the dome-shaped lids that promise better moisture and heat circulation, which transforms the texture of food (the toughest meat cuts will become soft and tender). The Dutch ovens are oven-safe up to 500 degrees Fahrenheit and can be cleaned in the dishwasher. However, it's better that you use a soft sponge for cleaning the Dutch oven. Last but not least, the handles have a wide opening for better handling, even if you wear oven mitts.
Pampered Chef Dutch Oven
Pampered Chef promises an array of kitchen tools, cookbooks, and other food products to ease the food preparation and cooking experiences of the users. Having said that, they have also launched a Dutch oven and the RockCrok is the most popular Dutch oven. This Dutch oven is designed with an eight-quart capacity and has an 11-inch width, making it suitable for home cooking. The Dutch oven is made from clay, which is why it's extremely lightweight, even when the walls are thick.
Pampered Chef Dutch oven has a heat capacity of over 752 degrees Fahrenheit, which means you can use it in the oven as well as the broiler. The Dutch oven promises versatility as it can be used for searing, braising, simmering, frying, baking, slow-cooking, boiling, and broiling. In addition, it can be put in the microwave oven but you should only use it in thirty-second increments because it needs to be cooled down. Also, it comes with a glass lid, promising heat resistance of over 400 degrees Fahrenheit.
The glass lid makes it convenient to check the food and the handle are also made from glass, which negatively impacts the handling. However, the glass handle promises higher resistance to heat but you need to be extremely careful while using the glass handle as it tends to slip. The Dutch oven has an appealing design since it has a matte black finish, so you can use it for table-based serving as well. In addition, you can use the Dutch oven for storing food in the freezer – it doesn't break down with these temperature fluctuations.
On top of everything, the Dutch oven isn't heavy and has a generous capacity for cooking food. However, many people feel that the pot handles are extremely small, which impacts the grip; it's better that you cup the handles for better stability.