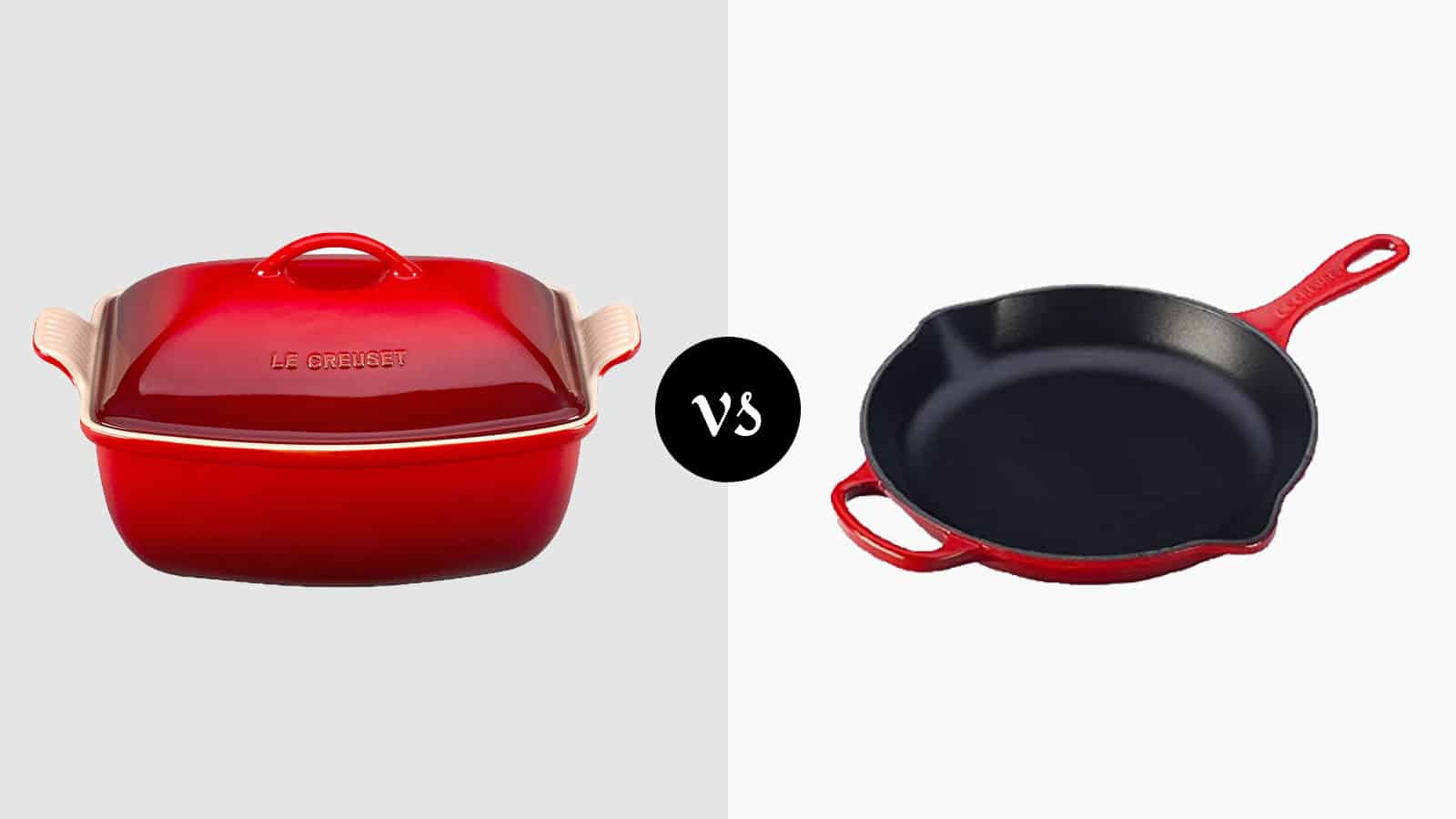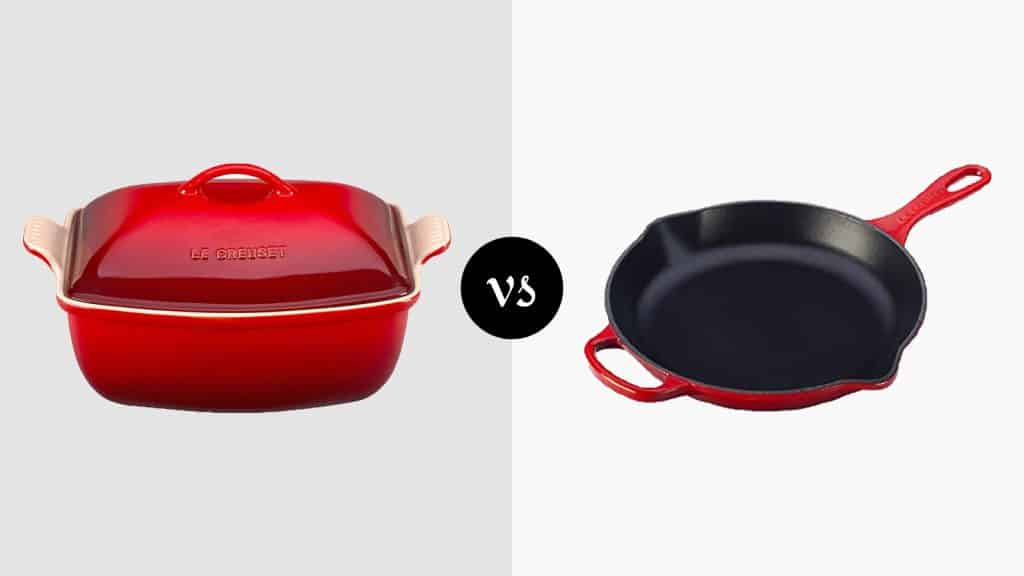 There is no kitchen without pots and pans. Out of the many fine options out there, Le Creuset has become the ultimate brand for people who want color in their kitchen. It's an iconic cookware brand with a massive stylish selection.
There are many different cookware lines available from this brand, but two of the most commonly compared are stoneware vs. cast iron.
We'll be taking you through all the information that you need to know to make an informed choice over which is the next best addition to your kitchen.
Le Creuset Stoneware Vs. Cast Iron Comparison
| | Le Creuset Stoneware | Le Creuset Cast Iron |
| --- | --- | --- |
| Composition | Metal Core Encapsulated In Solid Scratch Resistant Non Stick Ceramics | Durable Proprietary Cast Iron Blend Coated With Non Stick Ceramics |
| Advantages | Non-Reactive, Zero Staining, Attractive Cooking Surface, Scratch Resistant, Chip Resistant, Odor Resistant, Stain Resistant, Enlarged Handles For Easy Baking/Cooking | Non-Reactive, Zero Staining, Attractive Cooking Surface, Scratch Resistant, Chip Resistant, Odor Resistant, Stain Resistant, Superb Non-Stick Surface, Great Searing Ability, Reseasoning Not Required Like Cast Iron |
| Considerations | Polished But Not As Non-Stick As Teflon | Cast Iron Cleaner May Be Needed After Extensive Use |
| Maximum Temperature | Oven-Safe Up To 500°f And Freezer-Safe Up To -9°f | Oven-Safe Up To 500°f And Freezer-Safe Up To -9°f |
| Best Uses | Baking | All-Purpose Versatlity For Extended Duration Cooking (Stews, Curries, Etc.) |
| Cleaning | Easy Cleaning | Dishwasher Safe | Easy Cleaning | Dishwasher Safe |
| Product Range | Various Baking Dishes, Planters, Mugs, Storage Items, Specialty Collection, Tableware, Serving Items, Preserve Jars, Dinnerware, Gift Sets, Pet Items | Casserole Dishes, Pans, Skillets, Saute Pans, Skillet Grills, Grills, Dishes, Saucepans, Woks, Balti Dishes, Rice Pots |
Stoneware Vs. Cast Iron
Some of the most beautiful cooking, baking, and serving items are available from Le Creuset's Stoneware and Cast Iron collection. Seasoned chefs will likely want several items from both high-performance product selections. Here is a breakdown of what you can expect.
Le Creuset Stoneware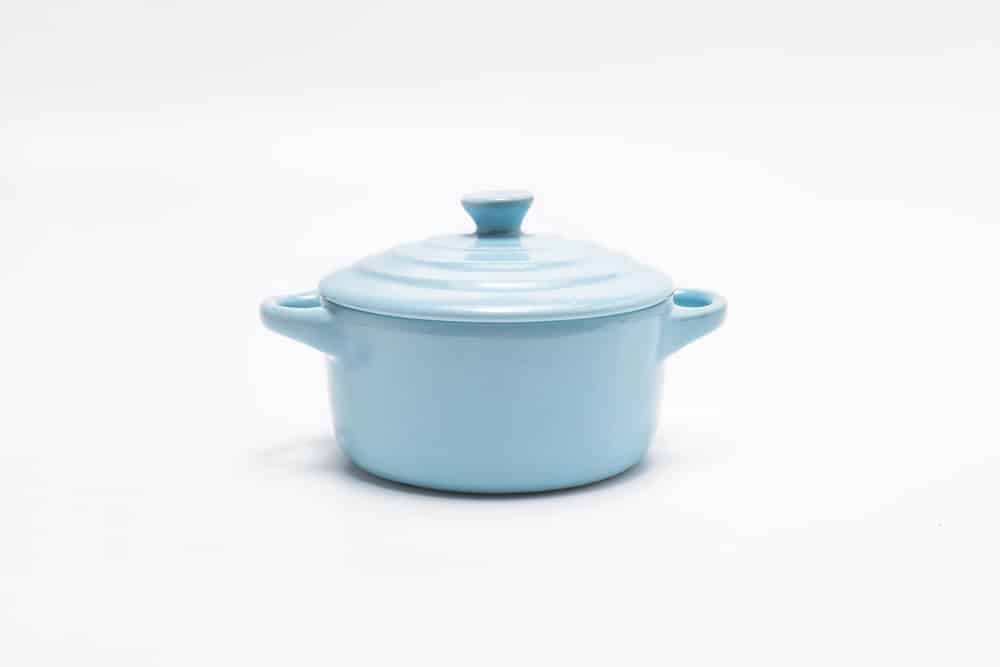 If you're a fan of baking and making pasta, lasagna, or other baked casseroles, the Le Creuset handcrafted Stoneware range is a perfect choice. Let's take a closer look at what makes this bakeware such a popular choice.
Composition
All Stoneware oven- to tableware consists of a lead-free metal core encapsulated completely by high heat tolerant clay ceramics.
The exterior of all products in the Stoneware range is pure ceramics and boasts a chip and scratch-resistant surface containing absolutely no lead or cadmium.
Advantages
Le Creuset's Stoneware is a non-reaction range which means it's ideally suited to acidic food items, and it won't draw up flavors, odors, and stains from whatever is being cooked (unlike metal pots and pans.) There's zero chance of staining even after extensive use.
The enameled surface coating of each item in the stoneware range not only cooks conveniently while attractively presenting food, but the enamel makes the range highly chip and scratch-resistant.
Furthermore, when it comes to serving food straight in the vessel it's been cooking in, the Stoneware range is the clear winner. Very few cookware designs can compare to their attractiveness. That being said, every item is made to match all other Stoneware products.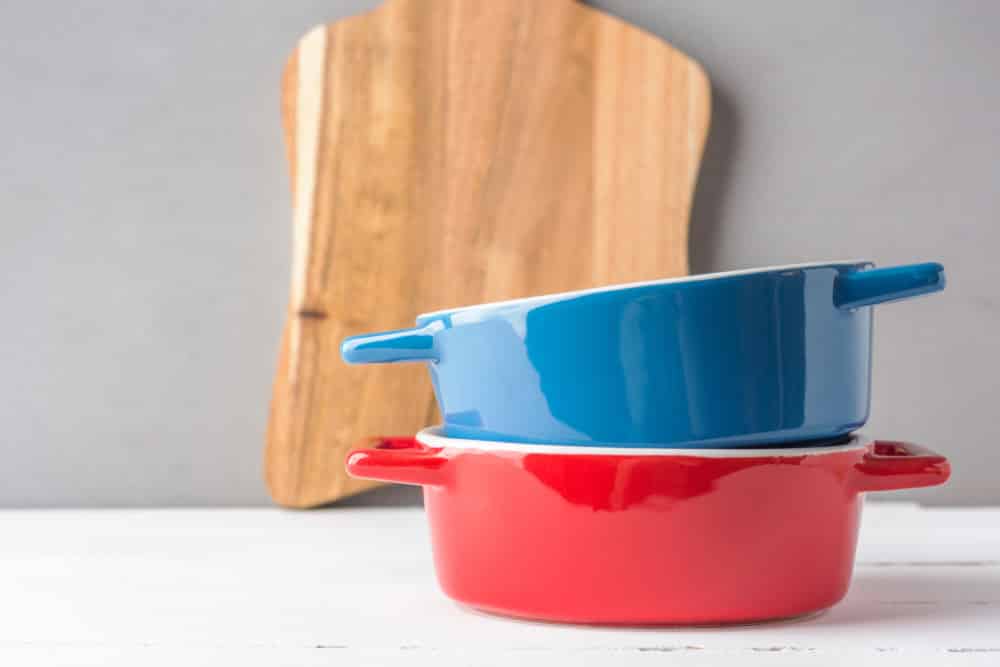 An often-overlooked asset is just how easy items from the Stoneware collection are to handle and move around while cooking, thanks to the extra-large handles. One of the best things about Stoneware is that it can be used for storing food in the freezer and fridge without risk of damage.
Its versatility shines throughout cooking and storage.
Considerations
While nonstick to a reasonable degree, the enamel coating is not as nonstick as Teflon.
Maximum Temperature
The company rated the entire Le Creuset Stoneware collection as oven-safe up to 500°F and freezer-safe up to -9°F. Furthermore, all items are safe for use in the microwave, oven, and under the grill or broiler.
This being said, one has to keep in mind that the clay gets fired at super high temperatures, which makes the Stoneware collection technically capable of handling the heat of up to 2000°F.
Best Uses
Stoneware is for baking. To name but a few, Stoneware is optimal for making lasagna and similar baked dishes. It is also ideal for baking bread like banana bread.
No matter what you're baking, Stoneware works wonderfully without any risk of altering the dish's flavor based on what it's being cooked in.
Cleaning
Thanks to the enameled surface, Le Creuset's stoneware range is effortless to clean. Additionally, it is dishwasher safe.
Product Range
In terms of cooking items, the Le Creuset Stoneware range includes square and rectangular lidded dishes with an olive motif, loaf dishes, rectangular dishes featuring a divider in a steeped style, rectangular platters, classic square dishes, oval dishes, mini cocotte pots, fluted flan dishes, ramekins, deep rectangular dishes, pie dishes, straight-walled ramekins, and lasagna dishes.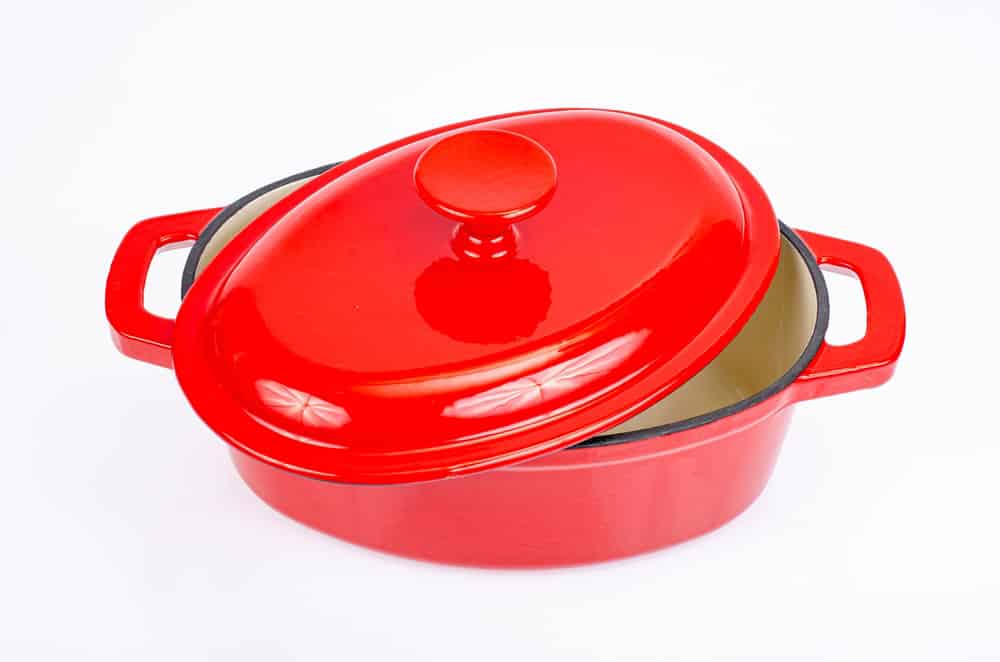 The Stoneware collection also includes planters, mugs, storage items, specialty items like spoon rests, salt keepers, shaped plates, and various other functional tableware with attractive designs.
There are serving items, a breakfast collection, preserve jars, dinnerware, gift sets, and a pet collection inclusive of items like pet food bowls and pet food containers.
Le Creuset Cast Iron
For people fond of braising and slow cooking, the cast iron range is the perfect solution. Truth be told, we love slow cooking, and Le Creuset has created an amazing collection.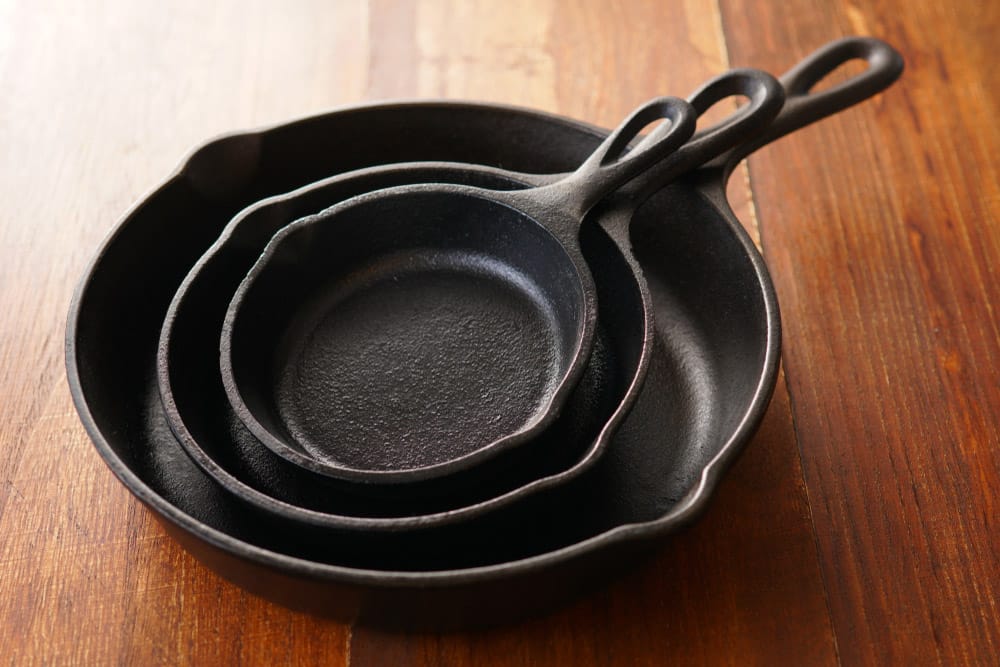 Composition
Le Creuset's cast-iron collection features a proprietary blend of metals including 100% pig iron, iron, at least half the volume of recycled steel, and several secret minerals fused to form the company's unique cast iron.
Each item in the cast iron range is coated with a durable chip and scratch-resistant enamel coating. Despite not being described as nonstick, nothing sticks to enamel, and it's very hard to burn food.
Advantages
The best thing about these cast iron pans is that the bottom of the pot doesn't burn, causing food to get stuck. There's absolutely no need to babysit the pans, unlike lots of other competing cookware, especially cast iron. Like all cast iron, the high heat reached is ideal for searing.
These cast iron pans are perfect for precise temperature cooking as they have some of the evenest heat distribution seen, which drastically reduces the chances of burning.
Say goodbye to continuous stirring, and your food will still always come out evenly cooked despite the lack of needing constant attention. It's hard to fault the quality of Le Creuset's cast iron.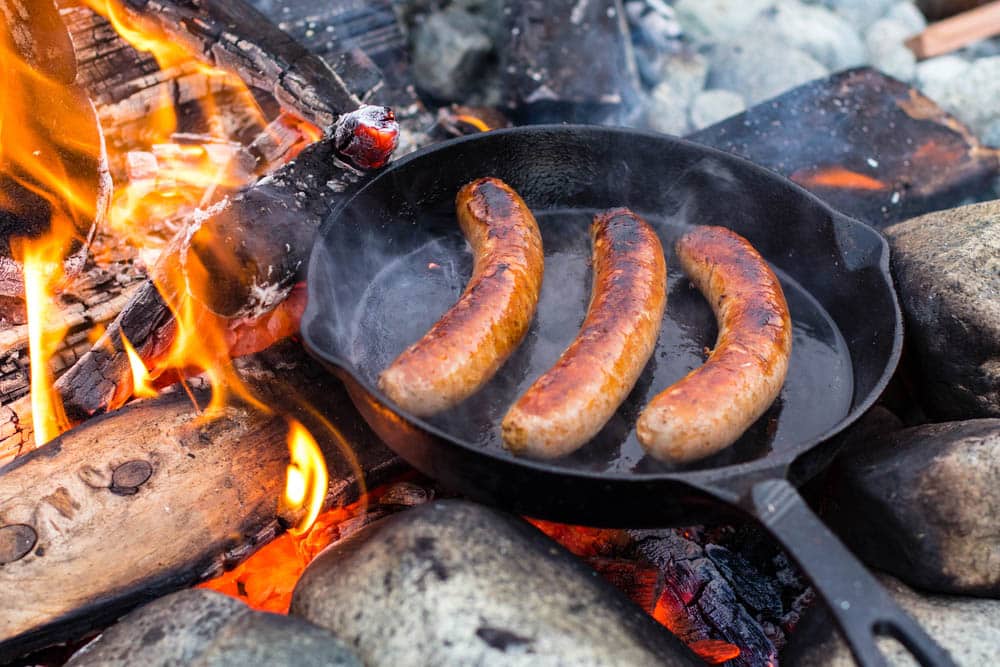 Not only is the range versatile and of clear quality from the onset, but we can assure you that these pots and pans are built to last. Unlike regular cast iron, the enameled cast iron cookware from Le Creuset doesn't require seasoning or constant reseasoning.
Despite the cast iron being coated, you'll be blown away by just how well they work for searing and nonstick cooking. Also, pots and pans are non-reactive, just like the Stoneware range, and are thus safe for cooking acidic food.
Considerations
The only consideration to keep in mind is that some customers have complained about light metal marks and a certain degree of staining that occurs due to the cast iron center. If any form of marring plagues you, use a cast iron cookware cleaner.
Those looking for the best cleaner available should opt for Le Creuset's very own product.
Maximum Temperature
The maximum safe temperature for all Le Creuset cast iron cookware is 500°F, and the lowest safe temperature is -9°F. The minimum and maximum remain the same across both the Stoneware and cast iron ranges.
Best Uses
Cast iron can turn bad meat cuts into amazing stews. These pots and pans are perfect for simmering. If you're cooking anything over an extended period, you can't go wrong with cast iron.
Cleaning
You'll find that Le Creuset's cast iron cookware is just as easy to clean as the stoneware range.
The enameled coating makes it nearly impossible for food and food residue to stick, allowing dirt and discards to wipe away after a simple soapy rinse. All enameled cast iron is also dishwasher safe.
Product Range
The Le Creuset Cast Iron range includes various sized casserole dishes, pans, skillets, saute pans, skillet grills, grills, dishes, saucepans, the company's signature roaster, and a selection of exotics like woks, rice pots, and balti dishes.
What Is The Difference Between Stoneware Vs. Cast Iron?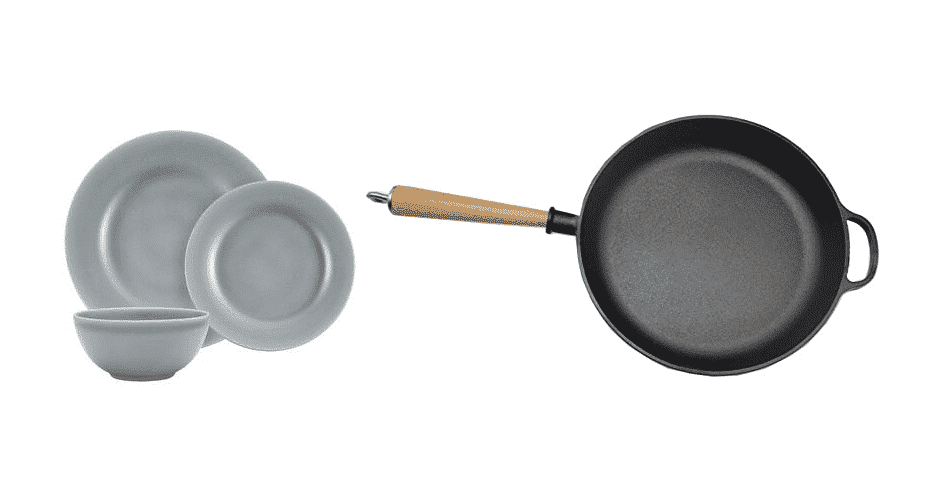 The main difference between Stoneware vs. cast iron from Le Creuset is that the stoneware collection is made for baking, whereas the cast iron collection is best suited to high-temperature cooking and searing.
Items from the Stoneware collection are 100% ceramics surrounding a steel core for heat retention, while the cast iron cookware encapsulates cast iron in a thick layer of ceramics.
Which Is Best Between Stoneware Vs. Cast Iron?
Le Creuset is such an exclusive line of cookware with such exceedingly good performance that owning a single pot, pan, or casserole dish will forever change the way that you cook. Ideally, we'd say every kitchen should include a decent range of Stoneware and cast iron cookware.
However, when it comes to picking a winner between Le Creuset Stoneware vs. cast iron, we'd have to say that the Stoneware line is better for baking and heat retention, whereas the cast iron cookware suits searing and frying far better, as well as quick-cooking cooking applications in the majority of cases.