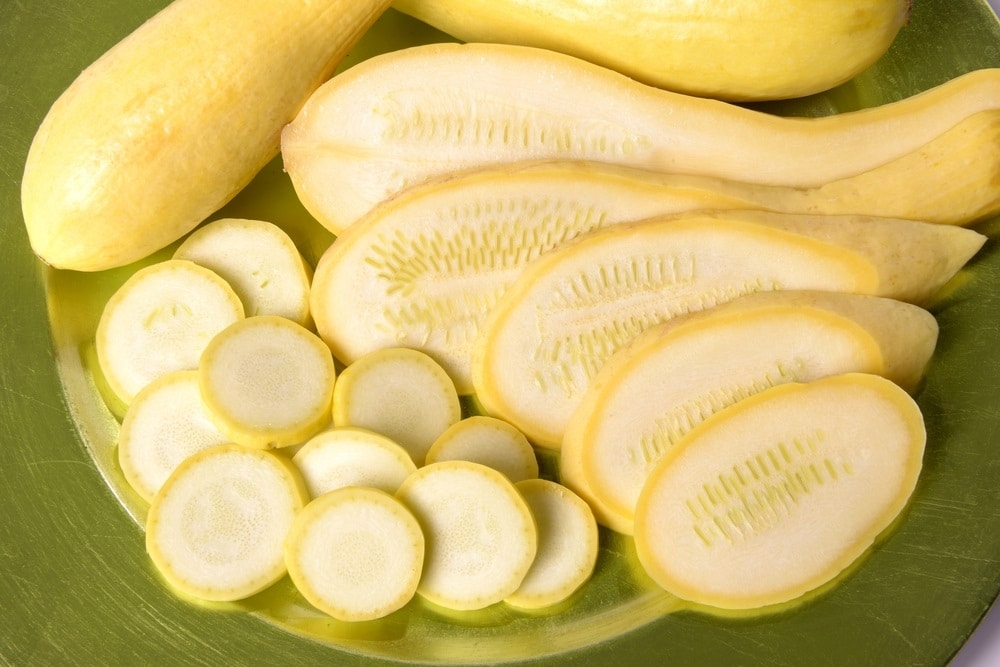 Not everyone likes vegetables but we challenge anyone to dislike fresh summer yellow squash roasted in butter with salt and pepper and topped with a grating of Parmesan cheese!
Yellow squash is a staple for many vegetarians because it is so versatile. Saute it, add it to a stir fry, or roast it in olive oil.
Dust off your airfryer and cook the yellow summer squash slices in there after you have brushed them with olive oil, salt, and some oregano.
We create amazing recipes. Gain FREE access to Miss Vickie's special recipes.
We won't send you spam. Unsubscribe at any time.
Fresh, young yellow squash is firm with bright shiny skin. You may have opened one only to find that it has a brown ring through the flesh. Read on to find out what this is and whether you can still eat the squash.
Brown Ring In Yellow Squash
There are a few different reasons behind a brown ring in the yellow squash.
1. First of all, this brown ring is a sign that the squash has been stored too long in the store before you bought it.
To prevent this from happening in the future, always check the "sell by" date on the packaging before buying it.
Ask your store manager what days the fresh produce is delivered to the store and try to always make your purchases on those days. Alternatively, shop at farmers' markets where most of the produce is very fresh.
While it is not harmful to eat a squash that's a little old, you may want to cut away the discolored parts first. Try our yummy soup recipe at the end of this article to use up the cut-up bits of squash.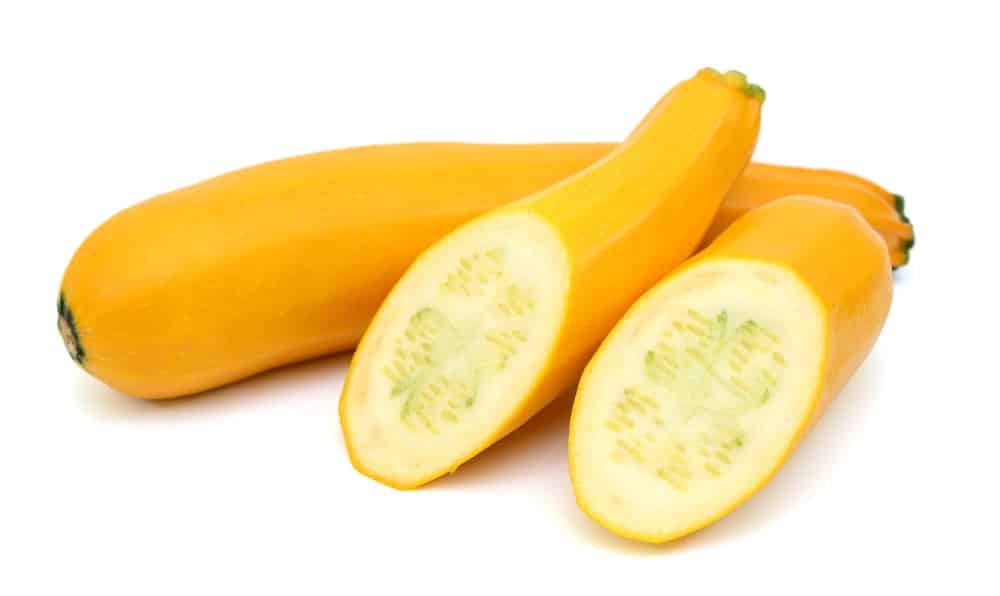 2. A second reason for a brown ring inside your yellow squash is that it had irregular amounts of water during its growing season.
The squash plants quickly suck up the water after a time of drought and then deposit minerals into their growth layer. This is not harmful and the squash can be eaten.
3. There is a third, more obscure reason for the brown ring inside your yellow squash.
If the vegetable was grown in an area with a high smoke concentration, the plant's leaves may take up the minerals from the smoke and deposit them in the flesh.
Again, you can eat these squash, although you should definitely wash them before cooking to remove any traces of dust, pollution, and pesticides from the skin.
How To Choose Yellow Squash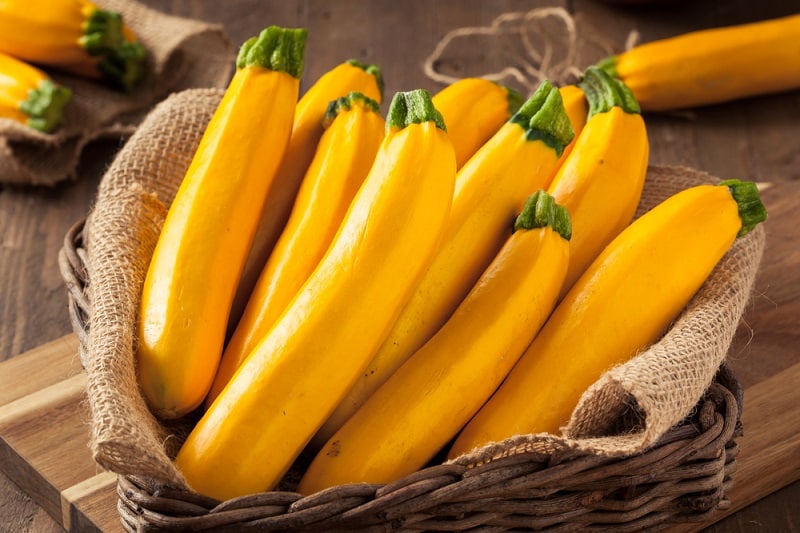 While you are out buying yellow squash, make sure that you look for firm ones with glossy skins. There should be no trace of mold and the stem end should look firm and fresh green.
It should not be shriveled or brown. The vegetables should be firm and not soft or rubbery.
How To Keep Squash Fresh
Start off with the freshest produce you can buy. Take it home in a cooler to ensure it doesn't get hot in your car. Once home, put it immediately into the crisper drawer in plastic Ziploc bags to retain their moisture.
Don't wash before storing; rather, wash before use. The squash should keep well for up to a week like this and not end up with a brown ring inside.
Using Up Older Squash
If your squash has a brown ring or has become a little old and rubbery, all is not lost. You can cut away the spoiled bits and use the rest to make this richly delicious soup. We hope you enjoy it!
Spiced Gold Summer Squash Soup
Ingredients:
1 tablespoon butter
1 tablespoon cooking oil
1 small yellow onion, chopped
1 clove garlic, peeled and crushed
½ teaspoon dried cumin powder
½ teaspoon dried coriander powder
½ teaspoon turmeric
¼ teaspoon ground cinnamon
½ teaspoon dried chili flakes
2 ½ cups chicken stock
2 cups finely chopped yellow squash
1 large potato, peeled and cubed
1 carrot, peeled and diced
¼ cup cream or coconut cream
Salt and pepper to taste
Pinch of cayenne pepper or paprika to sprinkle on top
Instructions:
Use a heavy-based pot and heat it over a medium flame.
Put in the oil and butter and add the onions when hot.
Cook until the onions are transparent.
Add the garlic and spices, stirring until fragrant.
Add the stock and the squash, carrot, and potato.
Bring everything to a boil then reduce the heat and cover the pot.
Simmer gently for about 15 minutes until all the vegetables are soft.
Puree the soup with a stick blender.
Add the cream or coconut milk and heat but do not boil.
Taste for seasoning, adding salt and pepper I needed.
Serve hot with a sprinkling of cayenne pepper.
Makes 2 servings but the recipe can easily be doubled to serve 4.