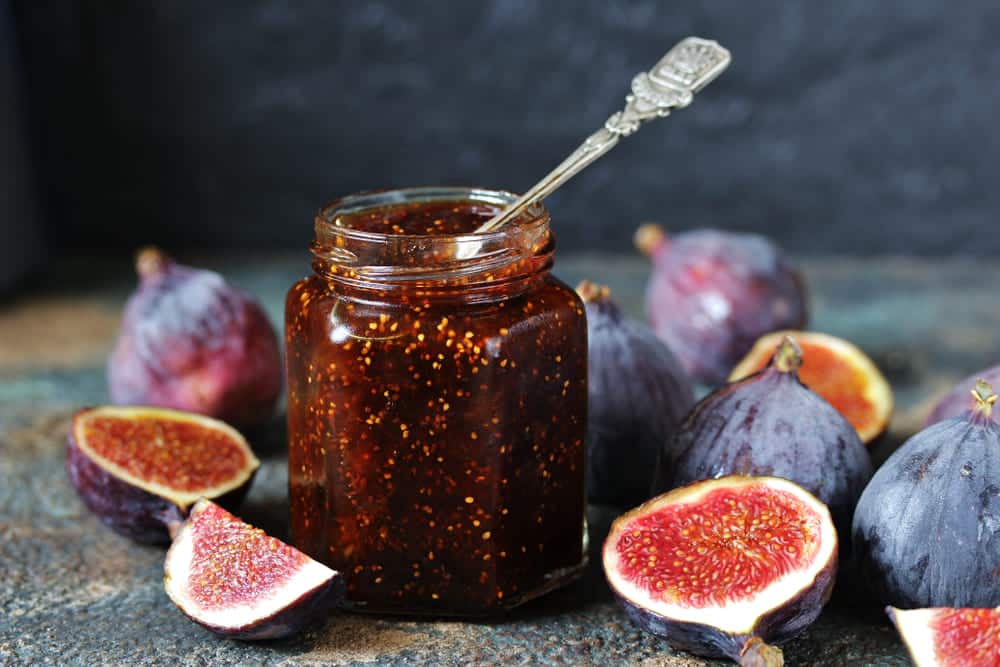 Fig is a highly fibrous and tasty fruit that is full of tiny seeds. They taste sweet yet savory and sour. You may eat them raw with their edible peels as well as use their jams along with other savory items such as bread, cheese, etc. The most popular use of a jam is spreading it over bread slices. However, the availability of figs and their jam is quite limited. This is exactly why you have to keep an eye on its substitutes.
If you have run out of fig jam and couldn't find it in your local grocery store either then you are in the right place. In this post, we will walk you through some most convenient and efficient substitutes for fig jam. Read on.
What Exactly Is Fig?
It is good to understand the ingredient briefly before you substitute them with somehow similar ingredients. Fig fruits date back to biblical times. They are found in Asia, Africa, and Europe.
The mature fig fruit is wrinkled and plumping. Lots of tiny seeds inside the fig are eaten raw and fresh with the flesh and edible peel. They taste super delicious having sweet yet savory flavor.
Many recipes call for fig jam to tenderize the dish, you also can use another similar jam for the bread slices. They are very effective and healthy snacks as well.
Now that you know enough about what figs are and what fig jam is, allow us to introduce some efficient substitutes to you below.
What Are The Best Substitutes For Fig Jam?
It might be difficult to find a fruity jam as sweet and savory as fig, but you luckily have got a lot of choices. The fruits similar to fig will come in handy in making jams to substitute fig jam.
Here are the alternatives of fig jam you should know:
Substitute 1: Prune Jam
Prunes are dried plums of the cultivar. They have the same wrinkled and plumping texture as fig jam which makes them the nearest alternative for fig jam.
You can get this jam ready to use in stores or you may make it in your kitchen using a food processor or blender machine. Both will do. The chopped and blended prune plumps will compensate for the fruity and juicy flavors of fig jam well in your recipe.
Substitute 2: Nectarine Jam
Nectarine jam is made on a good scale to make tasty sandwiches. People love to have their fridges stocked with nectarine jam.
Moreover, nectarine can be eaten raw as well with its edible peels such as figs. Their jams are conveniently interchangeable for any recipe you want.
Substitute 3: Fresh Apricots Jam
Fresh apricots are another great substitute for figs. They can be eaten alone just like figs. Apricot jams are very tasty and pluming like fig jams. Both have same fruity and sweet flavors. It won't make any difference substituting fig jam with fresh apricot jam, except for the mild savory taste that fig jam possesses.
Substitute 4: Date Jam
Dates are as healthy and nutritious as figs. They can be eaten raw as well as blended to make a good jam batch. Fresh mature dates are dried to make a jam similar to fig jam. However, the sweetness can be overwhelmed but despite that, date jam is a good healthy replacement for figs jam.
You may find dates jam easily at the market although you can make a fresh batch out of it at home as well. The recipe is easy.
Substitute 5: Blueberry Jam
Blueberries are another fresh fruits that serve to make tasty jams. You can eat them raw as well just like fig jam. If you want the savory and sour taste to be dominant, the blueberry jam is the best to replace fig jam. Both are healthy too.
Substitute 6: Cherries Jam
Another jam you may like to substitute with fig jam is a basic jam made with fresh and newly ripen cherries. The sweet and delightful taste of cherries resembles figs a lot except for the extra sweetness.
Final Thoughts:
Fig jam is a versatile, tasty addition to your favorite savory dishes such as cheese, bread, scones, and muffins. Above substitutes of fig jam are the best among all.