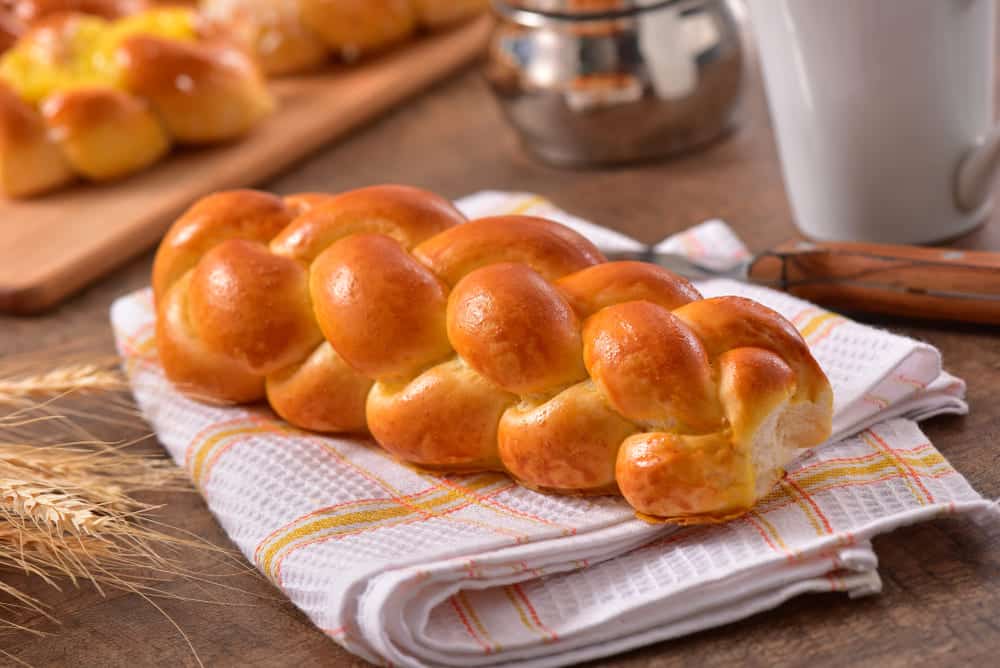 Brioche is golden-brown in colored bread that has a slightly sweet taste. It is a somewhat healthier version of sandwich bread because of the presence of butter and eggs. Brioche bread has simple ingredients like eggs, flour, butter, salt. Sometimes a little sweetness is added to this bread by using sugar while preparing the dough. Brioche bread is a healthier option than regular bread as the dough of brioche contains a lot of eggs that make it a better choice.
You should buy brioche bread in loaf rather than slices of bread. The reason is that you can cut the loaf easily according to the type of recipe in which you will use it. Brioche is the most classic choice that sits somewhere between boulangerie and patisserie products.
Brioche bread is a good source of nutrition because of its healthy ingredients. You can uplift any recipe by use of brioche bread. It can be used to prepare almost anything ranging from hamburgers, French toast, pudding, custards, sandwiches to buns. Brioche bread has a sturdy, plush crumb that stays firm even in soaked form and makes it an attractive choice to use for such recipes.
Sometimes while cooking we realize that an important constituent of recipes like brioche bread is missing. What to use instead of brioche bread?
Substitutes For Brioche Bread
If you do not have brioche bread in your kitchen then replace it with the following alternative options.
1) Hawaiian Sweet Bread
It is a soft, sweet, and fluffy bread. There is a resemblance between the ingredients of Hawaiian sweet bread and brioche bread. Both are healthier as they contain eggs and butter. You can use either one for your recipes by substituting each other.
But the sugar and fats of Hawaiian bread make it distinct. The sugar in Hawaiian bread is a lot more than brioche bread. Hawaiian bread may contain pineapple juice or even brown sugar which can enhance the taste of your dishes.
2) Simple Bread
Simple bread is easily accessible at all stores. Like Brioche bread it does not contain ingredients like eggs and butter.
However, in case of an emergency shortage, brioche can be replaced with simple bread. This substitute will not be much rich in nutritional strength, but it will fulfill your need for bread in recipes.
3) Challah
Just like brioche, challah contains eggs and butter as its essential ingredient. It will be a better option than simple bread that can be substituted for brioche bread. In bread puddings and French toasts, challah can become a good substitute for brioche bread.
Just like brioche bread, challah can be used in making custard and it does not break apart and stays firm in shape. Challah bread will give you a creamy texture of recipes and it is a wonderful substitute for brioche in puddings.
4) Croissants
Croissants can be classified as both bread and pastry. The addition of butter in croissants makes it a sound substitute for brioche bread. Unlike brioche bread, croissants do not contain eggs in their dough. If you are looking for such an alternative that should not have egg in it, then Croissants will be the best substitute.
5) Make Your Brioche Bread At Home
In case of shortage or non-availability of brioche bread, you can cook it at home as well. It will have a similar eggy, buttery flavor to that bought from the market. Homemade brioche bread is full of flavor and enriched with nutrients. The ingredients you will require for making it are eggs, flour, butter, salt, sugar, and milk.
First of all, mix dry ingredients and make a dough. You can mix them in a mixing bowl attached with the dough hook. Gradually add eggs and milk while making dough. Mix the mixture until a cohesive dough is formed. Make sure that all the flour is converted to the dough and no dry flour is left behind. Keep the dough for almost 2 hours. You have to preheat the oven to 350F. Bake the dough until it turns to a golden brown.
Now you can switch to other substitutes for your brioche bread. Now you have knowledge of different alternative substitutes for your recipe which calls for brioche bread. Use above mentioned substitutes for making your dishes.