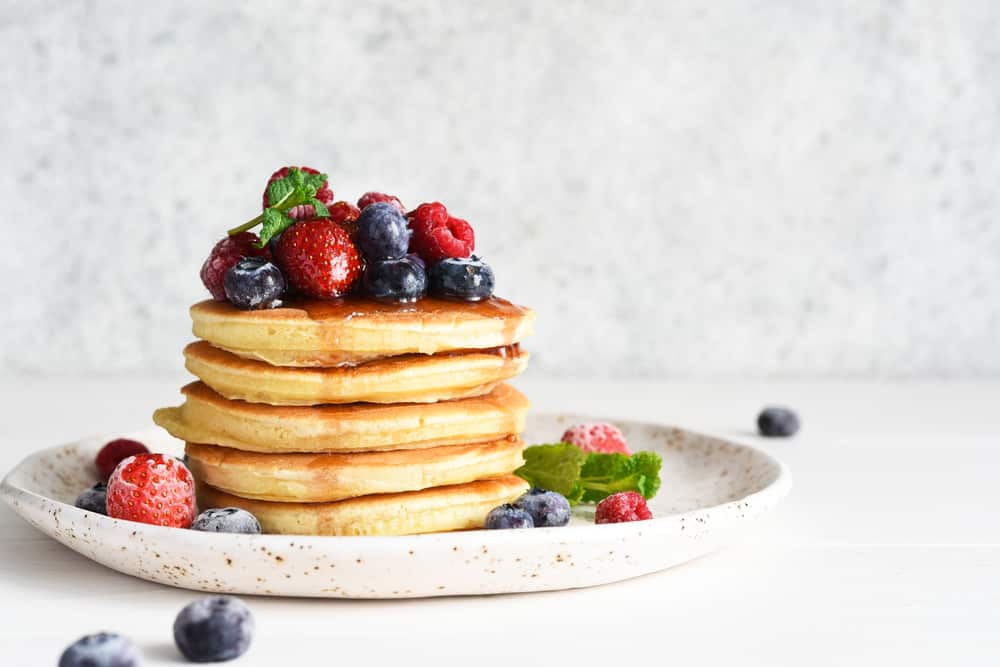 There is nothing better than pancakes right after waking up in the morning (if they are served in bed, that's even better). However, eggs must be added to the pancake batter to make them fluffy and add a binding effect. It wouldn't be wrong to say that it's impossible to make pancakes without eggs, which is why we are sharing the substitutes for eggs in pancakes!
Why Eggs Are Used In Pancakes?
It is important to use eggs in the pancakes, especially if you want to make delicious and fluffy pancakes, but it doesn't mean that you cannot make pancakes without eggs. To illustrate, eggs function as a binder and can hold the pancake batter together (pancakes fall apart when the eggs are removed from the batter). Secondly, eggs help the pancakes rise and puff up, and it's safe to say that the addition of eggs makes the pancakes fluffier. As a result, pancakes achieve an airy and light texture.
In addition to this, eggs lead to the golden brown appearance of pancakes and add richness to the flavor. Even more, it makes the pancakes moist because who likes dry pancakes? Honestly, there are so many shoes to fill, and it's hard to find a substitute that makes sure the pancakes turn out well. So, let's check out the substitutes!
Substitute For Eggs In Pancakes
1. Seed Butter Or Nut Butter
The first yet best alternative for eggs in pancakes is seed butter or nut butter. For nut butter, you can opt for cashew butter, almond butter, and peanut butter. On the other hand, if you are concerned about nut allergies, you can add seed butter, such as sunflower butter, but we will go into the details later. However, nut butter is better at acting as a binding agent as it helps stick up the batter together and adds richness to the flavor. In addition, nut butter will add the golden brown that we all want to our pancakes. Having said that, if you want to use nut butter, you can add two tablespoons of the nut butter for substituting one egg.
2. Flax Egg
A flax egg is another yet reliable substitute for flax eggs. The best thing about this substitute is that you can make it at home by combining water and flax seeds. However, it is better that you make turn flax seeds into ground form and mix it with water to make a flax egg. When you mix these two ingredients, wait for fifteen minutes, and it will attain a gel-like consistency. This consistency works as a binder, making it a suitable choice for pancakes. In addition, you can use a flax egg in cookies and banana bread when you don't want to use eggs.
3. Applesauce
There are times when you cannot find flax seeds to make flax eggs, but you can always opt for applesauce. Applesauce works as a great alternative for eggs in pancakes. It wouldn't be wrong to say that applesauce is a fruit puree, and it's a famous alternative for oil as well as eggs in the recipes when you want to add moisture to the pancakes. In addition, applesauce can work as a binding agent. To illustrate, you can use ¼ cup of applesauce in place of one big egg in your morning pancakes. However, we do suggest that you opt for unsweetened applesauce to ensure it doesn't add a different flavor to your pancakes.
4. Mashed Bananas
If you are fine with adding fruits to your pancakes, it is better that you add mashed bananas, as they serve as a promising substitute for pancakes. It is obvious that pancakes will have a slight speck of banana flavor, but we don't think it should bother you in any case. As far as the substitution quantity is concerned, you can use the same ratio as applesauce.
5. Yogurt
It might sound weird to add yogurt to your pancake batter, but it's actually a great way of adding moisture to your pancakes. For regular yogurt, you can use ¼ cup of regular yogurt to replace one egg in the pancake recipe. On the other hand, you can also use Greek yogurt and sour cream, and if you do a little research, you will find out that there are special pancake recipes available to use sour cream and Greek yogurt.
6. Fruits
While we have already added the mashed bananas, there are various other fruits that you can use to replace eggs in the pancakes. In the majority of cases, mashed fruit is used because it helps add dense and moist texture to the pancakes. Some of the fruits include;
Avocado – use ¼ cup of mashed avocado
Pureed raisins or prunes – again, use ¼ cup of these ingredients
Soaked dates – mash them to make ¼ cup of date puree
Pumpkin puree
These fruits are suitable for pancakes, but you can also use them to substitute eggs in quick bread, waffles, brownies, and muffins. However, keep in mind that pumpkin will add a pumpkin-like flavor while dates, prunes, and raisins will result in sweeter pancakes, so it's best to add less sugar. Keep in mind that mashed fruits and purees won't lead to lifting, and if you want to add light texture, you can add half a teaspoon of baking powder.
7. Chia Seeds
Chia seeds are widely used in dietary recipes, but they also make a great addition to pancakes if you don't want to use eggs. For using chia seeds, you need to dip one tablespoon of chia seeds in three tablespoons of water and add the resulting gel to the pancake batter. As a result, the pancakes will achieve a light texture.
8. Buttermilk
Buttermilk is another substitute that you can try for replacing eggs in pancakes. That being said, you can replace one egg with ¼ cup of buttermilk and enjoy the fluffiest pancake texture. However, if you want to use buttermilk, it is better to reduce the water content or simply don't add water because you can always add water later to create the right consistency.