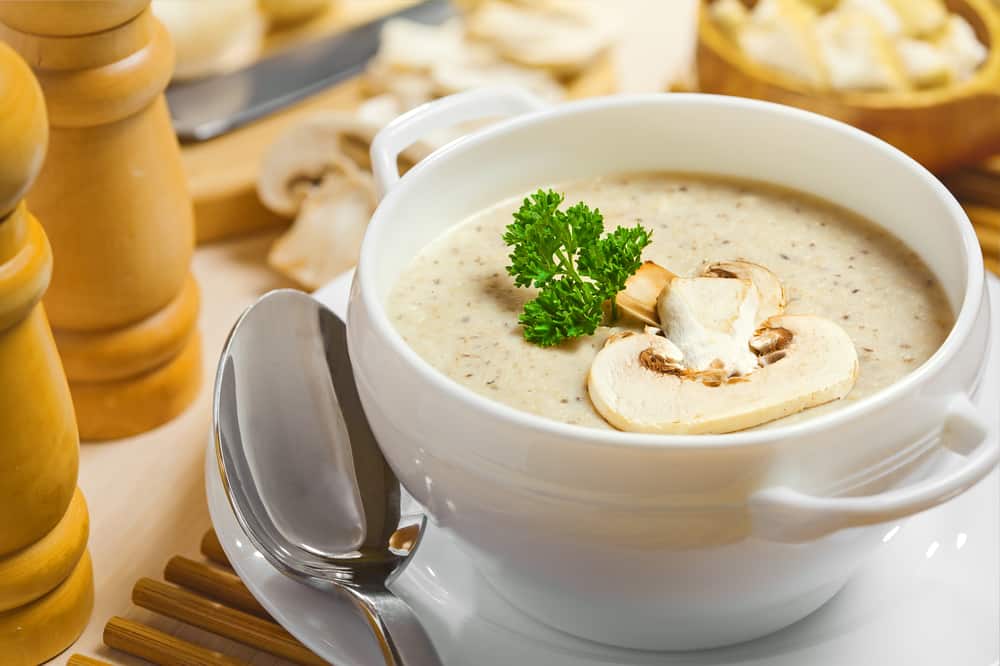 Most people use canned cream of mushroom soup for making green bean casserole because it is very easy and you don't need extra effort for making it. However, some of you may get fed up with all those canned cream of mushroom or any other soup. You won't have to give up your favorite meal of green Bean casserole if you don't want the cream of mushroom soup in that.
It's totally up to you if you want to add cheese to the recipe. However, the original recipe of green Bean casserole does not have cheese in its ingredients but no one wants to eliminate the cheese.
Ingredients For Making Green Bean Casserole
Green Bean casserole is one of the most famous dishes for Thanksgiving and Christmas. You don't even have to question yourself what you are making this Thanksgiving as it is one of the to-go recipes.
The ingredients required for making green bean casserole are fresh mushrooms, fried onions make sure they are French fried onions, broth, a lot of sour creams and the most favorite part is cheese.
Green beans are typically made in winter which is why you have to use frozen green beans. However, the green beans you are using are technically fresh as they are frozen during their peak season.
How To Substitute Cream Of Mushroom Soup in Green Bean Casserole
If you want to substitute cream of mushroom soup, you can easily use sour cream along with sliced white button mushrooms. You must add broth with both of these ingredients so that they appear like cream of mushroom soup.
You can also add Worcestershire sauce so that it brings some tastes like earthiness to the dish. Worcestershire sauce also pairs well with mushrooms and enhances the taste of the recipe.
You must make sure that you are not making the meal for any vegetarian because Worcestershire sauce is not vegetarian and has anchovies in the ingredient. You can purchase a separate specific Worcestershire sauce that is vegan.
Can You Freeze Green Bean Casserole For Later
It can be very feasible that you make your green Bean casserole filling before and refrigerate it. You only have to add French fried onions when you start baking your Green Bean casserole.
The only change in the recipe when you are using frozen filling for your green Bean casserole is you have to add an extra 10 minutes to the oven time because you are baking cold filling and not freshly made.
The Complete Recipe For Green Bean Casserole (Without Cream Of Mushroom Soup)
There are a few ingredients required in this recipe and that includes.
You'll require 1 bag (12-16 ounce) frozen green beans
Add 2 tablespoons of unsalted butter
Add salt to your taste
Take 1/4 cup chopped or small sliced onion
Now add 4 white large button mushrooms. Slice them before
1 minced clove garlic
All-purpose flour 2 tablespoons
1/4 cup chicken broth
Full-fat sour cream 1 cup
Shredded cheddar cheese 1/2 cup
Whole milk 1/4 cup
Worcestershire sauce 1 teaspoon
French fried onions 1 cup
Steps Required
First of all, you must preheat your oven to 350 degrees Fahrenheit and prepare a 1-quart casserole dish for this recipe.
Now get a large pot of water and boil it. Once the water starts boiling you must add a pinch of salt along with green beans in that boiling water.
Cook green beans in boiling water for about 3 minutes and then drain the water and cool it by running cold water.
Now you must take a large deep skillet and melt butter in the Skillet.
Once you have heated the Skillet you must add mushrooms, onion, and a Pinch of salt to it.
Cook these ingredients for about 5 minutes until they get softened. Add garlic to the skillet and cook for 1 minute.
Now add flour in the same Skillet and make a paste form. Afterward, add broth as well and stir the mixture.
Now add all the remaining ingredients including sour cream, cheese, milk Worcestershire sauce, and salt according to your taste. Cook these ingredients until you see the cheese has melted.
Now add your green beans along with French fried onions and your green Bean casserole is done.
Hopefully, this recipe helps you in making your favorite dish without using the cream of mushroom soup.