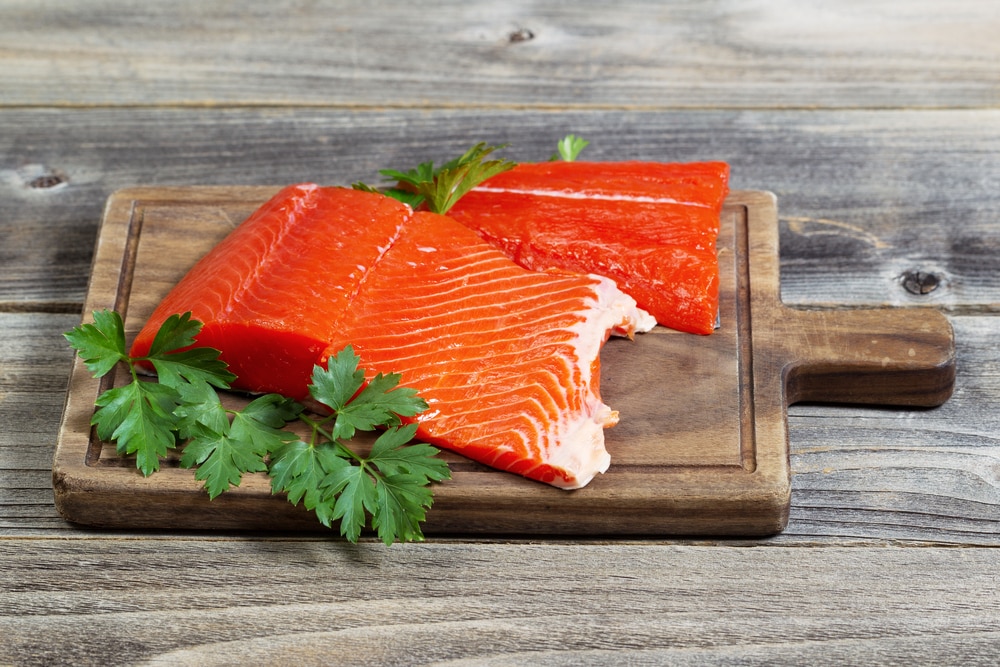 Fish is one of the important parts of a healthy diet. So, when it comes down to fish, salmon has become the go-to option for its amazing flavor and texture but not every salmon is the same, right?
If you ever visit the fish aisle of the grocery store, you would find different types of salmon, such as sockeye vs Atlantic salmons. With this article, we are sharing everything you need to know about these salmons!
Sockeye Salmon vs Atlantic Salmon
Sockeye Salmon
For the most part, sockeye salmon is known as red salmon because it has a dark red and orange flesh color. This fish tends to swim upstream which leads to a deep red color. This fish is smaller as compared to other types of salmon. Generally, it weighs anything from five pounds to fifteen pounds. However, it has compact flesh with a thin texture. Sockeye salmon is caught in Alaska.
However, the commercially available sockeye salmon is caught from British Columbia, Oregon, and Washington. In the majority of cases, sockeye salmon tends to hatch in freshwater but heads to the ocean downstream. However, the sockeye salmon caught from freshwater is known as silver trout. With the compact and firm flesh, sockeye salmon is perfect for grilling.
Grilled fillets can skin-side down without needing any turning. Traditionally, sockeye salmon is cooked on a cedar plank which ensures that fish doesn't stick to grates or get overcooked. However, sockeye salmon can be baked, slow-roasted, cooked in foil, or grilled. For people who want crispy fish, this salmon can be fried as well.
Sockeye salmon has an intense flavor and rich texture. We wouldn't mind saying that sockeye salmon tastes more like salmon than any other salmon. The rich taste and dark color are because this fish consumes crustaceans and planktons. The firm texture of this salmon makes it a fat salmon. As far as the varieties are concerned, kokanee salmon is one subspecies.
It's safe to say that sockeye salmon is the wild fish and texture and flavor will differ from the location it was caught from. However, this fish is available in frozen and fresh form and is available in canned as well as smoked forms. When it comes down to cooking sockeye salmon, it's best to use simple spices and sauces because you must enjoy the unique salmon flavor.
Atlantic Salmon
The Atlantic salmon is farm-raised which makes it an affordable salmon for everyone who wants fish dinner. This salmon has a delicate and mild flavor and we wouldn't mind saying that it's a favorite salmon of everyone. This is because this salmon is affordable and has amazing flavor. It can be caught from the Pacific Ocean but there are different varieties of Atlantic salmons.
Atlantic salmon is not available on a commercial level and only farm-raised salmons are available in grocery stores. Even more, the restaurants serving Atlantic salmon are sourced from farms. The texture flavor and appearance of Atlantic salmon will differ according to the raising location. Atlantic salmon have higher fillet yields which it makes fulfilling.
This salmon is available around the year and is extremely affordable. This salmon has a similar oil content percentage as chinooks but the flesh has a deep orange color. Atlantic salmon is a big fish that can be easily available bought from the stores. The best thing about Atlantic salmon is that it's affordable without compromising on the amazing flavor.
This salmon has thick and flaky flesh and has a mild flavor. The oil content is pretty high in this salmon, so you have to watch the consumption. Atlantic salmon is available in sliced form (it's cut from the fillet) and dimetric cuts to make fish steaks. What we love most about Atlantic salmon is that it's available in pure form since it's raised at farms and you don't have to worry about pollution.
Since it's a large fish, there are chances that you will be able to buy specific cuts. However, you can also buy the whole fish. In case you opt for the whole Atlantic salmon, make sure it has bright eyes and skin is bright and shiny to ensure the fish is fresh (it can impact the flavor and quality). To summarize, this salmon has smooth flesh and will melt in your mouth when cooked properly.