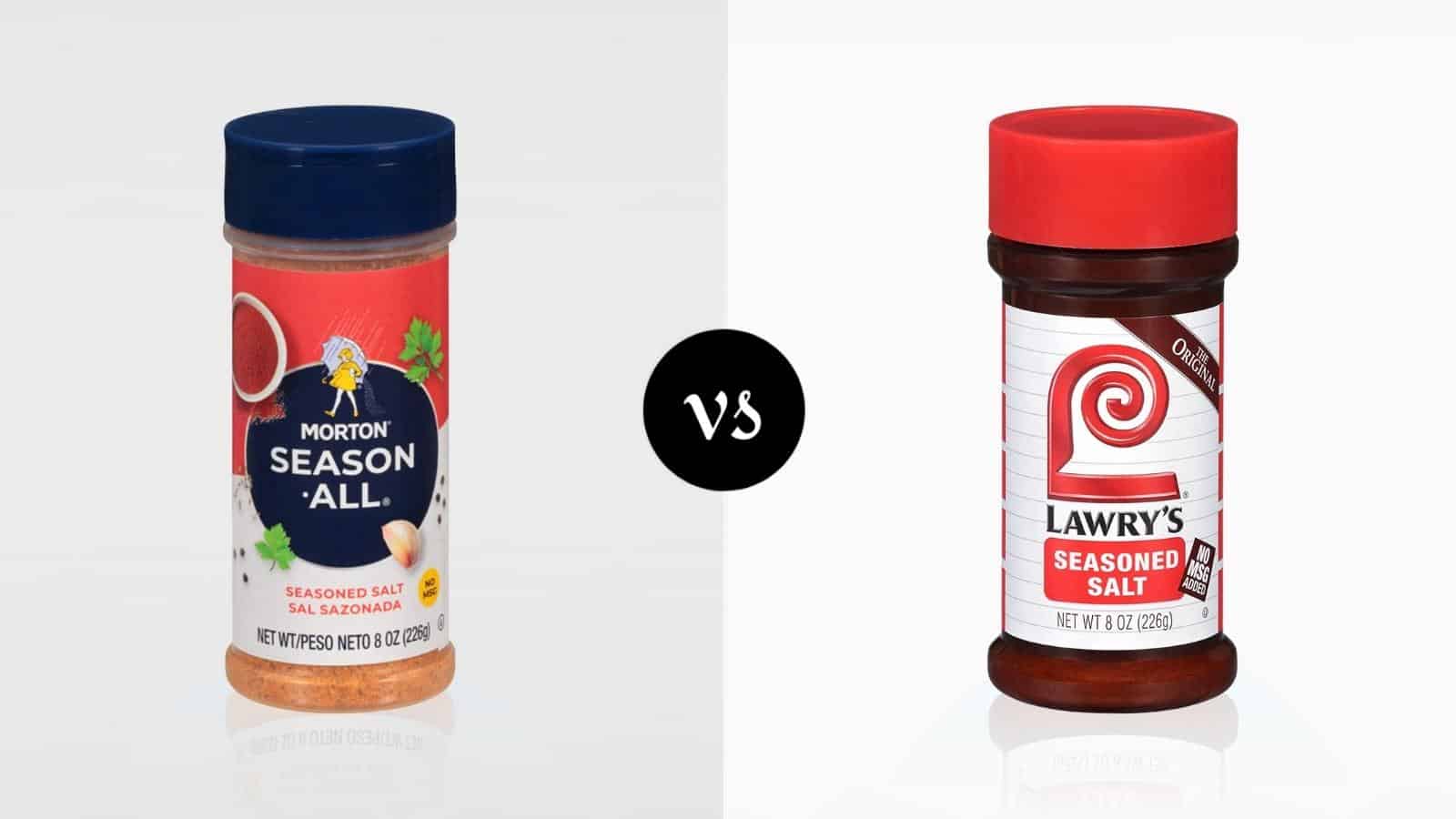 DISCLOSURE: This post may contain affiliate links, meaning when you click the links and make a purchase, I receive a commission. As an Amazon Associate I earn from qualifying purchases.
Table salt is the one component that simply cannot be lacking in any home or restaurant. It's essential to reach the right taste and texture desired from our food.
Certain individuals may choose to stick to table salt alone, whereas others prefer a seasoned salt blend that's specifically created to pair well-suited flavors together.
We create amazing recipes. Gain FREE access to Miss Vickie's special recipes.
We won't send you spam. Unsubscribe at any time.
The right type of salt can make all the difference between a meal that pops with flavor and something bland. When it comes to picking a tasty variety of seasoned salt, tons of options are available.
We'll be taking a look at two of the best, comparing Season All vs. Lawry's Seasoned Salt's defining characteristics and flavor profile so that you know which to try out next.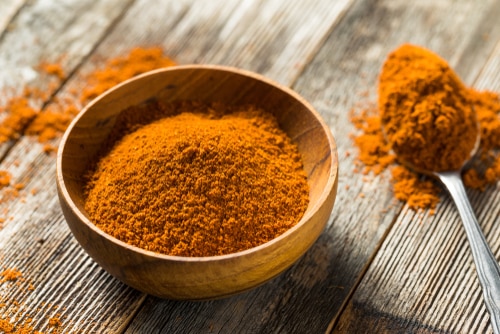 Season All Vs Lawry's Seasoned Salt Comparison
| | Morton Season-All | Lawry's Seasoned Salt |
| --- | --- | --- |
| Origin | Morton Salt Founded In 1848 | McCormick & Company Founded 1889, Baltimore - Lawry's Seasoned Salt Invented 1938 |
| Flavor | Mild Medley Of Savory Flavors Built Upon Basic Taste Of Garlic With Underlying Hints Of Chili Providing Sweetness Without Heat | Bold Savory Saltiness Fusing Peppery Sweetness, Celery And Turmeric But Without Any Level Of Heat/Burn |
| Ingredients | Salt, Paprika, Black Pepper, Onion, Garlic, Chili Pepper | Kosher Salt, Sugar, Spices (Paprika & Turmeric), Onion Powder, Garlic Powder, Cornstarch, Tricalcium Phosphate, Paprika Oleoresin, Soy Lecithin, Natural Flavor |
| Uses | Meat, Poultry, Ribs And Potatoes Suggested - Suits All Savory Flavor Types | Cooking, Baking, Barbecue - All Purpose Versatility | French Fries, Sweet Corn, Chicken, Fish, Salads, And Lighter Meals Recommended |
| Nutrition | Zero MSG, Low-Sodium Version Available | Naturally Occurring Glutamates But No Added MSG, 35% Less Sodium Than Competing Seasoning Salt Brands |
| Sizes | 3.25 Ounce Shaker, 8 Ounce Shaker, 35 Ounce Shaker | 8 Ounce Shaker, 16 Ounce Shaker, 40 Ounce Shaker, 5 Pound Tub, 180 Pound Drum (Professional Use Only) |
| Affordability | $3-4/16-Ounce Shaker | $3-4/16-Ounce Shaker |
| Sustainability | Climate Pledge Friendly Certification | Public 2025 Sustainability Goal, Public Annual Performance Reports & Efficiency-Based Operations, USAID East Africa Trade Hub Project For Farmer Economic Empowerment |
Season All vs Lawry's Seasoned Salt
One generally wants to buy a single brand of seasoning salt that seemingly miraculously serves all purposes and matches all tastes.
Fortunately, both Morton Season-All and Lawry's Seasoned Salt offer this exact convenience. Each is a flavor sensation of its own with a slightly different composition and taste profile.
Our breakdown of both covers everything you need to know.
Morton Season All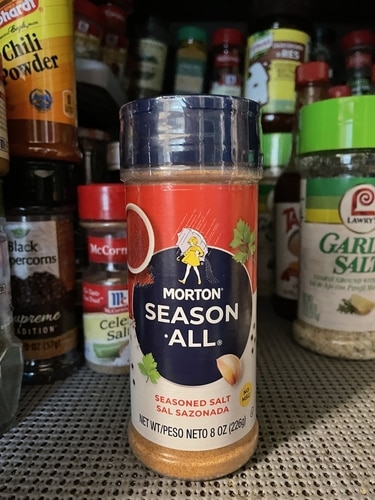 One of the most versatile but flavorful seasoning choices you can make is Morton Season-All.nIt goes on just about anything, and most fall in love with it within their first taste.
Let's take a closer look at Season-All salt from Morton Salt.
Origin
Morton Season-All is a creation of the Morton Salt Company that was founded in 1848 as the Chicago-based sales agency named Richmond & Company.
Eventually, in 1889, Joy Morton, son of the founder of Arbor Day, renamed the company Morton Salt.
Today, Morton Salt is a subsidiary of global industrial holding company Stone Canyon Industries acquired the business in April of 2021.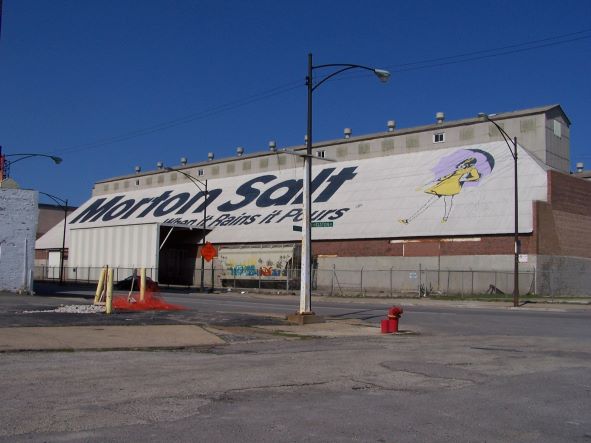 Flavor
Morton Season-All Seasoned Salt is a blend that has been put together to bring out the inherent flavor of your food without overpowering any of the naturally occurring tastes.
One doesn't taste the individual ingredients, but instead, you are rewarded with a medley of flavors that tastes slightly different based on what you're putting it on.
The flavor of garlic is underlying at all times, and while the sweetness of chili is subtly in the background, one can barely tell there is chili present when seasoning food with very bold flavors.
Ingredients
Morton Season-All is a mild blend of salt, paprika, black pepper, onion, garlic, and chili pepper.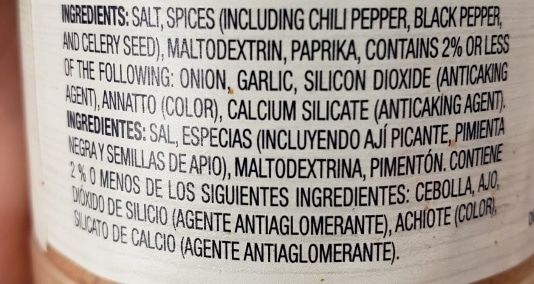 Uses
The recommended use for Morton Season All is to use it to flavor meat, poultry, ribs, and potatoes.
However, the all-purpose blend works well on anything that would do well with a touch of spice, thanks to the light taste of chili pepper present.
It is largely considered essential for chicken, fish, salads, and lighter meals.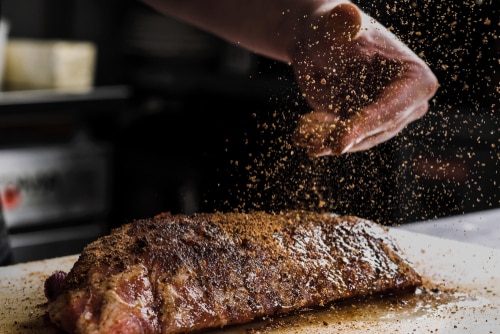 Nutrition
One of the best selling points of Morton's Season-All range is that it offers a version with 25% less sodium but the same base flavor as the regular variant.
Neither contains any calories nor MSG allowing you to enjoy the tasty benefits without any negative impact on your diet or health.
Sizes
The standard size of Morton Season-All Seasoned Salt is an 8-ounce shaker, although most prefer to go for the significantly larger 35-ounce shaker as the spice stores well over an extended duration.

There is also a smaller 3.25-ounce shaker on offer, although this is typically sold in multi-packs.
Affordability
The standard 8-ounce shaker retails for between $9 and $10. The 3.25-ounce shaker sells for roughly $1.20 to $1.40, depending on how large of a pack is purchased.
Morton's large 35-ounce container sells for approximately $40. Overall, expect to pay the equivalent of between $0.38 and $0.45 per ounce for Morton Season-All Seasoned Salt.
Sustainability
Morton Season-All Seasoned Salt is a product that proudly carries a Climate Pledge Friendly certification.
This guarantees that the company carries a design that's engineered to have the lowest carbon footprint possible, using the least air and water in manufacturing as possible while doing all possible to reduce carbon emissions.
Lawry's Seasoned Salt
Bold in flavor and tasty on anything savory, Lawry's Seasoned Salt could easily become a new favorite in your household.
Here's a breakdown of what you can expect from the brand, flavor, and general value.
Origin
Lawry's Seasoned Salt was first created in 1938, and it has stayed true to the original recipe ever since. Lawry's Seasoned Salt is a product of McCormick Company and was founded in Baltimore in 1889.
Flavor
The blend that Lawry's has put together is a savory taste all of its own. One can immediately taste the paprika and garlic while hints of celery and turmeric underlying the rich but not overly salty flavor.
It's a salty, peppery taste that's completely free from heat and spiciness that suits the flavor profile of just about all food except sweet dishes.
Ingredients
Lawry's Seasoned Salt is made from a combination of kosher salt, sugar, spices (including but not limited to paprika and turmeric), onion powder, garlic powder, cornstarch, tricalcium phosphate to prevent caking, paprika oleoresin, which grants the spice its deep red coloring, soy lecithin and natural flavor arising from the process of combining the ingredients.
Uses
If you are looking for a seasoned salt to be used with the cooking, baking, or barbecuing, you can't go wrong with Lawry's.
Try Lawry's sprinkled over French fries or sweet corn, or season any variety of meat to perfection. Just keep in mind, that it'll give whatever you are coating the flavor of the seasoned salt.
It's not a blend that brings out latent flavors as well as Mortons, but this barely limits its versatility. You'll still be blown away by the flavor enhancement it does offer.
Nutrition
Even though Lawry's Seasoned Salt contains no added MSG, this does not mean that there aren't naturally occurring glutamates present.
Those who suffer from food sensitivities should keep this in mind as Lawry's does indeed contain a very small concentration of monosodium glutamate.
One key upside to Lawry's Seasoned Salt is that it contains 35% less sodium than competing products without impacting the flavor or becoming a low-sodium version.
Sizes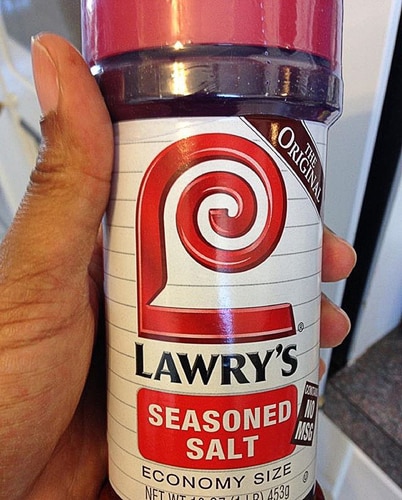 The standard-sized plastic shaker is 16 ounces. Lawry's Seasoned Salt is also available in a small 8-ounce shaker and a massive 40-ounce plastic dispenser.
The largest quantity home shoppers can order at a time is a 5-pound tub. However, caterers or restaurants buying directly from McCormicks or an affiliated agency also have the option of a 180-pound drum available as well.
Affordability
A standard 16-ounce shaker of Lawry's Seasoned Salt sells for approximately $3 to $4 in the US. One can find the 8-ounce shaker at roughly $2.50, and the larger 40-ounce version retails between $6 and $7 on average.
This equates to paying in the region of $0.15 to $0.30 per ounce for Lawry's Seasoned Salt.
Sustainability
The company behind Lawry's Seasoned Salt, the McCormick corporation, is firmly behind sustainable business practices.
Performance reports are performance-driven, with all internal activities and manufacturing streamlined to be as efficient as possible. Full annual reports are published for the public to view each year.
Furthermore, McCormick is growing its global sourcing through the USAID East Africa Trade Hub Project which aims to empower and bolster the economic activity of farmers.
There's also a full set of sustainability goals in place for 2025.
Which Is Better Between Season All Vs. Lawry's Seasoned Salt?
Everyone will have their favorite between Morton Season-All vs. Lawry's Seasoned Salt.
However, if you like a more natural taste, go with Season-All, but for those looking to spice things up a bit more, Lawry's seasoned salt is the best thing to have.