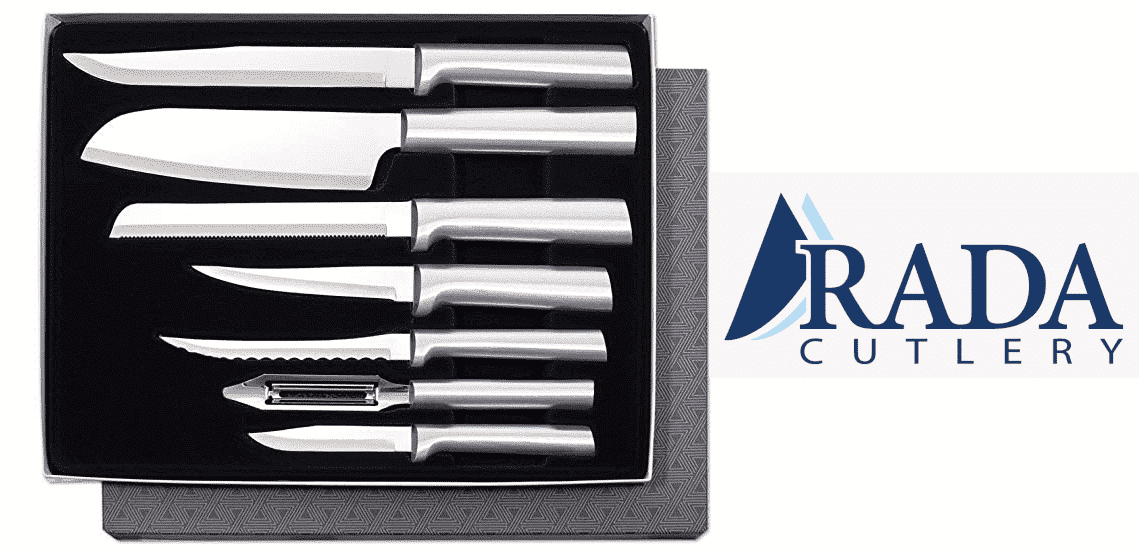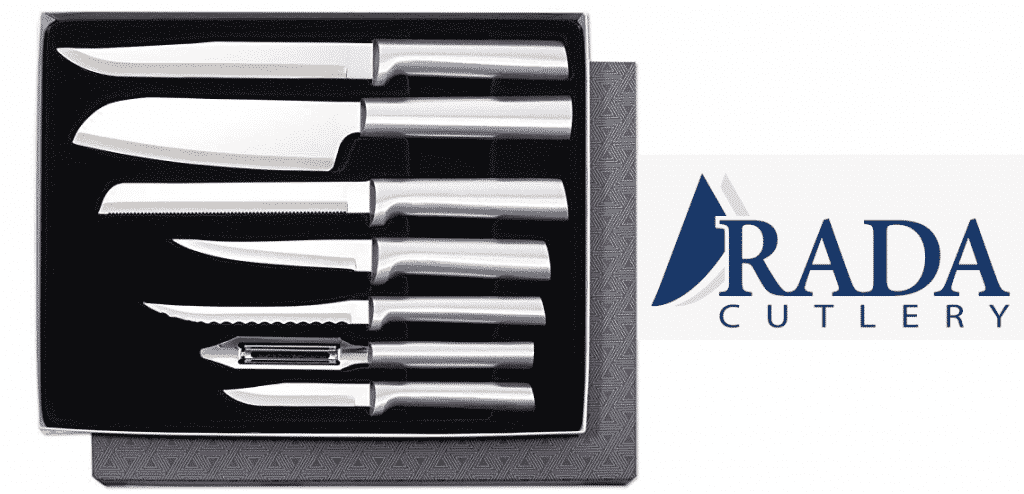 Rada Cutlery is an American based company that provides you with one of the high-quality cutleries available in the market. It has a good reputation in the business when comes to its designs, material, and safety. It is very disturbing for people who work in the kitchen, a sub-standard knife increases the hardships in the cutting and even a minor slip can cut your finger and spoil your happy cooking.
Rada Cutlery Reviews
To avoid cuts and injuries during the cutting and enjoying the buttery motion of slicing vegetables, chicken, beef, mutton, and others, the Rada Cutleries are the best option available. The following things must be noted before buying any cutlery sets.
BUYING GUIDE:
Buying cutlery needs time and good knowledge about some elements as there are several factors in cutlery to keep in mind. Style and protective design are the foremost factors because it gives kitchen elegance. Secondly, the material used in the making of cutlery set whether these are made up of stainless steel or some other metals. Thirdly, the sharpness of the knife decides the quality of its usage in the kitchen. And last but not least is a good grip of the handle.
WHAT RADA CUTLERY PROVIDES YOU?
The Rada cutlery produces its cutlery with surgical grade T420 high carbon stainless steel which is hand sharpened for a razor-sharp cut. Rada also takes good care of its product in terms of safety, it has carved the knives with finger guard for the protection of fingers during cutting. It offers the customer two types of the handle one is stainless steel resin handle that is washable and the second variant in the handle is the silver-colored Aluminum handle which gives knife strength and elegance at the same time.
RADA CUTLERY KNIFE 7 STAINLESS STEEL: KITCHEN KNIVES STARTER GIFT SET.
Rada cutlery knife 7 stainless steel is a good starter knife set, it comes with 7 knives which include Vegetable Peeler, Tomato Slicer, Super Parer, Bread Knife, Regular paring, Cook's Knife, and the Slicer Knife. This set has an Aluminum satin finish that gives all the knifes an irresistible fine look. And the most important thing is a life-time replaceable warranty.
Pros
Beautiful design
Perfect handling
Aluminum handle
Cons.
Avoid dishwashing can fade the shine.
RADA CUTLERY SERRATED STEAK KNIFE SET STAINLESS STEEL KNIVES WITH BRUSHED ALUMINUM:
It is Rada's four steak knives crafted from surgical grade, strong carbon stainless steel with aluminum made handle it has single-sided serrated edges that are used in cutting the meat effortlessly. It is the product of a premium brand of America and has a life-time replaceable warranty.
Pros:
Fine design with serrated edges for meat cut
Easy to handle
Cons:
Shine can be faded if not hand washed.
RADA CUTLERY 4-PIECE KITCHEN UTENSIL GIFT SET:
Rada offers you a wide range of kitchen cutlery sets, the ultimate utensil gift set is masterpiece is the line-up of Rada productions. It is four pieces set which include Ice Cream Scoop, Pizza Cutter, Spatula, and Serrated Pie Server. These utensils are ultra-strong as they are made up of high-grade stainless steel while their handles are made up of Aluminum metal. It has a lifetime warranty attached to it.
Pros:
Easy to use
Well-crafted and quality material
Very sharp
Cons.
RADA CUTLERY PARING SET AND KNIFE SHARPENER:
Rada offers a variety of products in the market in which the paring knife gift set is one of the beautiful affordable products. It comes with two regular cooking knife made up of high carbon T420 stainless steel with hand sharpened finishing that makes razor-sharp edge. The Rada stands with its craftsmanship promise and gives a lifetime warranty if they fail to satisfy the customer.
Pros:
Sharp slicing knife
Finger protection design
Affordable price
Cons:
Conclusion:
Rada cutlery is an American cutlery company that has marked its presence in the market for long. The company has earned a good reputation and gained customer support due to its consistent innovation in designs and no compromise in its material.
In closing remarks, if you have reached this paragraph it means this article played its part in deciding the best knives available in the market. However, if you have any sort of question regarding Rada cutlery, feel free to share your thoughts in the comment box so we can answer your queries with essential information.