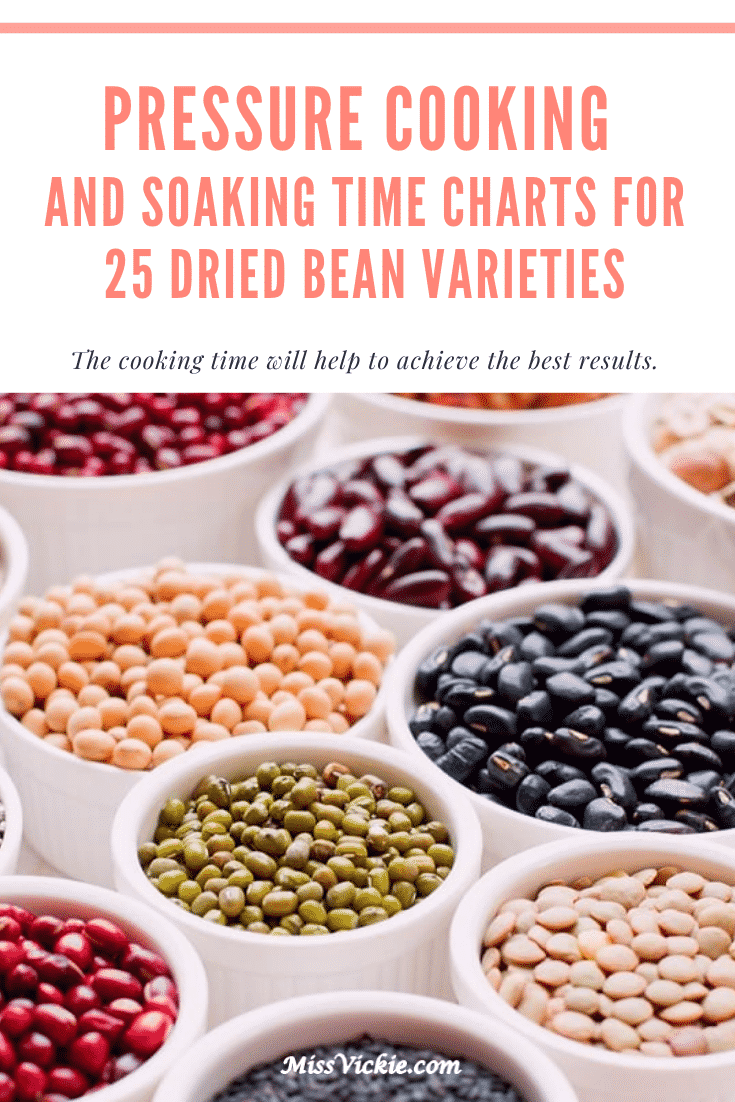 A cooking time chart shows the basic information you need to know when cooking particular foods. You can find cooking time charts for beans, broccoli, meats, and other foods.
It is a guide that helps you get only the best results after cooking.
In this post, I will present a cooking time chart for the different types of dried beans. First, let us discuss how the time for cooking varies with different foods.
Many factors can determine how long you need to cook a particular food.
Understanding these factors is good knowledge; however, knowing the cooking time for your recipe will help you achieve the best results.
Another angle that can be used to explain the different cooking times is the pressure cooker you are using to cook the food. If you have good control over the steam pressure, you can ensure that the standard cooking time is achieved.
Regarding the different varieties of dried beans, we have a wide range of cooking times because the varieties of beans have different textures, quality, and the cooking time also depends on the quantity you are cooking.
The general approach to cooking beans with a pressure cooker is as follows. First, the beans are soaked and rinsed.
Soaking is done with water; it is a means of rehydrating beans to make it cook evenly in the pressure cooker. Soaking also helps to clean the beans.
In the pressure cooker, the beans are cooked in water, the water level should be at least two inches above the beans, you can add one tablespoon of butter or lard to reduce the foam.
After the cooking time for beans is reached, release the steam pressure using the natural release method to ensure your beans come out ready.
Pressure Cooking and Soaking Time Charts for Dried Beans
| Name | Features and Uses | Soak | Cooking Time |
| --- | --- | --- | --- |
| Adzuki | This dried beans variety originated from Asia; it is known for a sweet flavour and low-fat content. Adzuki is easy to digest; it is also slightly smaller than other dried beans. | This dried beans should not be soaked | 5-7 minutes |
| Anasazi | The features of these beans are distinct; you can miss the white and burgundy stripes on the beans. It is also sweet and has a strong flavour. In a pressure cooker, the beans cook evenly without splits or damage to the coat. It is also easy to digest and used in many recipes. | Soaking time- 4 hours | 4-6 minutes |
| Black Turtle Bean, Tampico, Venezuelan, Mexican Black Spanish Black | This species of dried beans is known for its strong mushroom-like flavour, and soft texture. It is commonly found in the Caribbean and Latin America. | Soaking time- 4 hours | 10-12 minutes |
| Black Eyed Peas | The black-eyed peas are common beans species, originally from Africa. They are easy to cook in a pressure cooker without soaking. The black-eyed peas are featured in a wide range of menus because they are rich in protein and nutrients. After cooking, the black eyed peas have a smooth texture, strong flavour, and sweet aroma. | No need for soaking | 10 minutes |
| Canellini, Fazolia, White Kidney Bean | The features of this dried beans species make them easily recognizable. The bean seeds are long and thicker when compared to other species of beans. They are also perfect for salads, and soups. The strong aroma they give is one of the reasons the white kidney beans is commonly featured in many menus. They are also easy to digest. | Soaking time – 4 hours | 6-8 minutes |
| Cranberry Bean, Borlotti Beans, Shell Bean, Christmas Bean | These dried beans are perfect for stews because of their Cranberry beans get their name from the distinct red splotches on the beans which disappear after cooking. Their flavour will remind you of nuts, subtle and sweet. Cranberry beans are perfect for different types of soups and stews. | Soaking time-4 hours | 5-9 minutes |
| Flageolet | The Flageolet dried beans are predominantly grown in France; they are loved for the creamy texture and sweet flavour. These features make them perfect when served with lamb. These beans are a rich source of proteins and other essential nutrients. | Soaking time- 4 hours | 10-12 minutes |
| Fava, Broad Bean, Butterbean, Windsor Bean, English Bean | The English beans are known by many other names, it is another very popular dried beans species, with a creamy flavour and nutty aroma. The English beans can be found in menus that feature oils, herbs, and onions among other flavoured additives. This beans need to be soaked for long hours to soften and remove the outer skins. It should also be cooked at about 8-10 psi | Soaking time- 8 hours | 4-5 minutes |
| Garbonzo, Chickpeas, Ceci | The origins of the Garbanzo beans can be traced to the Middle East. They are also called Chickpeas. The flavour given off by these beans can be described as similar to chestnuts. The beans are rounded and hard. They need to be soaked before cooking. The color of these beans ranges from yellow, red, black, and brown. They are perfect with salads and a good source of nutrients. | Soaking time-8 hours | 10-13 minutes |
| Great Northern | They have similar features with the white kidney beans and a uniquely smooth texture. The Great Northern beans are also known for their sweet flavour which makes the beans a common feature in soups and pasta meals. The beans are also used in hummus. | Soaking time- 4 hours | 4-9 minutes |
| Black Beluga Lentils | The lentils can be found in so many colors such as green, yellow, black, and other colors. They are also grown in different parts of the world. The lentils are a rich source of proteins, fiber, and carbohydrates; the low-fat content of lentils makes them a common choice in different types of meals. Lentils give off an earthy and sometimes peppery flavour, and they are delicious. Lentils cook evenly in pressure cookers, so the coats are intact after cooking. Care should be taken to avoid overcooking lentils to retain the firmness. | No need for soaking | 7 minutes |
| Kidney, Rajma, Mexican Bean | These Mexican dried beans have the shape of a kidney; it also adds a sweet flavour to soups and salads. The beans are hard and require long hours of soaking; the shape is retained after pressure cooking. | Soaking time- 4 hours | 10-12 minutes |
| Lima Beans, Madagascar Bean | These beans have remarkably larger coats that become loose during the cooking. Care should be taken to prevent the peeled skins from clogging parts of your pressure cooker; you can place the rack over the beans to avoid clogging. The rich butter flavour of these beans makes them a favourite for soups and stews. These beans should be cooked with some oil for better results. The natural steam release mechanism should be used after pressure cooking. | Soaking time- 8 hours, overnight | 3-4 minutes at 8-10 psi |
| Mung, Mungo, Mung Pea, Green Gram | The Mung Pea is commonly found in Asia; the beans are not very hard and tend to split when cooked, so it is best if the pressure cooker is set at 8 psi when cooking these beans. However, they have a wonderful flavour and perfect when served with Indian and Chinese soups and rice. | Soaking time- minimum of 4 hours | 9-12 minutes |
| Navy, Yankee Bean, Pearl Haricot, Boston Navy Bean | The Boston Navy beans are one of the common dried beans species; its name was formed when the beans were a major feature in the menu for the US Navy in the 19th century. It has a subtle flavour and the beans are perfect for soups and chowders because of its powdery texture. | Soaking time- 4 hours | 8-11 minutes |
| Whole Peas | These peas have a soft texture and usually turn out mushy after pressure cooking. This makes them perfect for soups and stews. The whole peas are found in parts of the US and England. | Soaking time-4 hours minimum | 4-6 minutes |
| Split Peas | In the market, you can find the yellow or green split peas. They have a characteristic grainy texture which helps to improve soups and puree. These beans split during cooking; hence the pressure in the cooker should be monitored if you don't want them to come out mushy. | No need for soaking | 10-13 minutes |
| Pigeon Peas, Gandules | These dried beans were discovered in Egypt; it is also grown in India and other parts of Asia. They also have different colors; you can find brown, white or red pigeon peas. These peas are known to have a strong flavour, and they have been tested to possess subtle narcotic content which is somewhat relaxing after they are eaten. | Soaking time- 4 hours minimum | 7-9 minutes |
| Pink, Chili Beans | The unique feature of these beans is the reddish brown color it has after cooking, which is different from its usual pale, pink color. The chili beans also give off a meaty flavour; it is perfect for soups because it has a powdery texture. | Soaking time-4 hours minimum | 5-8 minutes |
| Rattlesnake beans | This bean is a hybrid of the pinto dried beans. Its name was formed from the twisted way the pods grow around poles. They are perfect for soups and chili. The hard texture is softened after these beans are soaked for about four hours. | Soaking time- 4 hours | 6-8 minutes |
| Pinto beans | Pinto beans have an oval shape, and they turn mushy after pressure cooking. You may also notice a slight change in color. The Pinto beans are a common food in Mexican cuisine because of its sweet, earthy flavour. | Soaking time-4 hours minimum | 10-12 minutes |
| Red Beans | The flavour of these beans makes them one of the major foods in traditional Southern menus. They can be served with rice or spicy soups. The red beans are a source of essential nutrients and are also easy to digest. | Soaking time- 4 hours minimum | 5-8 minutes |
| Scarlet, White, Black Runner Beans | The strong flavour from the scarlet runner beans makes them perfect for soups and salads. The beans are rich in protein and fiber. They are also quite hard and need to be soaked for a few hours before cooking. | Soaking time- 4 hours | 9-12 minutes |
| Small Red Beans, Mexican Red Bean | These beans are firm and shaped like a kidney; they have a smooth coat which is retained after soaking and cooking. The beans also have a nice texture, they are perfect for soups and salads, and you can also find the red kidney beans in Creole cuisine. | Soaking time-4 hours | 5-8 minutes |
| Soybeans, Beige or black soybeans | The soybeans are very common. They are rich in essential nutrients and a good source of protein. These beans have a sweet flavour which will remind you of good tasting nuts. The hardness of the beans makes soaking necessary. After soaking the beans should be put in a refrigerator. | Soaking time- 8 hours minimum | 35 minutes |