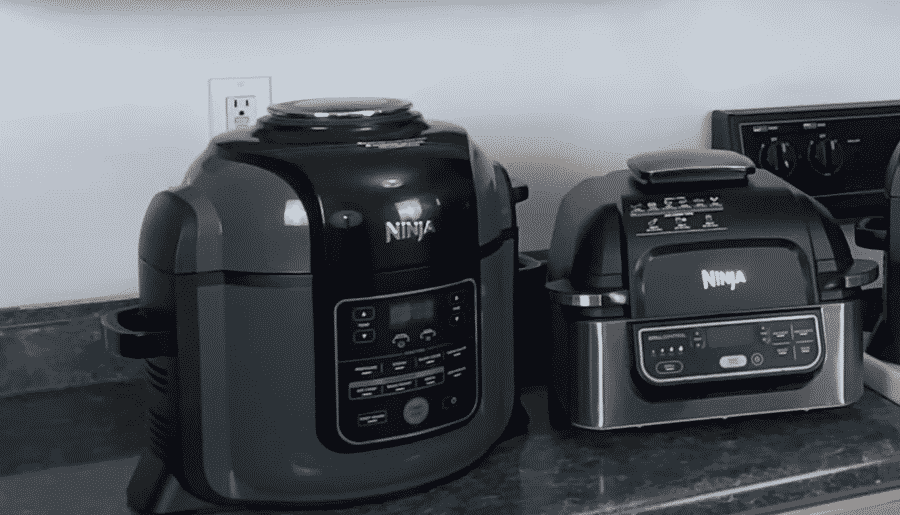 Every cooking enthusiast would know how the market is loaded with kitchen equipment but not all of them are designed to be equal. That's to say because every equipment is designed with different performance scales and features.
With this being said, the Ninja brand has sharpened their coin in the field and have designed an array of products. Consequently, we are talking about Ninja Foodi Grill vs. Ninja Foodi in this article!
Ninja Foodi vs Ninja Foodi Grill
Ninja Foodi
The prime reason for the popularity of the Ninja brand is its wide range of products, ranging from blenders to pressure cookers. When it comes down to the Ninja Foodi, it's the multi-cooker that's designed with eight cooking functions. The cooking functions include sautéing, air-frying, roasting, grilling, baking, pressure cooking, and slow cooking.
Above all, there is a warm function, so you can keep the food fresh and warm even if the serving time is not there yet. This multi-cooker has been designed with a frying basket (removable, of course) that has a 3.2L capacity. In addition, there is a grilling rack which means you can get the perfect searing marks on the food.
As far as the lids are concerned, there are two of them in this multi-cooker, one is specialized for slow cooking and pressure cooking while the other lid can be utilized for all other cooking functions. The best thing about this multi-cooker is that it has a one-hour timer and the temperature scale ranges up to 210-degrees Celsius.
This is the monstrous kitchen appliance that has a black and grey exterior that looks pretty decent and the compact design makes it easy to move around. However, the lid can be pretty bulky which means it opens on one side but can fully be opened as well. There is a digital control panel on the front side of the multi-cooker which means controlling is pretty easy.
With this digital control panel, the users can control the temperature and time. The best thing about this multi-cooker is that you can keep an eye on the cooking progress with the time-ticking feature. In addition, all the cooking options are outlined below the display but the warm function is available on the left side.
We are absolutely in love with how these controls and functions are well-written and clarified. On the other hand, there are no programmed settings in this cooker. This means that you need to customize the temperature, time, and cooking type manually which means it might be difficult at the start. With this being said, for the users who have ample storage and money to spend, this multi-cooker is a fine choice for them because the performance is high-end.
Ninja Foodi Grill
For everyone who likes to have amazing food and BBQ at all times, this Ninja Foodi Grill is a fine choice. This is primarily because you don't need to have a big yard to use this grill since you can put it on the countertop. Sure, the grilling is obvious but it has been designed with additional cooking functions, such as dehydrating, air-frying, baking, and roasting.
To be honest, this grill has a huge appearance and looks pretty boxy. The grill has stainless steel construction which has been integrated with the plastic lid in the dome style. Sure, it doesn't look too fancy but the overall finish and feel are pretty alluring. With the stainless steel construction and big size, it can be difficult to move around, given the heavyweight design.
When you opt for this grill, it comes with the cooking pot, crisper basket, and grate. All of these extra accessories are designed with a nonstick finish, so your food won't stick to the surface. In addition, there is a kebab skewer in the grill, so you can make those amazing kebabs. We are absolutely in love with how this grill comes with the cleaning brush for easy cleaning.
The best thing about this grill is that it doesn't produce smoke, so your eye won't get itchy. In addition, the grill has high-end construction that promises durability. In addition, there is an intuitive and digital control panel that is easy to use and optimize the settings. With this being said, the controls become easy to read.
In contrast, we don't like how this grill leaves the curved searing marks and is pretty heavyweight to move around. Also, it might take a long time for preheating, so always add extra cooking time.