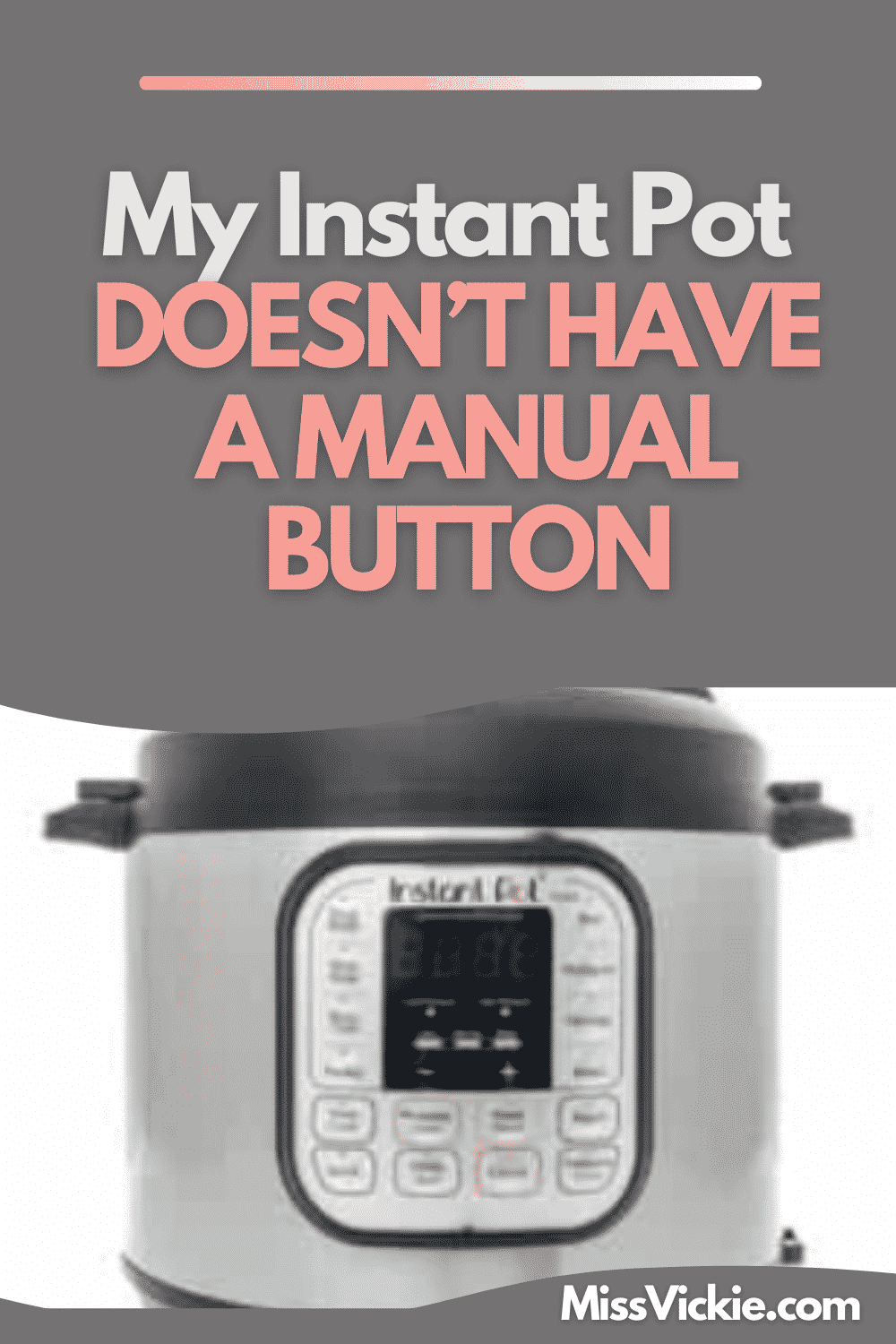 DISCLOSURE: This post may contain affiliate links, meaning when you click the links and make a purchase, I receive a commission. As an Amazon Associate I earn from qualifying purchases.
Have you bought a new Instant Pot from a recent sale or the website? And now you're sitting there wondering, "Why on earth my Instant Pot doesn't have a manual button?"
Have you got the wrong product? Does it feel like you have been cheated?
It's a common thought that comes in the minds of many people who buy a new Instant Pot without checking all the bells and whistles or the list of features posted along with it.
However, it's not something that you need to worry about. You haven't been cheated or scammed. It is just that your Instant Pot is a little different.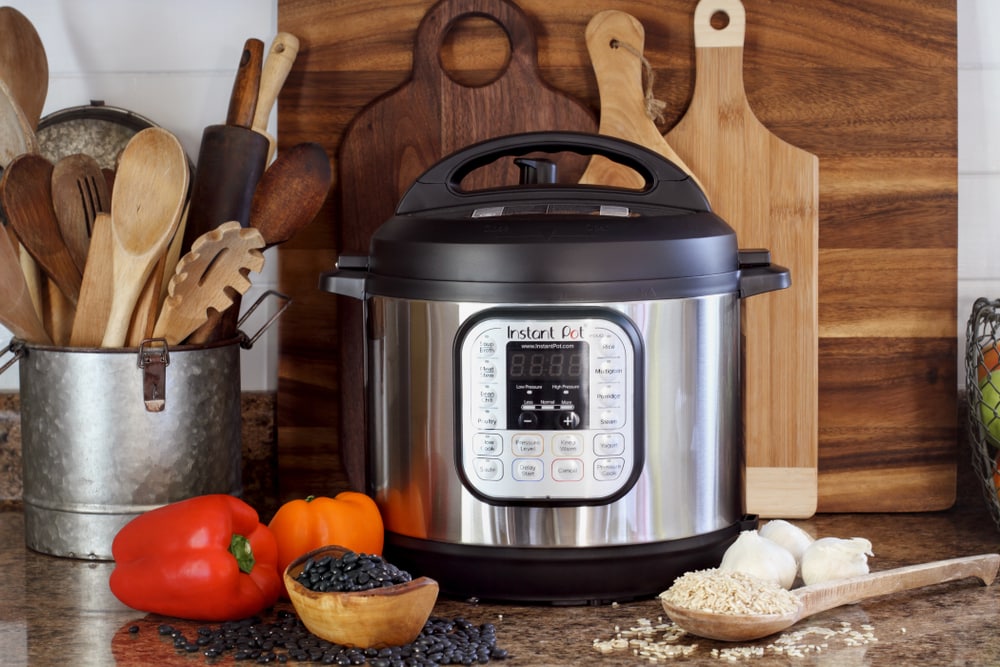 What's even better is that you have been given a much more efficient product. The newer version of your favorite Instant Pot.
The new advanced Instant Pots do not come up with the old "Manual button," instead, you might find a button that says, "Pressure Cooking."
This one is the latest iteration from Instant Pot, a Canadian cookware manufacturer that rose to popularity in the last decade to the point where the Instant Pot has become a mainstay in kitchens worldwide.
It's an excellent choice for people who are looking for a multicooker that is designed for cooking a range of different meals.
So, if you have an Instant Pot that doesn't have a manual button, here are a few things that you should know about the manual button.
Manual Button
All the Instant Pots used to have a whole lot of different sets of buttons. All these buttons were specific in their function.
Similarly, there used to be a "Manual" button to adjust your Instant Pot settings. Using the manual button, you could easily change the cooking settings of your Instant Pot.
You may add on to the default cooking time pre-set, or you can reduce the time as well. Changing these settings of your Instant Pot manually is all up to you.
You can adjust these settings according to your dish requirements which are usually mentioned in the recipe.
The manual option gave the average user much more freedom on how to make their favorite dishes and customize the settings as they pleased.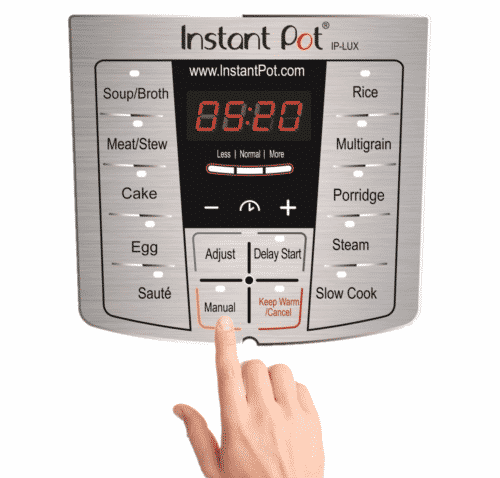 Why Is A Manual Button Necessary?
The manual button basically controls the timer for the cooking in the Instant Pot.
The Instant Pot has this manual button so that you can customize the timer as your recipe requires. This way, you can manage to cook the recipe properly.
For example, if you are cooking potatoes or browning meat, or cooking some veggies, all of these food items have specific heat sensitivities.
Therefore, all of these food items are cooked at different flames and for different periods of time.
You cannot cook meat and veggies for an equal amount of time. You will only end up burning one of the food items out of the two.
Many people like to put in multiple items in their Instant Pot before cooking, so the manual button comes in quite handy.
It allows the user to change the timer settings as they please and customize them according to their needs.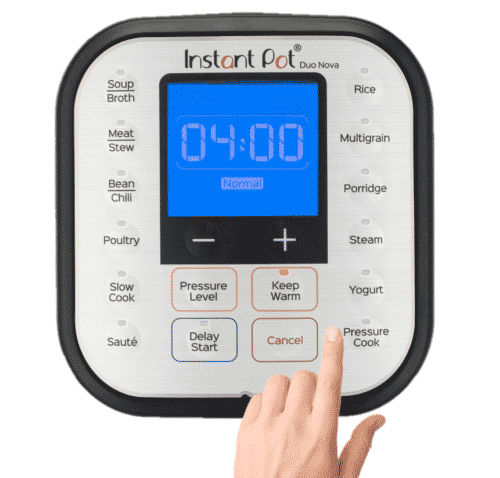 My Instant Pot Doesn't Have A Manual Button
If your new Instant Pot is missing the manual button, it probably means that you have bought a new and updated version of an Instant Pot.
In this newer version, you will notice that you have a pressure cooker button in place of the manual button.
This button is actually a newer function, or you can say that it's a modified form of the old "Manual" button.
It does virtually the same thing as the old Manual button, except this one has a different name. Therefore, you don't have to worry.
If your Instant Pot is missing the manual button, don't fret. Because with the help of the new pressure-cooking button, you can easily perform the manual functions on your Instant Pot and so much more.
This obviously includes pressure cooking. This new feature is basically to help people and provide them with more benefits within a single product.
The Instant Pot is capable of performing more than one action. It is a product that comes equipped with all the necessary features convenient for a regular person.
If you are in the market for a reliable multicooker that is not only efficient but also suitable enough for use in a variety of situations, the Instant Pot is a worthwhile investment.
Many people swear by it, and even celebrity chefs love to use it all the time. It is by far one of the best investments you will make, especially if you like cooking.
Keep in mind that the Instant Pot is made to last, so it's not an appliance that you will change now and then. This thing is made using premium materials.
The company also gives you a comprehensive warranty with each purchase, so if you notice any manufacturing defect or any problem with your Instant Pot, you can get in touch with them and fix it for you.
Conclusion
Now, if someone approaches you and tells you that their Instant Pot doesn't have a manual button, you know what to say! Don't worry about it, and make your favorite meals using this state-of-the-art appliance.
One important thing that you should keep in mind when buying the Instant Pot is that it's always recommended to buy instead of getting an old one.
This is a pressure cooker, so if someone is selling one with a compromised structure, it's best to stay away.
Ideally, it would be best if you always bought new kitchen appliances, ensuring your purchase safety and getting a warranty when you buy new.