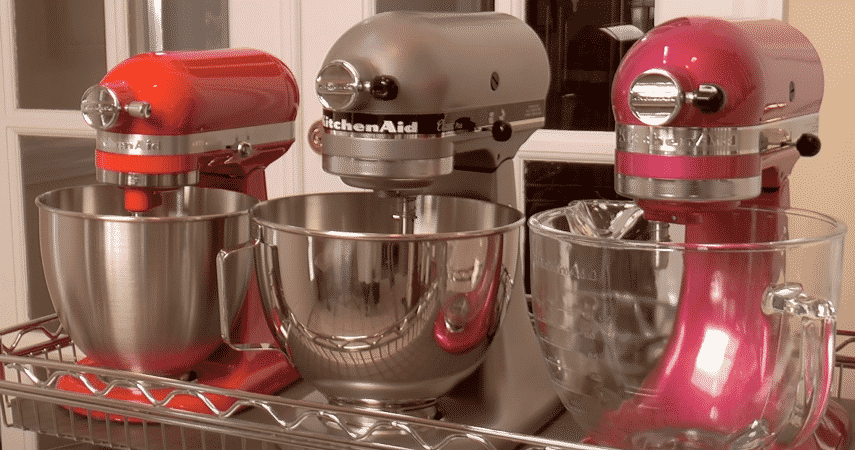 The KitchenAid mixers have become an essential part of every kitchen. Be it for kneading the dough or mixing up the batter for cookies, these mixers have become the ultimate choices. However, KitchenAid has come out with a wide variety of mixers which is why people are confused about KitchenAid Bowl-Lift Vs. Tilt-Head. So, with this article, we are sharing some insights, so you can make the right decision!
KitchenAid Bowl Lift vs Tilt Head
KitchenAid Bowl-Lift Mixer
To be honest, these mixers were primarily designed for commercial use since it had high horsepower. The higher horsepower enabled users to use huge batches. Even more, these models are usually able to make a thick dough. The absence of a tilting mechanism is actually a positive point since it provides better coping to the stress.
The bowl-lift mixer is designed with six to eight-quart capacities with which you can mix huge proportions. However, this mixer is not a suitable choice for beginners as you need to remove the implement before taking out the bowl. So, for this purpose, you not only need power but skills as well. Also, there is a three-point mounting position, for locking, removal, and position.
The best thing about the bowl-lift mixer is that you don't need to stop the machine by adding new ingredients. With this being said, this mixer has become a fine choice for production cooking. On top of everything, you can knead different types of dough without worrying about the ingredients getting stuck at the bottom (yes, you can whip up the buttercream frosting!).
If you've been cooking for a long time, you would know that every recipe demands different attachments and actions. With this being, this mixer can seamlessly mix the coconut, oats, chocolate chips, and more without any extra stress on the more. As a result, the mixer promises even and smooth texture and it positively influences the cooking outcome.
When it comes down to the ease of use, this mixer is an absolute winner without sacrificing productivity. That's to say because the bowl-lift mixer comes with a handle that promises easy removal and placement. Above all, the spillage will be reduced with this design and the base is pretty sturdy and stable.
The bowl-lift model has been curated with the slow rotation function that initiates with slow mixing but can increase if you want. The last thing about this mixer is the easy cleaning because that's all that matters at the end, right? The only downside of the bowl-lift mixer is that the interface is pretty limited since it has only two settings.
KitchenAid Tilt-Head Mixer
This mixer is completely different than the above-mentioned style. So, KitchenAid has designed the tilt-head mixer and is designed with around 1/2th horsepower. With this being said, this horsepower allows the mixer to only support three to five-quarts capacity. As for the functionality, the mixer is pretty easy to use with a straightforward design.
Consequently, the users will need to exert power for operating this mixer. The mixers are usually integrated with the locking feature which really ramps up the security concerns. When it comes down to the removal of the bowl, it can be easily removed with a single twist. The best thing about this mixer is that mixer will demand less space that promises compactness and portability.
As compared to the bowl-lift mixer, this tilt-head mixer has been designed for personal usage. To be honest, some people have argued that this mixer is expensive but you will see that it's an absolute value for money. The tilt-head mixer has been integrated with the dough hook, paddle, and whisk that promises a versatile cooking experience.
There are additional ten accessories that can be used with this mixer but they need to be bought separately. The tilt-head mixer has been designed with 41 color options which is an extensive range. The mixer has been designed with ten-speed variations with which you can aerate, fold, whisk, knead, beat, and much more.
The bowl has been designed with a handle that promises easy lifting. Above all, there is a locking tilt head that offers convenient access to the ports. When it comes down to cleaning, the hooks and bowls are safe for dishwashing. However, you need to handwash the accessories. However, we are not happy with the fact that it has only a one-year warranty.