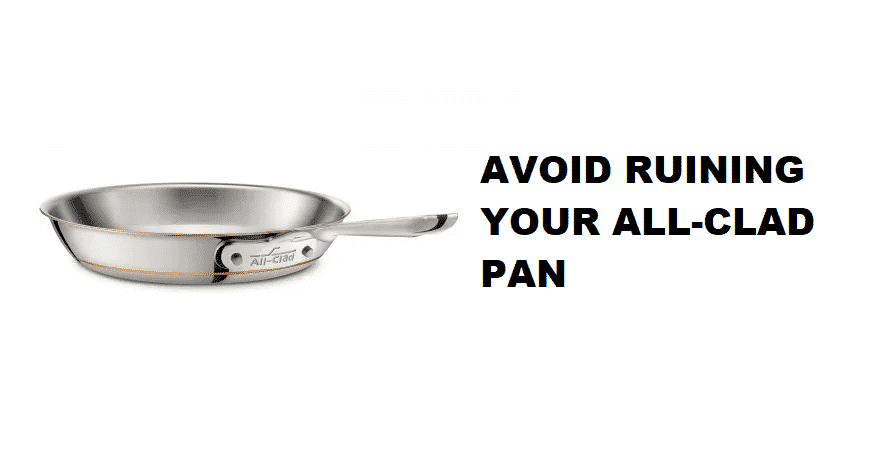 All-clad manufactures pans that can be your go-to pans for your major cooking tasks. They are designed to function so well with perfectly engineered designs. However, if you fear that you have ruined your All-clad pan and now you are looking for some ways to save the pan, then we have listed a few ways you can save it from ruining more. So many people don't even realize that their All-clad pan has started deteriorating because of the mistreatment, however, it is appreciable if you have.
I've Ruined My All-Clad Pan- What Should I Do?
Before moving ahead to the solutions you must know a few ways to deal with your All-clad according to the instructions given below.
All-clad pans are easy to clean but it is necessary to clean them up after every use.

Improper maintenance can cause loss of the shiny appearance.

All-clad pans are dishwasher safe which allows easy washing.

You must make sure that you do not put in cold water immediately after the use. Most importantly, avoid sudden temperature changes like washing in cold water after taking it off the stovetop.

Do not overheat your All-clad pan as it can result in blue stains all over the pan.

Do not use abrasive cleaners and metallic wires to clean your All-clad pans.
A Few Easy Steps To Make Your All-clad Pan Last Longer:
Here are a few troubleshooting ways to save your All-clad pan from any damage:
Avoid using Cooking sprays on All-clad pans as it leaves a film on the surface of the pan, this causes discoloration of the pan. It is better to use powder detergents to avoid discoloration of the pan.

You must make sure that you wash your All-clad pans thoroughly to avoid deterioration. Improper cleaning can cause rusting of the pan. Avoid washing the pan with a high level of iron in the tap water because it can also cause rusting.

In case you have applied excess grease, then this problem can be overcome by washing it with warm water. Nylon Scrubbing pads can also be used to press-wipe and discard the excess grease.

It's better to polish your All-clad pan as it is made up of stainless steel so it may have some fingerprints and smudges over it due to its everyday use.

You can regain a ruined or burnt All-clad pan by boiling and scrubbing the pan, without metal wires.

Use of hot water to rinse the All-clad pan removes excess grease and oil from the pan and can also save the pans from getting ruined.

There are different detergents and cleaning agents for the pan, to provide extra assistance in restoring the discoloration. You just have to gently rub them over the affected area.

To remove stuck food material you can apply boiled vinegar to that area.
Conclusion:
We have listed above all the troubleshooting ways, along with their solutions for the ruined All-clad pan. By implementing the above instructions the All-clad pan can be saved from getting ruined. Hopefully, this article will help you in getting your ruined All-clad pan restored to one new-like.