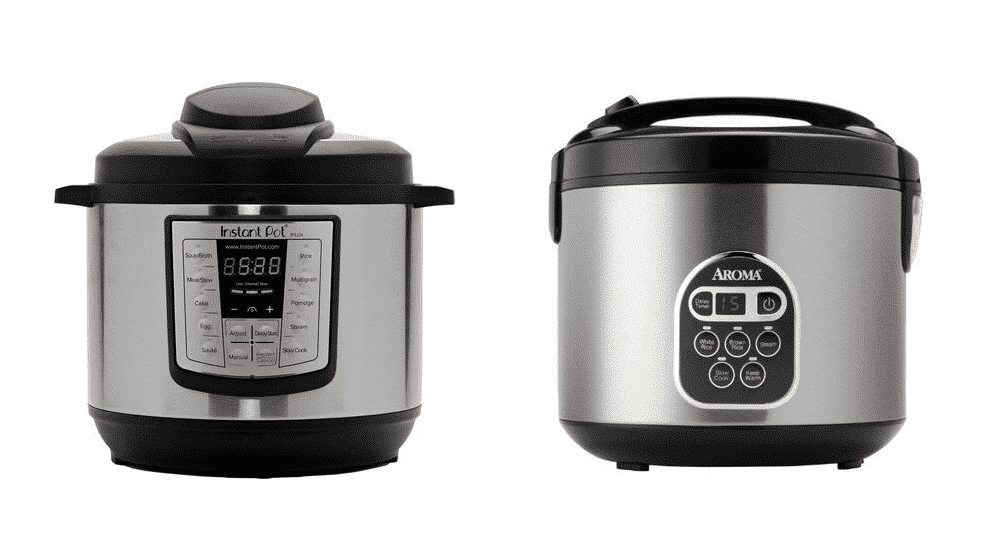 In the modern age, people don't have hours to spare for cooking. This is the prime reason that people are opting for advanced and high-tech kitchen equipment. The modern kitchen equipment are designed for convenient cooking. However, you would know that cooking rice is a regular task.
For this purpose, we are talking about Instant Pot vs. Aroma Rice Cooker to check which is the right choice!
Instant Pot vs Aroma Rice Cooker
Instant Pot
To begin with, Instant Pot isn't your conventional pressure cooker since it's designed to be a multi-cooker. Instant Pot is designed with a multitude of cooking functions, such as pressure cooker, steamer, yogurt maker, sauteing, and warming pot. On top of everything, Instant Pot has a special rice cooker function which makes it easy for users to cook rice, along with other cooking functions. To be honest, Instant Pot can do the work of seven different kitchen appliances, and there are various features.
We create amazing recipes. Gain FREE access to Miss Vickie's special recipes.
We won't send you spam. Unsubscribe at any time.
The pre-programmed functions of the Instant Pot promise easier cooking. For instance, you simply need to choose the cooking function, add the ingredient, and the food will be cooked. The best thing about Instant Pot is that it cooks food in a short time period as compared to conventional cooking methods. Instant Pot will cook your food perfectly without compromising on the aroma and flavor. With Instant Pot, you don't even need to be alert because Instant Pot can handle the meals for sure.
To illustrate, once you set the cooking function, you have nothing to worry about. There are multiple models and sizes available in Instant Pot, so you can choose the one that suits your cooking needs. However, if you are comparing it with a rice cooker, the costs are higher. But again, Instant Pot has multiple cooking functions, along with the rice cooker function. For the same reason, Instant Pot can be used for cooking different ingredients, such as dry beans, rice, meat, soups, cake, veggies, and more.
Instant Pot uses the higher heat and pressure settings that help kill the micro-organisms. Similarly, the cooking time will be shortened, so your time will be saved, and you won't even need to stand by it all the time. Instant Pot has a lid on top that prevents steam leaks, so the food has perfect taste and aroma. Many people argue that Instant Pot must consume too much electricity, but it's energy-efficient, so you don't have to worry about an increase in bills.
On top of everything, even if you have to use Instant Pot at high temperatures, it won't compromise on the cooking performance. Also, the seasoning needs will be less. Instant Pot has a digital control panel that helps set the cooking functions. All in all, it's perfect for cooking perfect rice in a fraction of time.
Aroma Rice Cooker
Aroma rice cookers have become incredibly popular among people who need special pots for cooking rice. In particular, it can prepare up to ten cups of raw rice. Generally, the Aroma rice cooker has the capacity to make four to twenty cups of rice, so it depends on you. On top of everything, nobody likes their rice mushy, and the Aroma rice cooker has a time delay of up to fifteen hours. That being said, the rice won't be mushy even then.
Aroma rice cooker has the keep-warm function that helps maintain rice until you open the lid. There are pre-programmed settings in the Aroma rice cooker which means it can cook and steam rice with the touch of a button. However, it doesn't mean that this rice cooker is only for cooking rice. We are saying this because Aroma rice cooker is suitable for sauteing, cooking hot cereals, whole grains, steaming the vegetable, and slow cooking.
It has been designed with a beeper which tings once the cooking function is complete. It also tings when the food is cooked. Once the food is cooked, the rice cooker will switch to the "keep warm" mode automatically. There is a built-in steamer in the Aroma rice cooker that helps cook food while maintaining nutritional value. When you opt for this rice cooker, it has multiple accessories, such as a rice spatula, steam tray, soup spoon, and measuring cup. The availability of different accessories will ease the cooking function and will save time.