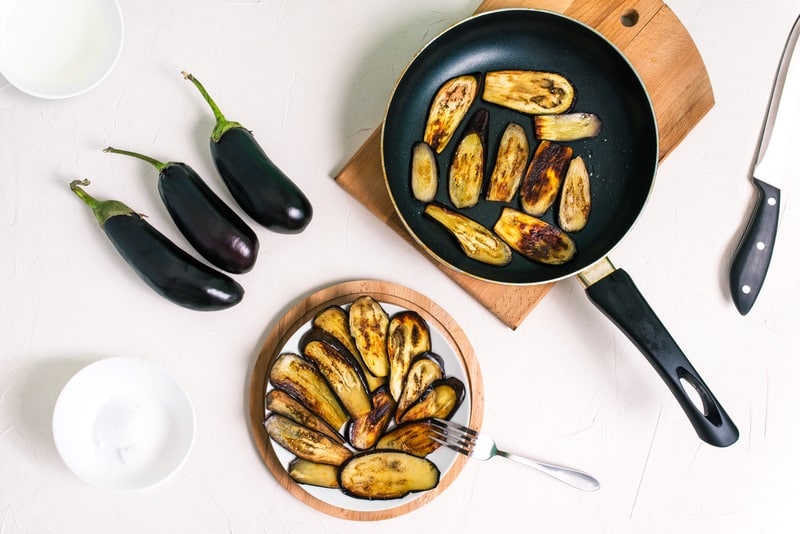 Before looking at how to sweat eggplant without salt, let's first look at why people say we should salt eggplant in the first place and if it makes a difference.
We salt eggplant for three reasons:
To remove excess liquid
To stop it from absorbing too much oil
To remove bitterness
The first reason is definitely valid. If you sprinkle your eggplant slices or cubes with salt and put them into a colander over a bowl, in a short time you will find quite a lot of brownish water in the bowl. Your eggplant will have become soft and floppy.
Now, if you are going to fry your brinjal, this will give you a creamy, soft texture and a rich taste. Therefore, by all means, salt your eggplant if you are going to fry it. However, if you are using it in a recipe that needs firm brinjal pieces such as ratatouille, there is no need to salt it.
Let's have a look at the second reason for salting – to prevent the brinjal from absorbing too much oil. Well, it turns out that this is invalid. Whether salted or unsalted, brinjal absorbs a lot of oil. So, if you're salting it, for this reason, you can stop.
The third reason for salting – to remove bitterness – seems to be a myth. These days, brinjal hybrids are specially bred for mildness and no bitterness.
Of course, those tiny Asian ones with many pips are actually prized for their bitter flavor but for the purposes of this article, we'll assume you aren't using those.
Bitterness comes from the variety and age of the eggplant, rather than its preparation method. To avoid it, pick medium-sized, very firm eggplants that are not too mature. (Eggplants become bitter with age.)
We have now seen that unless you are going to be frying your brinjal and want a smooth, creamy texture, salting is unnecessary. We'll now look at how to cook it without pre-salting.
How to Sweat Eggplant Without Salt
1. Use The Microwave Oven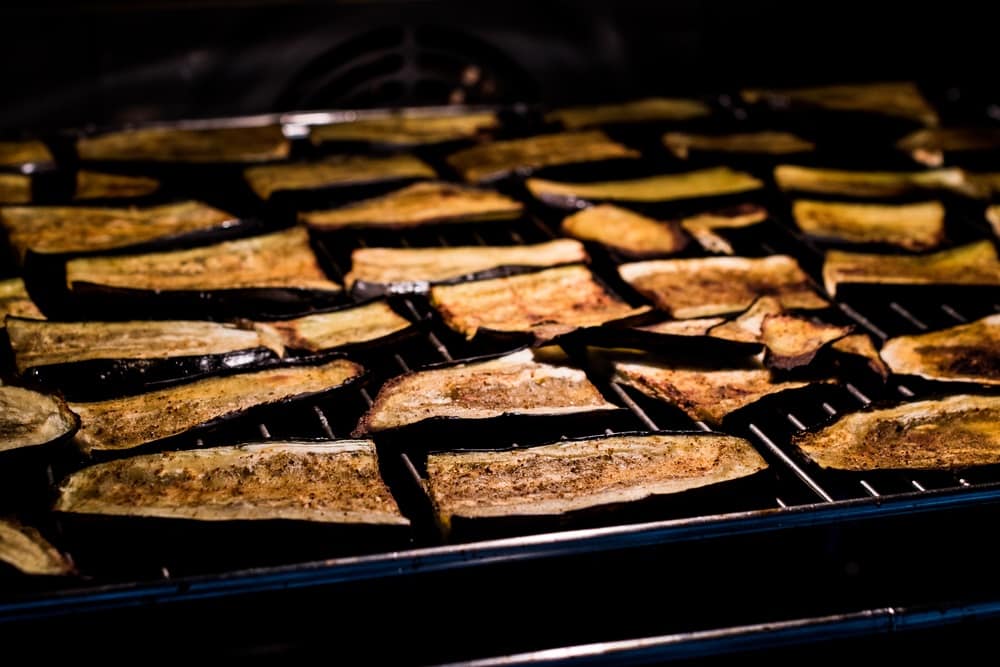 The first method involves using the microwave. With the microwave method, you need to put the eggplant slices into the microwave oven and pre-cook them.
This will help take out excess water from the eggplant without adding salt, and it takes away the waiting time that you'd normally invest for it to sweat out.
However, when you put the eggplant slices in the microwave oven, you need to add multiple paper towels to the plate before putting the slices on top. You can cook the slices for around five minutes on the High setting.
Once they're removed from the microwave, press down slightly on the slices so that the excess water is absorbed by the paper towels. From here, proceed with cooking your brinjal as usual according to your recipe.
2. Using The Oven
If you don't want to use the microwave oven, you can use a conventional oven for the same function. Cut fairly thick slices, brush them with olive oil, and lay them on a baking sheet.
Sprinkle them with a little pepper and salt if you like. Next, roast them in a preheated oven until they are soft and golden.
3. Cooking The Eggplant Twice
Cooking twice produces a soft, creamy result with no excess water. Slice the brinjal thinly and saute them lightly in a little olive oil. Drain them on paper towels, season them, and lay them on baking parchment on a baking sheet.
Put them into a preheated oven until golden brown. Layer them with sauce or serve as they are.
Another twice-cook method for the stovetop is as follows: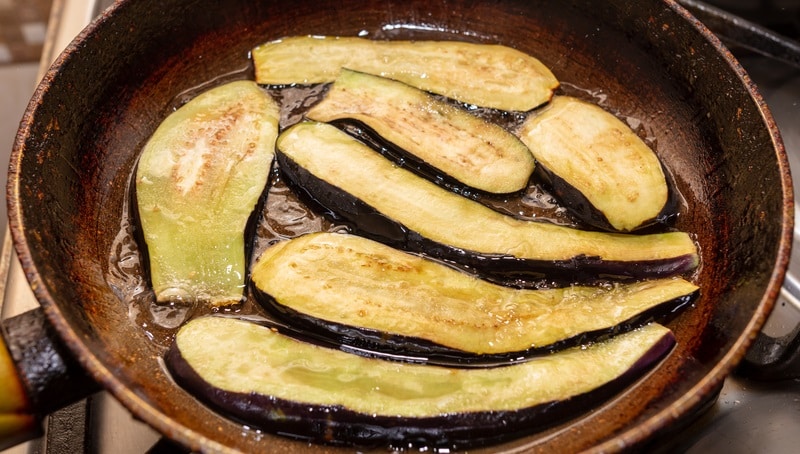 Slice the brinjal fairly thinly and put them into a large frying pan in a single layer. Add about a centimeter of boiling water and cook the brinjal over a medium flame, turning them once. This pre-boiling will soften the slices.
Once you see that the water is almost gone, add about a tablespoon of oil to the pan and fry the brinjal slices on both sides until brown. Press down on them with the back of your spatula to squeeze out excess moisture.
What's the bottom line, then?
Salting eggplant isn't necessary anymore for removing bitterness. It does, however, help to draw out some of the moisture and is particularly effective if you are going to be frying your brinjal.
Salt also brings out the flavor of whatever you're cooking so at some point in the recipe, you're going to want to add some.
However, if you are on a low salt diet or simply pushed for time, you can happily go ahead and skip the salting step. Your brinjal will still taste delicious, especially if you brown it well.