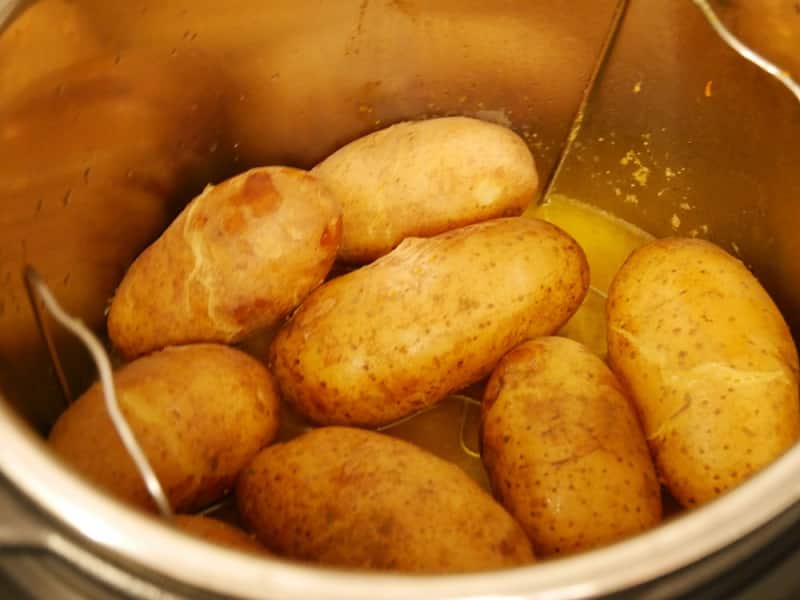 How to cook potatoes in a pressure cooker?
Cooking potatoes in your pressure cooker is actually an extraordinary idea. It really makes all the difference, and the fact that you can cook this in 10 minutes or less does provide you with an extraordinary experience. While it can take a little bit to get used to the idea of cooking potatoes in your pressure cooker, results will pay off big time and that's what you want to think about here.
Picking the right potatoes
If you want to cook potatoes in the pressure cooker, a very good idea is to go with the white-fleshed potato. Regular white potatoes, Yukon golds, russets or baby potatoes will be the best possible option in a situation like this. After you pick the potatoes, you have to cut them into 1 ½ inch pieces. It's a good idea to cut it and whole potatoes can take up to 20 minutes in total. It's better to split it, as the results will be very nice every time.
Pressure cooker setup
You should prepare the steamer rack if possible. Add 2 water cups inside the rack, and then put the potatoes on it and start cooking under pressure for around 8 minutes or so. And in case you require more cooking time, you just have to replace the lid and cook them for 2 minutes more.
Ingredients
1-16 ounces potatoes cut in 1 ½ inch pieces
2 cups of water
For equipment, you need a steamer rack
Instructions
Add the potatoes evenly on the rack
Lock the lid down and set the unit to work on very high pressure. Around 8 minutes will be more than enough for cooking.
Release the pressure as quickly as possible. A quick-release will help a lot and it will make quite the difference. You need to check the potatoes and see if they are tender. In case they are not, then you can continue cooking them a bit more.
Make sure that you avoid eating potatoes that are not tender. Ideally, you want to focus on results and the best experience, and you will like the results quite a bit. It's definitely important to know what you are getting into here, but pressure cooking potatoes is so simple and convenient that everyone can try it and just enjoy it. Granted, it will take a little to get used to, but it's an extraordinary experience and you have to check it out.
Conclusion
Once you cooked the potatoes with your pressure cooker, you can serve them with fresh herbs and some melted butter. You could also use them for a salad, mashed potatoes or fries. The possibilities are limitless and you can choose how to cook everything here. If you don't want to use them right away, there's also the option to do that too. You can store the cooked potatoes in an airtight container. They will be ok for up to 5 days in total. Ideally, you want to cook them right away to get the best taste and experience!