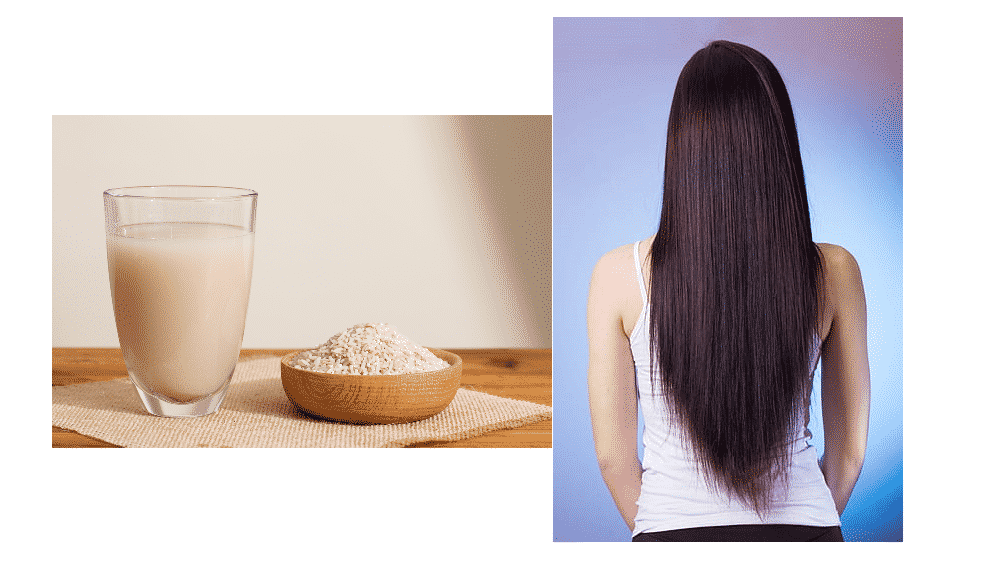 Eating those delicious vegetable fried rice is the ultimate activity for the cheat day, right? Well, who knew that rice could be the secret to long and luscious locks. With this being said, rice has become the staple food because half of this world's population loves to eat rice. In the majority of cases, rice has become the ultimate source of daily calories for people.
On top of everything, rice is the beautifying ingredient, and it has been used by Asian women to enhance hair, body, and face. Usually, in Southeast Asia, Japan, and China, women have been using rice water to take a bath and wash their faces. Even in some Chinese villages, women have an average hair length of six feet. Even more, their hair don't turn grey till the 80s.
According to all those women, using fermented rice water is the secret behind their long and strong hair. For instance, rice water can be used to cleanse the hair while promising clean and dark hair. Using rice water also helps manage hair more effectively by promoting detangling. According to the Journal of Cosmetics Chemists, the application of rice water will reduce the hair strand friction.
On top of everything, the hair elasticity will be improved. The prime reason for these benefits is that rice water has carbohydrates and inositol that are suitable for managing damaged air. Once you start rinsing hair with rice water, inositol will be impregnated into hair after rinsing as well, promising higher hair protection and correcting hair damage.
With all this information, it is evident that washing and rinsing hair with rice water will reduce breakage, making them healthier and more manageable. The rice water is also rich in amino acids that strengthen the hair while promoting thick and strong hair growth. Well, these benefits reflect on the long and healthy hair for Yao women (an average six feet hair length as well!).
In addition to hair benefits, rice water is a great facial toner that enhances the skin elasticity as well as reduces the early signs of gaining. There are antioxidants in rice water that may lead to glowing and soft skin. As far as hair growth is concerned, rice water will increase hair length and thickness. In this article below, we have added a timeline for hair length growth through rice water!
How Long Does It Take For Rice Water To Grow Your Hair?
On average, the rice water application on hair starts showing results within 45 days. However, if you want to increase the speed of results, you can use fermented rice water. The fermented water is usually sour as compared to simple rice water. The fermented rice water is rich in minerals, vitamins, antioxidants, and pitera. Pitera is responsible for promoting anti-aging capabilities.
That's to say because pitera will lead to cell regeneration and cell renewal. So, fermented rice water can be used for hair growth as well as for skin. For hair, fermented rice water has a lower pH level, which makes it acidic. The pH level is higher than the hair's pH level. This higher pH level will enhance the follicle nourishment while enhancing the hair texture.
Recipe of Fermented & Plain Rice Water
If you want to harness the benefits of rice water, you will need to make the rice water first. To make rice water, just collect the extra water that you use for rinsing the rice. Once you've collected extra water, just grind the extra rice that can be used as face mask or scrub (add honey for additional glow!). in the section below, we have outlined the essential steps that you need to follow, such as;
Take a half cup of uncooked rice and dip them in two to three cups of water
Rinse the water to get rid of impurities and dirt
Them, add new water (make sure the rice is covered in water)
Let the mixture sit for at least around
Within some time, the water will turn cloudy (this water will have minerals and vitamins)
Take out the water in an extra bowl and use it as a tone or cleanser to rinse the hair
Fermented Rice Water
There is no rocket science involved with fermented rice water because all you need to do is let the water sit for one or two days. However, the fermentation process is improved with room temperature. You can also let the rice sit for around 24 hours to create fermented rice water. Even more, some people suggest boiling the fermented rice water to make it diluted.
In addition, you can also add extra water to fermented rice water for diluting it. The dilution is important because fermented rice water has high potency. It is better to use high potency as well as diluted rice water to check what suits your hair. This decision will also vary with oil content in your hair, whether your hair is dry or oily.
Boiling
Some people tend to boil rice for extracting rice water. Once the rice starts boiling, switch off the stove, and take out extra water. This water can be used to make toner or rinse the hair. However, make sure you cool off the water. Also, this boiled water will be highly concentrated, so don't forget to dilute it with simple water.
Rice Water Storage
If you want to store rice water, well, you can only store rice water for a week and that too in the fridge.