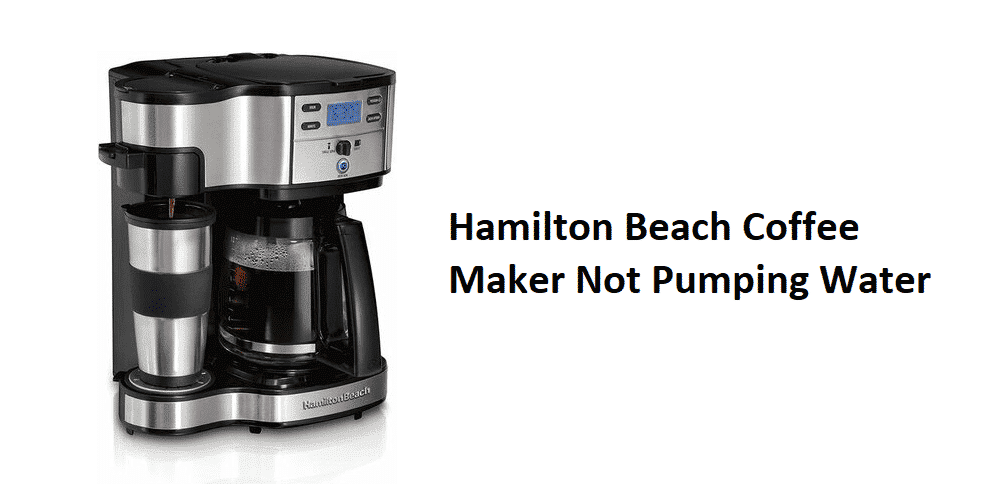 Hamilton Beach coffee maker is one of the best products available in the market. It provides the most efficient and most reliable coffee maker to coffee lovers. However, many customers are complaining about the pumping water issue in their Hamilton Beach coffee maker.
Hamilton Beach Coffee Maker Not Pumping Water
In this space, we will discuss the major causes of the pumping water failures and provide you doable and practicable troubleshoots to weed away challenges between you and your desired coffee. The following troubleshoots will help you surmount the obstacles.
1) Do I Need To Fix Water Pipe Inside Hamilton Beach Coffee Maker?
We know your preferences and understand how hard it is for you when you find your coffee maker is not working smoothly. You might witness slow water pour in your mug, or the coffee is dripping out of the machine. It means your coffee maker has a water pumping issue. Basically, it is a hardware issue. To resolve it, unplug your Hamilton Beach machine and place it in a spacy area.
Then, take all the screw attached in the back, down, and side panels. You will find that the water pipe has loosened and was the root cause of improper pumping. Adjust the water pipe firmly with the nozzle and make sure the pipe is fixed correctly. Afterward, fix all the panels with the screws and turn on the machine. You will see the pumping problem has now been resolved.
2) Does My Hamilton Beach Coffee Maker Clog?
Another problem that halted the pumping water in the Hamilton Beach coffee maker is clogging. If the passage of water storage or hot water station in the front of the machine is clogged, you would have lots of difficulties because any line of the machine is clogged, it will stop the free flow of water. To make it work, unplug your coffee machine, and give the hot water station nozzles pressured air through the air pressure machine.
Apply pressure air three to four times, all the sediments blocking the channels will clear away. Then fill the water tank with vinegar water for cleaning and turn on the machine and start brewing the water. Press the hot water handle down. All the hot water along with sediments will come out in your cup.
3) Contact Hamilton Beach Customer Care Center
If you have applied the above-mentioned troubleshoots and still you are facing a water pumping issue. Then, it is advisable for you to call Hamilton Beach customer care center. Their customer representative will inquire about the problem, tell him the case. Either they will give you a guideline to resolve the issue or send a technician who physically repairs your coffee machine.
Conclusion
In toto, the coffee machine is necessary for daily life, and any issue with it will push you to the hot waters. We have listed above effective solutions to end the misery related to the coffee machine pumping water. In this article, we have cited all the relevant information that will make your life easy. We encourage you to let us know about your questions in the comment section