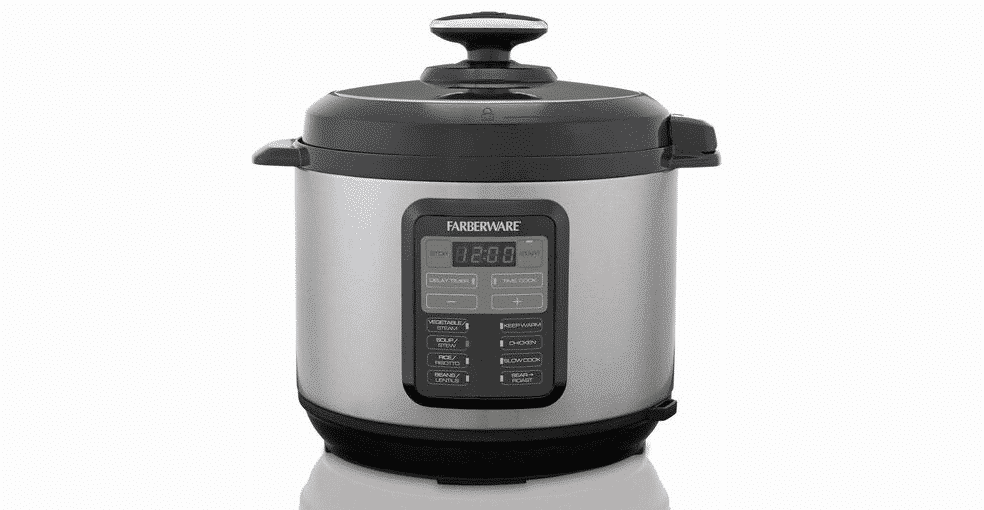 In this review, we have taken a closer look at one of the most appreciated and advanced kitchen gadgets. This appliance can make your kitchen work more efficient and faster. You can save your time and energy with the use of this Smart Gadget. Not only this but you can also produce delicious dishes in no time and can impress your family with a little effort.
Farberware 7 In 1 Pressure Cooker Review
Here we have discussed the product by Farberware which is a 7 in one product. It comes with preset programs and can be used for different things other than pressure cooking. Farberware is a famous brand for different kitchen appliances and it is based in New York City. This brand produces stainless steel cooking appliances with a sturdy and durable body for longer use.
This product is made for pressure cooking which is a method that uses high steam pressure for cooking your food without the use of oil. The steam is circulated throughout the pot to create a high temperature around the food. About a hundred degrees centigrade of high temperature will Surround the food for perfect cooking. The air inside the pot is expelled while the product produces the steam inside. This will penetrate the heat inside the cooking ingredients.
Majorly all kinds of foods can be cooked with the help of this gadget easily. It cooks the food material inside in an airtight environment. This environment allows the steam to penetrate inside the food and cook it. This way your food will not lose any of its nutrition and essential vitamins because of extensive heating.
7-1 Feature
The 7 in 1 feature can be explained as the device allows you to cook different food in seven different styles of cooking. This way you will receive 7 different programs in just one product. This means with the use of a Farberware pressure cooker you will not only be able to pressure cook but you can also slow cook, brown, roast, steam, etc. You can use all of these methods to produce the best quality food in the fastest time. This way you can make food in no time and save your precious time for different tasks.
Capacity
This pressure cooker comes with a large capacity of six quarts. With this much capacity you can cook for a large family and it won't even cause you a lot of time. You can cook for about 4 to 6 people at the same time as you will cook for 1 to 2 people.
Easy settings
This gadget comes with a large LED display for managing different settings of your pressure cooker. You can activate the various functions provided with this device. It is also very easy to understand the functions. You can operate this function with just a press of a button. Moreover, it also comes with the delay timer and temperature setting. Even if you are not ready to go for a recipe you can go for preset programs with just one press. You can cook very easily for example if you want to cook chicken wings then you can simply add the chicken wings and ingredients to the pot. You can see the LED and then select the time required for cooking and then decide the temperature with just a push of a button, your food will be ready in minutes.
Keep warm
Even if you want to store your food for dinner and you have cooked it at breakfast time you can keep it inside your pressure cooker so that it keeps warm with this keep warm feature. The keep-warm feature will allow you to store the food fresh and juicy just like it's cooked right now.
Safety features
This product comes with all the safety features including sealed pressurized conditions.
Conclusion
This pressure cooker by Farberware with 7 in 1 cooking feature is made with the best quality stainless steel for long durability and sturdiness. It can be cleaned easily because of non-stick nature and has all the safety features included in this product.