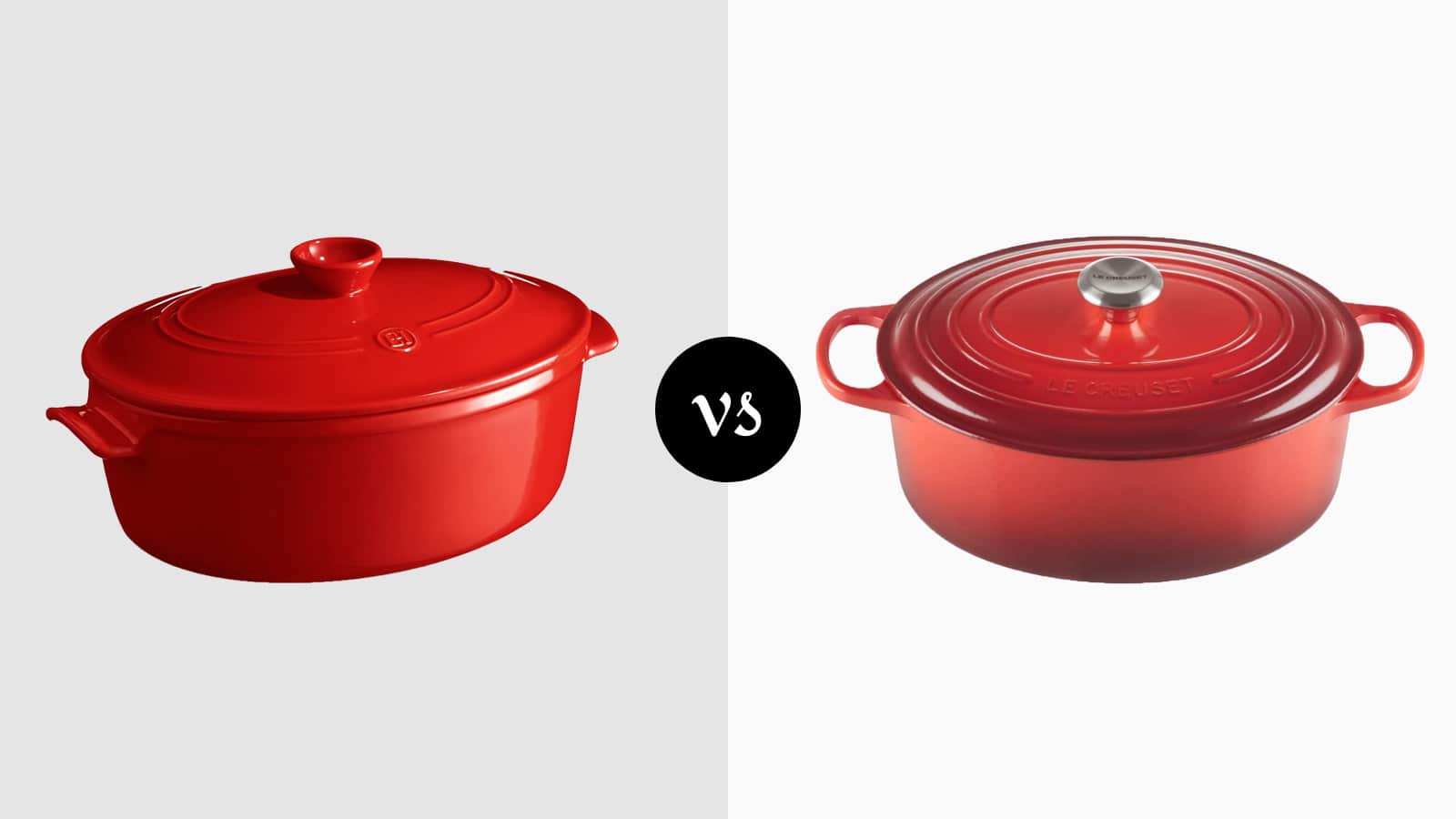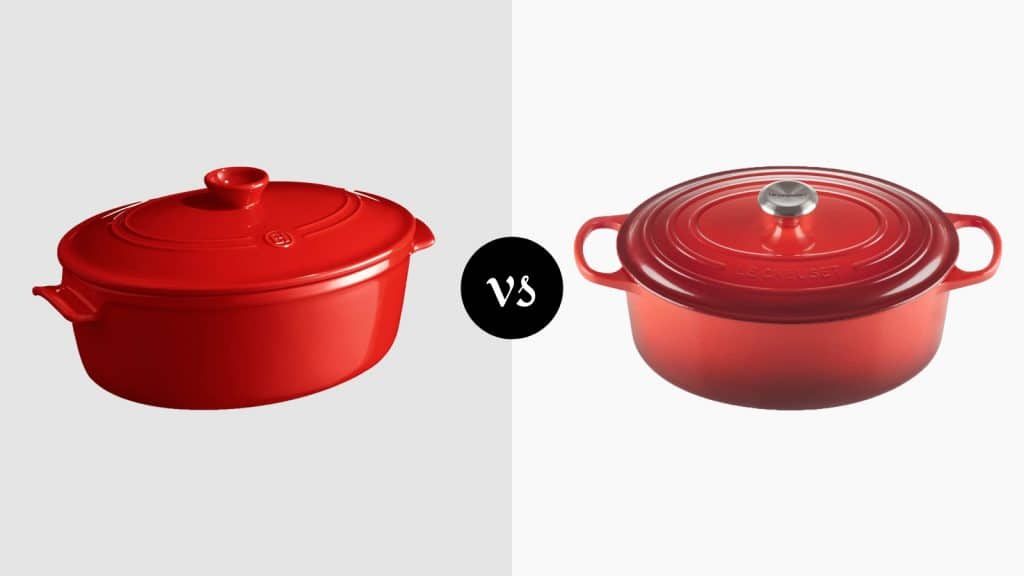 When it comes down to purchasing a special form of cookware, it's needless to say that you've to select the right brand. Two of the most popular brands on the market are Emile Henry and Le Creuset. But how do you choose the right one?
The Emile Henry vs. Le Creuset comparison in this article will help you choose the right brand if you want to purchase French-based cookware, including braisers and casseroles. So, let's check out the differences!
Emile Henry vs Le Creuset Comparison Table
We create amazing recipes. Gain FREE access to Miss Vickie's special recipes.
We won't send you spam. Unsubscribe at any time.
To give you a quick overview, here is a comparison table for Emile Henry and Le Creuset. This table gives you a comparison between the differences and similarities of each product. You can then make and informed decision on which brand is suitable for you.
| Features | Emile Henry | Le Creuset |
| --- | --- | --- |
| Material | Burgandy Clay | Cast Iron |
| Oven Proof | Resists oven heat of up to 482°F | Resists oven heat of up to 500°F |
| Microwave Proof | Yes | No |
| Freezer safe | Yes | Yes |
| Heat distribution | Excellent | Excellent |
| Non-stick | Yes | Yes |
| Affordability | Moderately priced | Expensive |
| Durability | Can break if dropped | Crack, dent and shatterproof |
| East to clean | Yes | Yes |
| Lifespan | Lasts if handled with care | Forever |
Emile Henry vs Le Creuset
What You Need to Know About Emile Henry
Emile Henry is an excellent brand known for durable and versatile cookware. This is a French family owned business located in Burgundy. The cookware is designed with advanced technology with conventional methods to design a wide range of ceramic tableware and cookware.
The company has been around since 1850 and was first launched by Jacques Henry. To date, it still remains a family-owned business and has gained popularity by producing top-notch ceramic cookware. In addition to this, the company has chip-resistant Dutch Ovens.
All the products are manufactured in France as there are various potteries available in Burgundy, and the clay is sourced from the same region.
When it comes down to the cookware, it is totally worth it because the cookware has an old-school feel because the ceramics have a deep glaze and can manage thudding without breaking. In addition, this brand has popular pie plates and baked dishes available.
Ceramic bakeware is widely available in discount stores and departmental stores. The cookware is safe for cooking and serving food and is pretty versatile, which allows the users to cook a variety of recipes.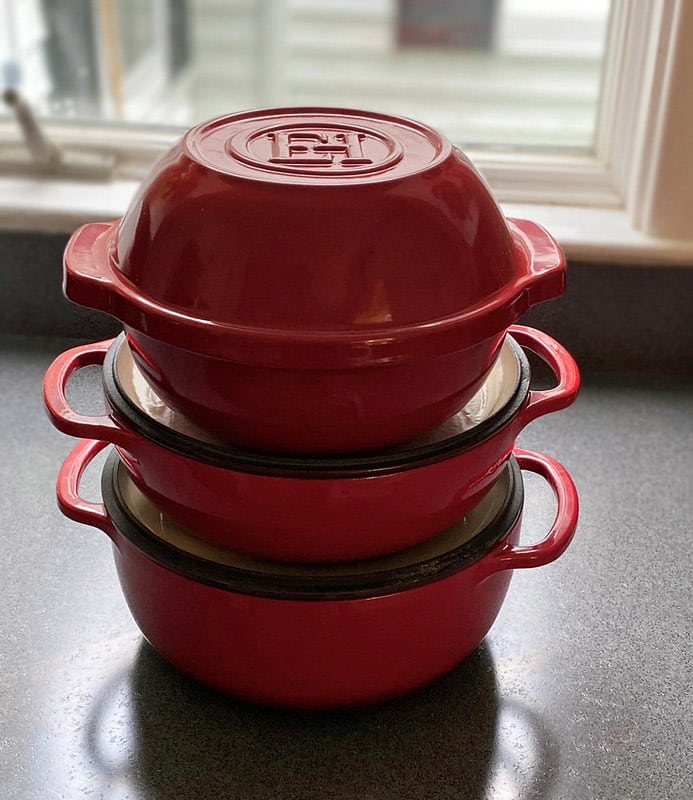 The cookware is extremely durable and tends to be lightweight when compared to cast iron. Emile Henry cookware promises excellent heat retention, and the pots are extremely easy to clean. All in all, the cookware offers great value for money.
The company uses thick materials for manufacturing the cookware, which is why they can be used in the oven, fridge, freezer, dishwasher, and microwave. On top of everything, the cookware is resistant to cracks and chips.
What You Need to Know About Le Creuset
Le Creuset is a well-known cookware brand originating from France. The company has gained popularity for versatile, well-made, and intricately crafted Dutch ovens. The company first launched its products in 1925 and is still using the same foundry to make Dutch ovens.
Le Creuset has a wide range of cast-iron cookware available, which is made by using standard casting techniques. Once hand-finished, the cookware is sprayed with two enamel coats.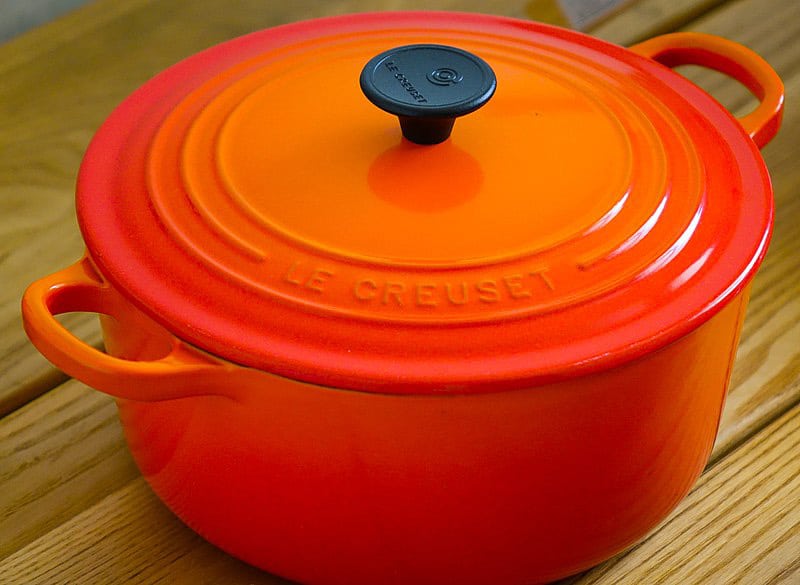 The enamel coating of the cookware promises higher resistance to damage, even if you use it regularly. All the company's cookware is manufactured in Fresnoy-le-Grand. With constant development, the company has stepped foot in manufacturing enameled cast-iron cookware.
Le Creuset has strict quality control standards, and their promise to use three layers of enamel coating provides even finishing. The cookware is available in 17 different colors.
The best thing about this brand is that they designed cookware in different sizes, ranging from 1 quart to over 13 quarts, making sure there is something for everyone. In addition to the round cookware, there are oval and shallow shapes available as well.
The cookware's interior is designed with a white enameled interior, making it easier to keep an eye on the cooking progress. In addition, the company has added plastic knobs that remain cool even after hours of stovetop cooking.
The handles are extremely ergonomic, promising easier transport. In addition, the cookware comes with a lifetime warranty, but you will have to pay a high price for it. The interior is light-colored, which means it can be easily scratched if you use metal utensils.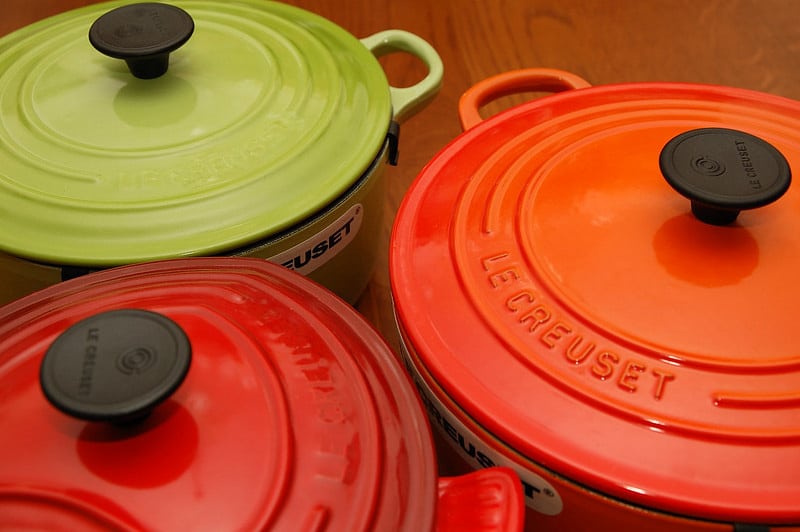 In fact, if you want metal knobs, you may have to pay $20 for them. Overall, the cookware is reliable and well-crafted, and smoothened to ensure seamless cooking.
Which One is Best for Cooking and Baking?
Emile Henry
Emile Henry has been around since the 18th century so it's a longer running brand. Since the cookware is made from clay it can be used in the microwave and it's safe to use in gas and element heated ovens.
Affordability
The Emile Henry cookware is an affordable brand that doesn't compromise on quality. So if you're on a budget but still want to buy luxury cookware, then this ceramic option may be a suitable option.
Factors that affect the cost of a product is what materials it's made from and how the item is manufactured. But even though this brand's cookware is manufactured using state of the art methods, the prices are relatively affordable and appealing to those who want high-quality products.
Variety and Quality
Emile Henry doesn't come in a wide variety of colors but the brand does offer convenient cookware such as ovenware, bread bakers and even pizza peels. You can also get pizza stones, tart baking dishes and soufflé dishes.
The brand also makes a variety of convenient kitchenware such as oil cruets, cheese boxes and storage bowels. These items come in a variety of styles and matching colors so that your kitchen is unified with the same designs.
All dishware, cookware and kitchenware from Emile Henry are dishwasher, refrigerator and freezer safe. Furthermore, the size of the trays and oven dishes are quite spacious so you can cook large meals such as roasts and casseroles.
Pros
Suitable for refrigerators, ovens, freezer
Dishwasher-safe
Easy to clean
Lightweight
Thick material
Strict quality control
Cons
Lacks a variety of colors
Le Creuset
Le Creuset is one of the more popular and well-known cookware brands on the market. They also release limited additional novelty items such as the Harry Potter range they released recently.
The quality and durability of Le Creuset is unmatched which is probably why they're the more expensive option.
Affordability
If you're not really fussed about how much you spend on cookware, then Le Creuset cookware's prices won't shock you. This brand has two types of materials for their cookware: Stone and cast iron. So the prices may vary depending on the type of Le Creuset cookware you buy.
The reason Le Creuset may be more expensive compared to other types of cookware brands is because of it's incredible durability. Cast iron won't crack, dent or tarnish over time.
Variety and Quality
Le Creuset is a cookware brand that loves releasing new designs. What's more, you can get cookware in a variety of colors such as royal blue and deep red. You can also get cookware in deep black or a bright Soliel yellow.
The brand also has a stainless steel range that features deep casserole pots, pans and roasters. But if you want the brand's durable cast iron range, you'll find signature roasters, skillet grills and sauce pans. You also get cookware sets that comes with all the essentials you need.
On the other hand, Le Creuset doesn't offer a wide range of baking cookware. You won't find a variety of bread tins or tart trays from Le Creuset.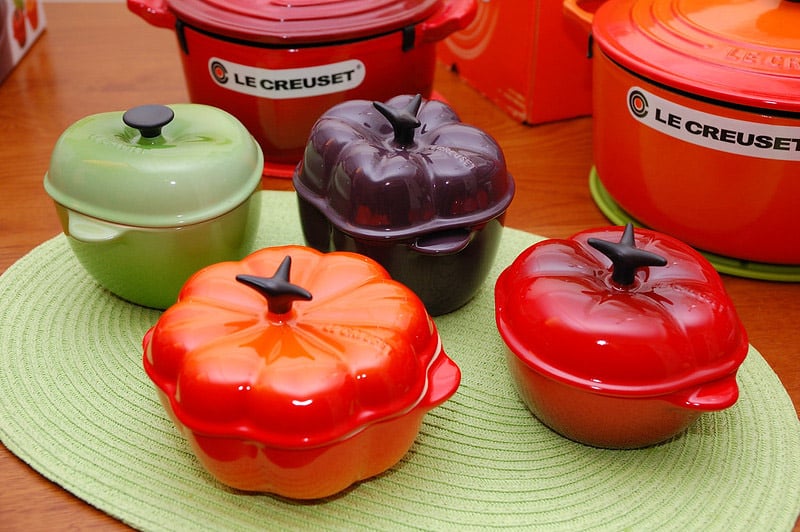 Pros
Available in 17 colors
Multiple shapes and sizes are available
Cool-to-touch plastic handles
Ergonomic handles
Strict quality control standards
Cons
The light interior is easily scratched
Final Thoughts
The bottom line is that both these brands are pretty amazing. However, they don't offer the same variety of cookware. It will depend on what you'll be cooking. Emile Henry offers more baking cookware for breads, pizza and tarts.
Whereas Le Creuset specializes in making sauce pans, skillets, grills and deep casserole pots. Le Creuset may have a variety of designs and colors compared to Emile Henry but the brand is lacking a range of bakeware.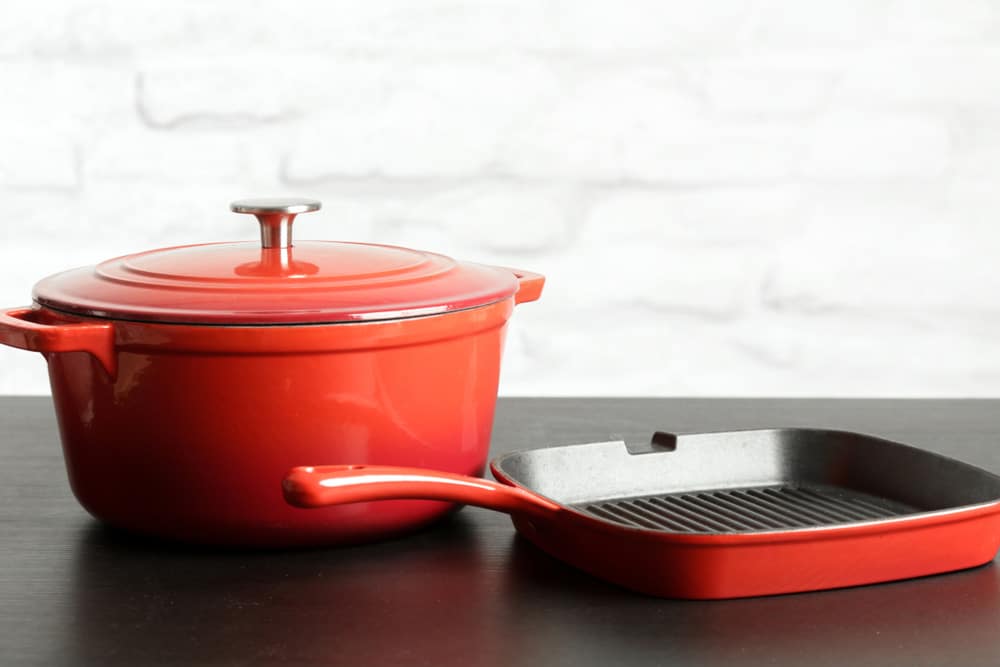 On the other hand, Le Creuset is much more durable compared to Emile Henry because of the cast iron it's made from. But, cast iron can't be placed in the microwave.
Since Emile Henry cookware is made from clay, it's safe to place the products in microwaves, and ovens that operate on electricity and gas.
All in all, both brands make excellent cookware, but if you want versatility and affordability then we recommend Emile Henry cookware.