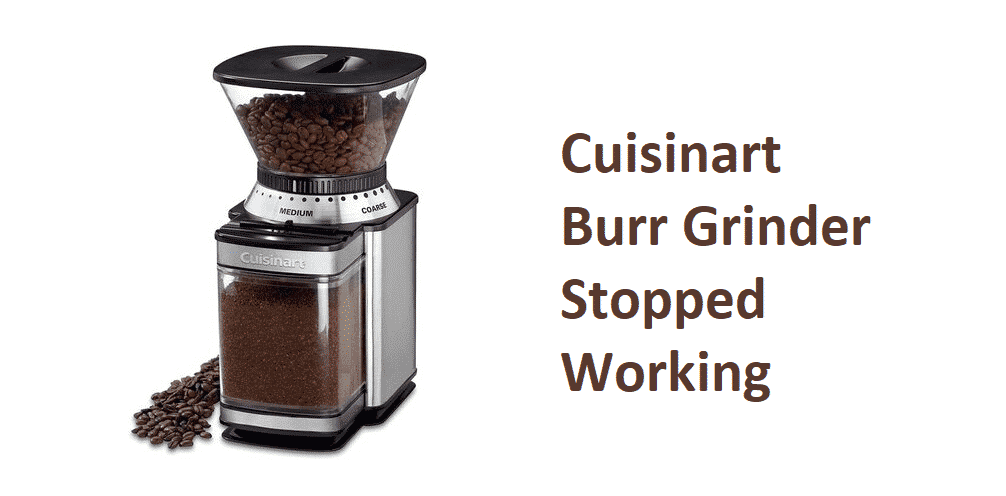 It can be heartbreaking to see your Cuisinart coffee grinder stop working when you're there waiting for a cup of coffee at the end of the day. You can be missing how your Cuisinart coffee grinder used to grind coffee beans very precisely and efficiently to make you a well-balanced espresso.
The motor of your Cuisinart coffee grinder might be running but it won't be dispensing any coffee. There can be another possibility that the coffee beans are not getting fed into the burr chamber.
Cuisinart Burr Grinder Stopped Working
Well, you do not have to worry because we have mentioned a few points to keep in your mind before troubleshooting the grinder.
1) Jammed With Coffee Powder
You must keep in mind that your Cuisinart coffee grinder is not broken most probably. Most of the time a coffee grinder gets jammed because of all the clog that has accumulated with the coffee grounds. You must already know the fact that a coffee grinder's job is to crush or break down coffee beans into fine powder like particles.
These powder-like particles can get stuck in both either lower or upper burrs. These burrs are made with steel or ceramic and grind the beans. All of the parts get heavily accumulated with coffee powder and jam up the machine. This can eventually cause the machine motor to die as well.
2) Jammed With Coffee Oil And Debris
As a result of getting jam with coffee powder, your Cuisinart grinder motor will become unable to spin the burr. This will cause the grinding process to stop. Jamming will not only occur as a result of coffee powder causing clog but it can also be caused because of coffee oil and debris that is being built in the burrs if you do not collect it timely.
Troubleshooting Steps For Your Jammed Cuisinart Grinder
The first step you must do to relieve your jumped machine is to remove all accumulated clog in your machine.
You must make sure that you clean the burr with manual scrubbing to remove all the dirt.
You must also make sure that your Cuisinart coffee grinder is turned off and the wire is unplugged.
You can take off the top set of the burr of your Cuisinart grinder by moving the collared outer ring and then raising your Cuisinart grinder's burrs.
Once you have taken out the burr away from the machine you can clean easily by wiping away all the coffee powder and remains with the help of a dry cloth or a brush.
Make sure that the burr of your Cuisinart grinder does not catch any moisture because it can cause the coffee powder or debris to stick on your grinder.
You can also do a little bit of adjustment which can prevent your Cuisinart grinder from getting jammed again. The adjustment can be done by running your Cuisinart grinder on different settings to have a perfect pace of grinding your coffee.
Hopefully, you have made your Cuisinart coffee grinder work again.