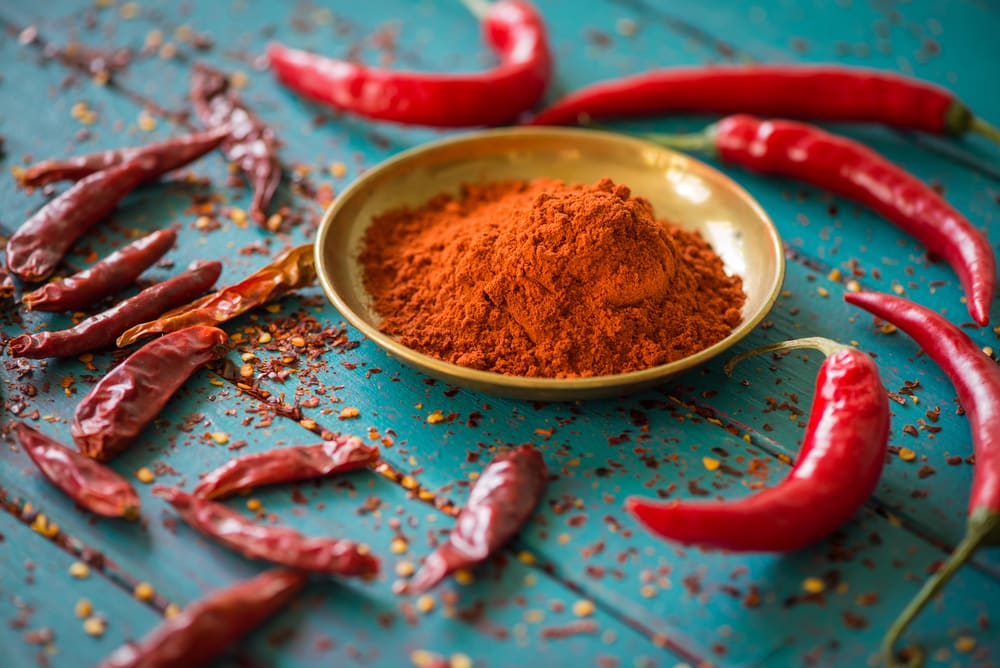 For everyone who likes spicy and savory food, we are sure Chimayo chile powder is one of the must-haves in your pantry. However, it's quite popular and goes out of stock pretty quickly. For this reason, this article includes Chimayo chile powder substitutes, so you don't have to give up on your favorite recipe!
What Is Chimayo Chile Powder?
Chimayo chile powder is basically pure red chile powder that comes from New Mexico and is made from Chimayo chiles. These chiles are grown in limited quantity and have great heat without making it too overwhelming for the consumers. It tastes amazing in sauces, chili, soups, and stews. It boasts a rich red appearance and bold flavor to the recipe. Having said that, since this powder is hard to get, the following substitutes can be used!
Chimayo Chile Powder Substitute
1. Cayenne Pepper
Since cayenne pepper is the primary ingredient in Chimayo chile powder, it can be used in its place but it doesn't opt for a 1:1 ratio. You can opt for the bottled cayenne pepper since it includes a combination of ground peppers and dried peppers, so it will add fire to the fish. If you want to substitute it for Chimayo chile powder, you should only use 1/8 teaspoon of the cayenne pepper in place of one teaspoon of the chile powder. However, you can always add more if you want to enhance the flavor of your recipe. Keep in mind that cayenne pepper will add the heat but not other flavor tones of the chile powder. For this reason, it's suggested to add a bit of powdered garlic, a bit of lime juice, and a pinch of salt.
2. Taco Seasoning
We are sure you have taco seasoning in the kitchen pantry and the good news is, you can use it in place of chile powder. This is probably because taco seasoning has the majority of ingredients of chile powder, such as ground chile peppers, cumin, garlic, and paprika. Adding this seasoning will add a boost of flavor to the recipe, especially if you are seasoning meat for burritos, nachos, and tacos. However, the majority of taco seasonings have higher oregano and cumin content which can overpower the flavor. As far as the flavor is concerned, it adds heat to the recipe and you can add more depending on your personal preferences.
3. Ancho Chile Powder
Ancho chile powder is made from single ground and dried peppers. Since anchos are formed by drying the poblano peppers and can replace Chimayo chile powder in stuffed chicken and mole sauces. It will add a peppery and earthy flavor to the recipe while adding smokiness to the dish. It adds some heat but it's not as much as cayenne pepper or chile powder. For this reason, you can add ancho chile powder and add additional spicy ingredients if you want to enhance the heat level.
4. Cumin
Using the ground cumin will add a rick yet warm flavor to the recipe, especially if you are making Latin American and Mexican cuisines. In addition, it can be used in Middle Eastern cuisines. It is not very hot and spicy but delivers a punch of flavors to the meat and other recipes. As for the substitution quantity, you need to add 2x cumin in place of Chimayo chile powder. In addition, you can add garlic powder to add a savory flavor and you can also add paprika to add the red color.
5. Chipotle Pepper Powder
This is one of the best things you will do for your recipe because it adds amazing flavor to the dish. It is actually a type of chile powder. The powder is made from red and fully ripe jalapeno peppers and is smoked to add a deep flavor. It adds moderate spiciness to the dish, and also, it has red color and heat which makes it suitable for substituting Chimayo chile powder. It wouldn't be wrong to say that the flavor is similar to BBQ sauce since it has a sweet and smoky flavor. It is suggested to use the same quantity of chipotle pepper powder because you can always add more to meet your spice needs.
Having said that, these are some amazing alternatives, so which one are you going to use?