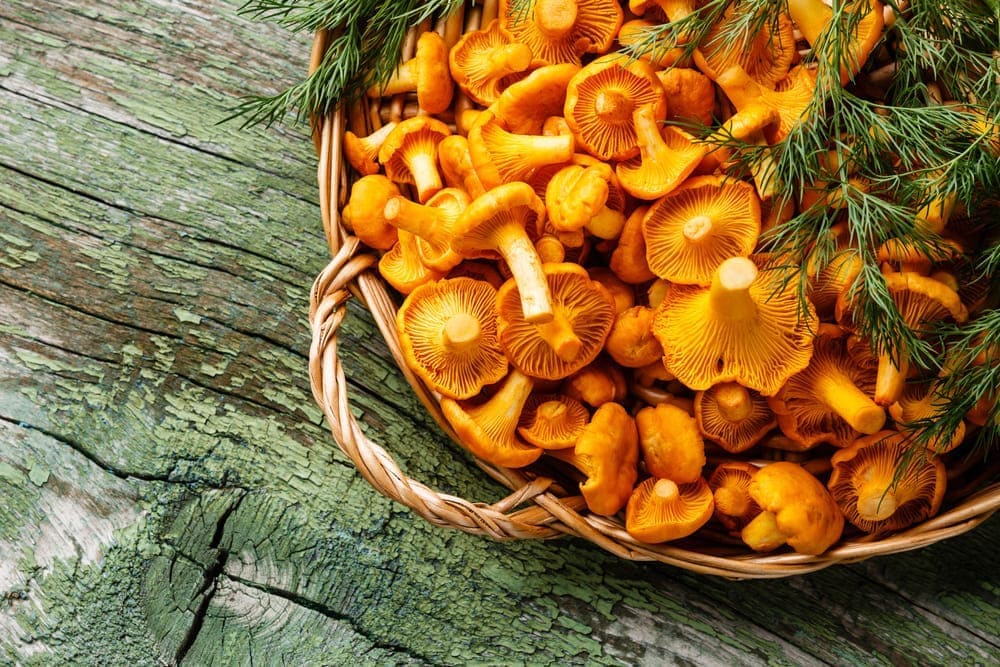 Chanterelle Mushrooms are among some of the most expensive mushrooms in the world. They have delicate colors in shades of yellow, peach, and pink. These mushrooms are popular in French Cuisine and enjoyed throughout the globe as a culinary delicacy.
Chanterelle Mushrooms are famous for their distinctive flavor, which is hard to replace. Most culinary experts believe it is one of a kind when it comes to its rich taste and aroma. They gave off a peppery flavor which some find hard to characterize while other food experts believe it to be slightly fruity.
Chanterelle Mushrooms are expensive due to their specific cultivation needs. These Mushrooms require a combination of heat and humidity to ripe properly. The best time to harvest these mushrooms is by the end of spring, a little delay, or by autumn comes, these mushrooms are of no-good use.
While it is every chef's dream to cook with Chanterelle Mushrooms, don't lose heart if you can't get your hands on some. We have compiled a list of some chanterelle mushroom substitutes for you.
Chanterelle Mushrooms Substitutes
1) Cremini Mushroom
Cremini mushrooms are a wonderful alternative to chanterelle mushrooms. They have a rich meaty flavor and provide a wonderful filling. Cremini mushrooms are excellent for soups, baked dishes, and sautéed vegetables. They are light brown and most chefs prefer adding cremini mushrooms to stews, soups, and liquid recipes.
2) Mushroom Sauce
Although chanterelle mushrooms with their distinctive taste are hard to replace but adding a little Mushroom sauce would boost up the flavor of your dish. You can add some homemade mushroom sauce. Just saute a few mushrooms and cook them in a little stew adding the right amount of salt and pepper. Or you could add a few sauteed mushrooms to cream and enhance the flavor using some parsley and oregano.
If you don't plan on making your mushroom sauce, you can always use some ready-made sauce from the market. Available in a wide variety all across the globe, getting your hands on some mushroom sauce won't be hard. While cooking with mushroom sauce, adjust your salt accordingly. This sauce tends to make gravies and curries a little extra salty. So make sure you're following the correct measurements.
3) Black Pepper
Chanterelle mushrooms tend to add a black peppery flavor. If you're experimenting with soups, stews, or noodles, add a little black pepper, some soya sauce, and half a teaspoon of brown sugar to balance out the flavor. The slightly sweet and tangy flavor of chanterelle mushrooms is hard to imitate but this alternative may bring you close.
4) Plumped Porcini Mushrooms
Porcini Mushrooms are among some of the most widely grown mushrooms and are easily available. They are amazing anti-oxidants and boost immunity. They provide a subtle flavor and an easy to cook. If you can't get some chanterelle mushrooms and you think you can't go forward with your recipe without some mushrooms, don't think twice before adding Porcini Mushrooms.
5) Oyster sauce
Oyster sauce is used in various recipes as a flavor enhancer providing the right amount of sweetness and salty flavor to gravies, curries, soups, and sauteed dishes. A teaspoon or two of oyster sauce can work wonders to reach the perfect aroma. Although the oyster sauce was initially made cooking real oysters for extended periods to extract the wonderful juices out of oysters presently most oyster sauces in the market are made using soy, wheat, and other sauces.
6) Shiitake Mushroom
The shitake mushrooms, popular in the Japanese and the Chinese cuisines, are widely cultivated all across South East Asia. Rich in nutrients and packed with proteins these mushrooms were used for medicinal purposes for hundreds of years.
Over the years, the Shiitake Mushrooms have been added to various cuisines and give the right amount of flavor to various recipes. They can be used instead of chanterelle mushrooms, and provide a strong meaty texture with an earthy flavor. If you plan on cooking some Shittake Mushrooms make sure to not overcook them otherwise they get a tad bit extra chewy.
What good is a chef if they can't improvise? Don't have any Chantertte Mushrooms? No need to worry, use any of the alternatives mentioned above, just add a little more seasoning and the right amount of sauces and you're good to go.