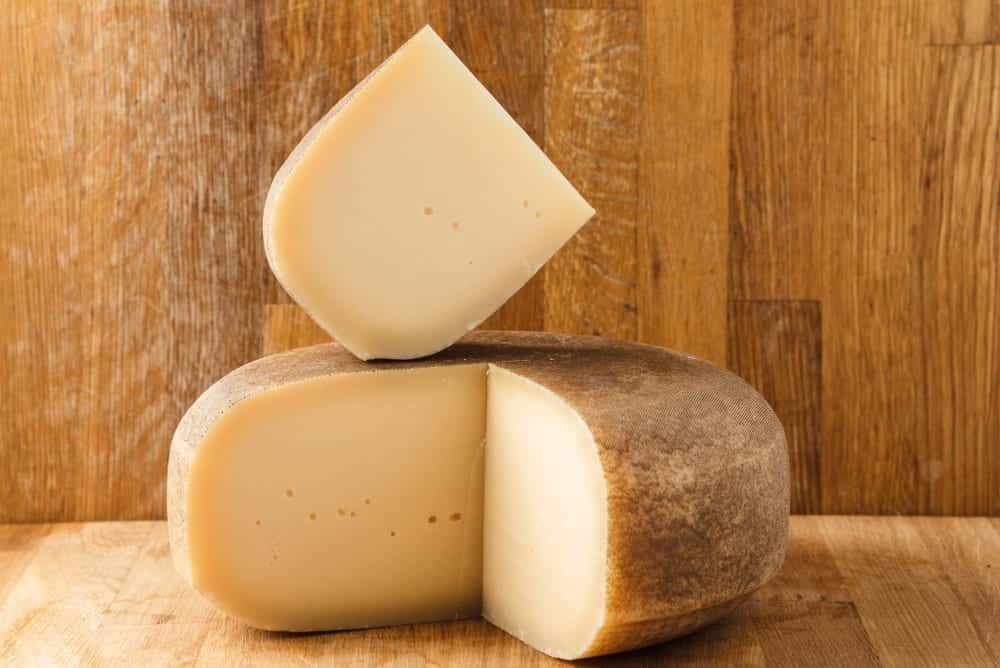 Parmesan cheese is known as "the king of cheeses". It is a hard, dry, gritty-textured cheese that is used in a grated form specifically for Italian dishes. It has a fairly strong, nutty, fruity taste with a definite umami characteristic.
Parmesan is made from cow's milk, salt, rennet, and bacteria cultures as with other cheeses. Parmesan is aged for a minimum of a year before use and sometimes for up to four years.
We make use of Parmesan, especially in melted recipes like soups or sauces but it also makes a good appetizer.
Asiago cheese is another delicious Italian cheese. It comes in soft or hard varieties and this depends on how long the cheese has been aged. Fresh, unaged Asiago is soft and pale in color, whereas the aged variety is yellow and firm.
It has hard skin and tiny holes throughout the cheese. When fresh, the flavor profile is sweet/sour and buttery. When aged, Asiago is pale to dark yellow, compact, and firm. The flavor is slightly bitter with yeasty, nutty undertones.
The cheese can only be considered genuine Asiago if it has been made in specific regions of northern Italy. Parmesan, on the other hand, is made in the midwestern regions of Italy.
Can I Substitute Asiago For Parmesan?
Aged Asiago can happily be substituted for Parmesan. However, if you are looking for a substitute for fresh Asiago, Swiss cheese or mild white cheddar is better as they more closely resemble the taste and texture.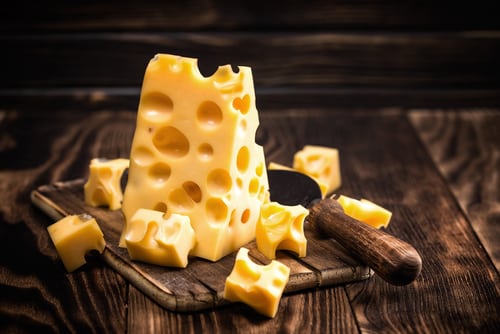 Aged Asiago is a little less grainy in texture than Parmesan but substitutes well in most dishes. It melts a little more easily than Parmesan so use it freely on pizza and baked pasta dishes.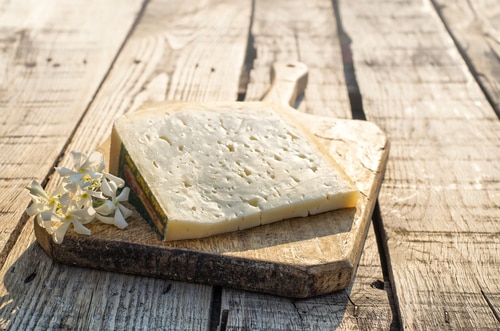 If cost is a factor for you, you may prefer to use Asiago. Because it is aged for a shorter time than Parmesan, it is generally less expensive.
So, the answer to the question, "Can I substitute Asiago for Parmesan?" is yes!
We've included a bonus recipe using one of these delicious cheeses. Feel free to use either one. Enjoy!
Chicken and Mushroom Asiago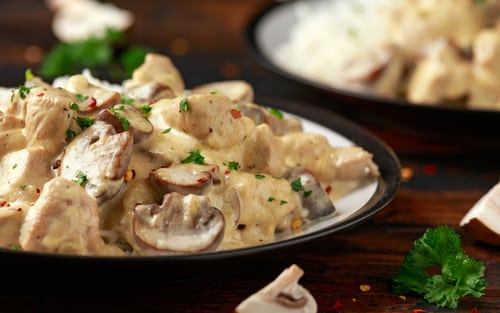 Ingredients:
2 big chicken breast fillets
2 cups button mushrooms, sliced
1 clove garlic, crushed
½ teaspoon dried thyme or 1 tablespoon fresh leaves;
1 ½ cups chicken stock;
½ cup seasoned flour;
2 tbs butter;
2 tbs olive oil;
1/2 cup fresh cream;
¼- ½ cup grated Asiago/ Parmesan cheese according to your taste;
Salt and pepper to taste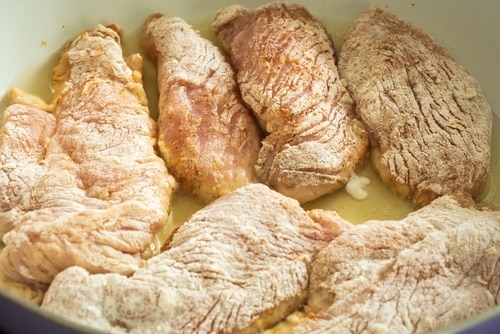 Instructions:
Flatten chicken breast with a meat mallet between 2 sheets of clingfilm until it is a uniform thickness – about 1/4-inch. Cut each breast into 3 pieces. Toss in seasoned flour.
Using a large, heavy skillet, heat the butter and oil. Put the chicken in and fry until golden brown on both sides. Take out of the pan.
Fry the mushrooms and garlic until beginning to color.
Add the stock and scrape to deglaze the pan.
Add thyme and put the chicken back in. Simmer for about 10 minutes on low heat.
Add the cream and Asiago/Parmesan. Stir until the cheese has melted.
Serve this sauce over cooked pasta.