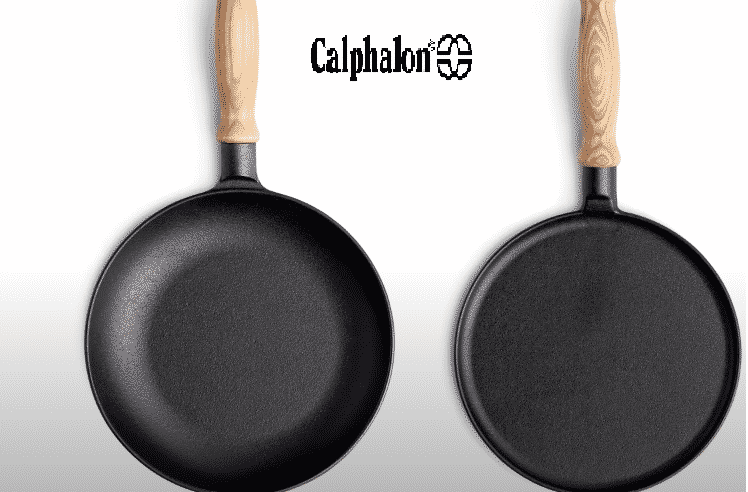 Cookware is one of those house items that add perfection to your kitchen. No matter how big or small your house is, the kitchen is a must thing in it, and when you own a kitchen, it is inevitable to have fantastic cookware. But, the thing is that what type of cookware will suit your kitchen. Should you bet on hard anodized or the nonstick ones.
In the article, we have brought an unbiased comparison of Calphalon Hard-Anodized vs Nonstick cookware. In the article, you will come to know some of the best things about both types of cookware, and we will let you know which one is better. If you are also confused about the kind of cookware you should own, follow this article religiously.
Calphalon Hard-Anodized vs Nonstick
Calphalon Anodized Cookware
Anodized or hard anodized cookware is one of the most common types of cookware used today. They are made up mostly of aluminum and are immune to corrosion. The anodized cookware is aluminum alloy that, after a chemical bath and zapping with electric current introduced to the market.
The best thing about the anodized cookware is that the surface of the cookware is high in heat conduction, but at the same time, it has a higher protective layer than the standard metal cookware. Do you know what makes it perfect for your kitchen? The anodized cookware is resistant to scratches and non-porous, so it will never absorb the smell of your food, making the food taste great and provide extra life to your cookware.
What Are The Benefits Of Calphalon Hard Anodized Cookware?
Calphalon is the best cookware manufacturers, and their hard anodized cookware is made in a way that will let you cook many dishes per day and will still last so long. This cookware is made for professional kitchens, so if you get them for your home, they will last longer than their life. Something that will convince you to put your money on the hard anodized cookware is highly cost-efficient despite being so productive.
Moreover, the Calphalon hard anodized cookware base is even better than the stainless steel cookware. Along with it, the Calphalon hard anodized cookware's heat conduction is so good that there will not be even a single centimeter of the cold spot while cooking. Furthermore, the hard anodized cookware has a fantastic black finishing that makes it attractive enough to place in your kitchen.
Calphalon Nonstick Cookware
Nonstick cookware has been the talk of the town for so long. But, some concerns arrive when you choose to get nonstick cookware. The first thing that people are concerned about is whether the cookware's chemical coating is harmful. If you are using nonstick cookware for your daily home use while taking good care of the scratches, it is completely safe to use.
But, there may be some harmful effects of the chemical used in the nonstick cookware. Though it does not affect human health so much, if there are any scratches and the polishing is in lousy condition, they may jeopardize your health, especially if there are elderly in your home.
Benefits Of Nonstick Cookware
There are a lot of benefits of nonstick cookware. The first and foremost thing that will attract you towards the nonstick cookware is consuming less oil while cooking. Secondly, your food will never stick to the base of the vessel. Thirdly, and most importantly, they are easy to clean. If you have got Calphalon cookware, then all of the above three benefits will be enjoyed by you to a more intense level.
Final Remarks
It is hard to crack when you have to choose between the hard anodized and the nonstick cookware. But, if you have been through the article, you know what type you need to bet on. If you ask for our advice, then we will indeed suggest you put your money on the Calphalon hard anodized cookware as they are made for both personal and professional use and do not possess any harm to your health. Moreover, they are cheap as compared to the cast iron cookware.
Conclusion
In this article, we have provided an unbiased comparison of both hard anodized and nonstick cookware of Calphalon. The article possesses all of the essential knowledge about both of the products. So, give this article a good read, and you will be able to bet on the best available cookware.