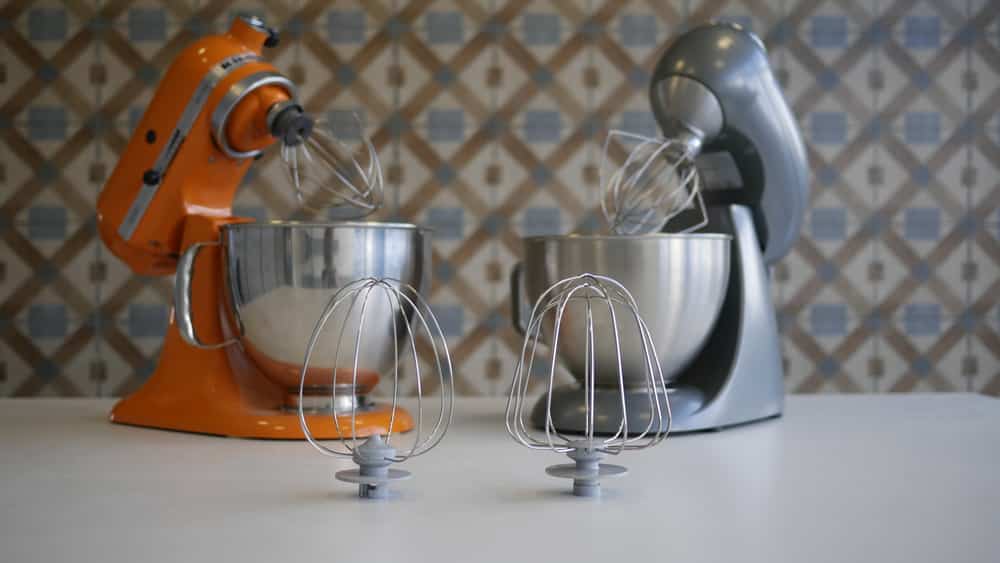 A kitchen could never be completed without a mixer, especially if you make dough or batter for cakes, pies, pizzas, and other food items. However, which mixer you use can directly influence the texture of the batter and how quickly it kneads and mixes up. So, if you want to purchase a mixer, we are sharing Bosch vs KitchenAid mixer comparison to help you choose a more reliable option.
Bosch Universal Mixer vs KitchenAid Comparison
KitchenAid
KitchenAid has been making top-notch appliances for more than one hundred years. When it comes down to the mixers, they are designed with a paddle for better performance and mixing. However, you might need to scrap the bowl while mixing the eggs and creaming. As for the paddle design, it can paddle the butter, sugar, and eggs higher within the bowl, but it doesn't cream the lower mixture. This means that the mixing won't be consistent, which can affect the baking.
To fix this issue, you will need to mix around the mixture manually or shift the batter to make sure everything is evenly mixed. As far as the availability is concerned, they have stand mixers as well as other options. Moreover, their mixers are available in a variety of sizes (the smaller ones are more affordable and are suitable for a small family). The mixers can easily handle medium-size and small-size batches. The mixers come with a variety of attachments for your ease.
For instance, the attachments include a dough hook, flat beater, and wire whip that will take your baking to the next level. However, there are additional attachments that can work with the mixer, such as slicer, pasta maker, and spiralizer (these attachments are extra and don't come with the package). As far as usability is concerned, KitchenAid mixers are simple and easy to use, which makes them more user-friendly and suitable for beginners.
On top of everything, KitchenAid mixers are designed with a sleek design that looks amazing in the kitchen. However, there are some downsides that you need to consider. First of all, these mixers tend to be taller, which means they need bigger cupboards for storage. Secondly, these mixers don't work well with larger batches because they aren't sturdy enough and consume too much power. Last but not least, it tends to teeter around when it's in use that leads to splattering. If you can manage these issues, it's a suitable mixer for small families.
Bosch
This is one of the most famous and reputed brands for kitchen appliances, and they have had a promising variety of mixers. Their mixers are known for long-lasting and durable construction, which means they last for decades without causing any performance issues. Their mixers are best for making bread and kneading the dough. The mixers are designed with bowls, and the mixing shaft will rise from the bottom, promising even mixing, and everything will be consistent.
Bosch mixer has immense power, which makes them suitable for holding up to twenty cups of ingredients at once. Even with this many ingredients, it will mix and knead everything to perfection. However, what's surprising is that it doesn't work very well with the small batches and tends to leave behind dry patches. So, Bosch is a promising choice for people who want to mix large batches of ingredients (it can mix dough enough for making five to six bread loaves).
As far as the batter is concerned, it's easy to make but will build up in the central area. For this purpose, you can simply scrap around, and everything will come fine. As far as cookie batter is concerned, there are special cookie paddles for mixing sugar and butter since creaming is on point. The best thing about the Bosch mixer is that it can create whipped creamed within thirty seconds (thanks to the 800-watt motor, which works quickly and effectively).
What we love about the Bosch mixer is that they are durable and user-friendly, making it suitable for beginners. Even with such a large motor, it stays lightweight, which promises convenient handling and storage. Not to forget, it has high-power suction cups at the bottom of the unit, which means it won't teeter or rock. As far as the design is concerned, open-bowl design promises easier ingredient addition and mixing. Also, it's a nonstick bowl, so you don't need to flour the dough to prevent sticking. The only downside is that it cannot handle small batches and is available in only one color.