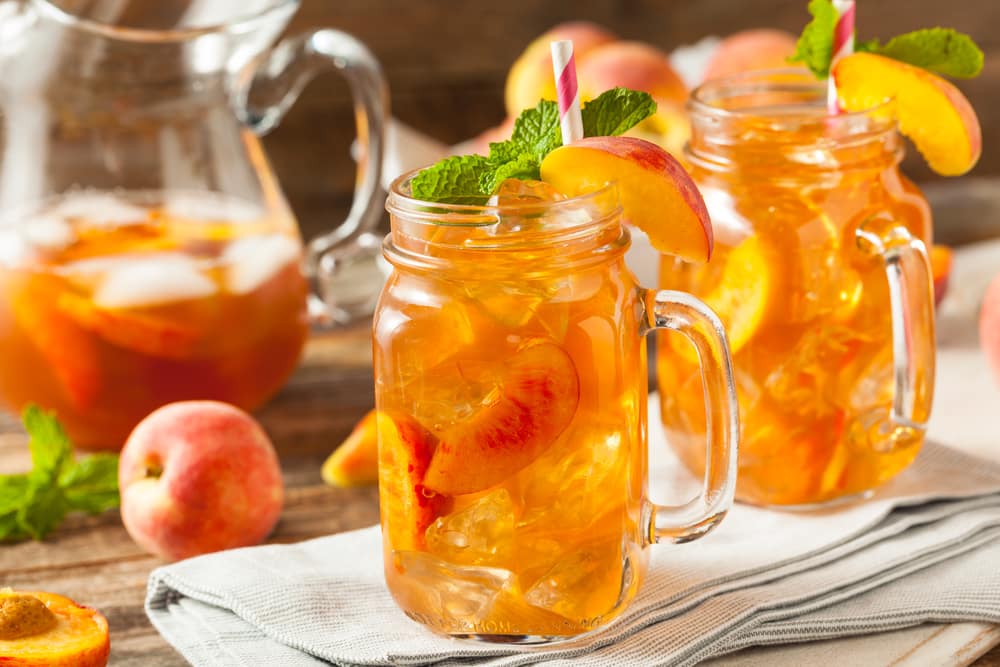 Peach tea is one of the most refreshing drinks (or tea) you can find out there. Having said that, Lipton is a well-known brand for teas and they have launched perfect peach iced tea that's loaded with the flavor of peach and real tea, making it one of the most delicious yet refreshing teas you can find out there.
However, some consumers have complained about black stuff in Lipton peach tea, and with this article, we are sharing what black stuff is!
What Is The Black Stuff In Lipton Peach Tea?
Lipton has created a delicious peach iced tea, which is made with a combination of water, corn syrup, sodium polyphosphate, citric tea, natural flavor, black tea, and additional preservatives to keep it fresh for a long time. Since there is real tea in the peach tea, it can appear black in some cases, hence black stuff in your Lipton peach tea.
This is because the company's iced teas are shelf-stable, so there are extremely low chances that black stuff is mold. However, once you open the peach iced tea can, it's recommended that you refrigerate it to maintain the flavor and freshness. All in all, you don't need to worry about the black stuff as long as the expiry date hasn't passed, so just check on the bottle/can.
Lifespan Of Lipton Peach Tea
Lipton has used a variety of preservatives in the tea, including sodium polyphosphate, calcium disodium, acesulfame potassium (they are added to protect the flavor), and potassium sorbate (it is important for preserving the freshness). For this reason, the peach iced tea will remain fresh for a long time and all you have to do is to keep the expiration date in mind.
Approximately, the tea remains fresh for a year when it's not opened. To retain the freshness and flavor of the tea, it is recommended that you store it away from moisture, air, light, and heat. However, once you open the tea bottle/can, you should store it in the refrigerator and consume it within two days.
As far as the sealed peach iced tea is concerned, the flavor tends to deteriorate over the course of time, which is why the company recommends that you consume it within the expiry date. This is because once the expiration time is over, tea will become dull or stale. In addition, it can sometimes result in the development of residues, which appear in different colors. So, if you ensure proper storage of your Lipton peach tea, you won't have to worry about safety. As far as the black stuff is concerned, you can consume the tea as long as the expiration date hasn't passed.
Signs Of Bad Lipton Peach Tea
When it comes down to Lipton peach tea, it's pretty obvious that black stuff doesn't mean bad tea but there are some other signs of bad peach tea that you must know about, such as;
1. Pungent & Dank Smell
Peach tea has the most delicious and flavorful aroma, so if the tea has a pungent and dank smell, it's the biggest sign of spoiled tea. So, before you take a sip of the peach tea, you need to smell it. In the majority of cases, the tea develops a pungent and drank smell when it was stored in a room with a higher humidity level, particularly when the tea wasn't sealed. This is because a broken seal meals an inflow of air into the tea, which ruins the flavor and aroma.
2. Mold
Mold is the most obvious sign of bad peach tea. Honestly, mold can grow on everything, irrespective of the fact that it's organic or not. So, if there is something mushy in the tea, you need to discard the tea right away. In the majority of cases, the mold develops in dry tea bags, but it's still recommended that you keep an eye on the liquid tea.
3. Loss Of Flavor
Everyone loves Lipton peach tea for the amazing peachy flavor, with a fine combination of sweet and tangy. However, if you open the iced tea can and you don't feel the usual peachy smell, there are chances that the tea is spoiled and shouldn't be consumed.
Overall, you don't have to worry about black stuff because all you've to do is to check the expiry date and drink accordingly!